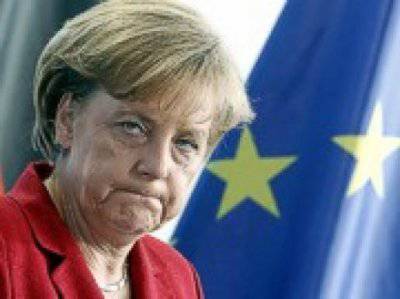 Dear Sirs! I hasten to share with you an unexpected joy. According to some reports, a pipe with chocolate pipes will soon be brought to Ukraine directly from Berlin.
You say that this is fantastic? According to the two leaders of the Ukrainian opposition, this is the most reality.
"Tomorrow we are going to Berlin, where we will meet with the German Chancellor Angela Merkel. We need Europe not just to support Ukraine, but to clearly say what political and economic package the European Union is offering us. The people of Ukraine address their friends in the EU: we need help. No words, we need action ",
- Said on Sunday the next veche
Arseniy Yatsenyuk.
No need to say, gentlemen, the rich Buratinki of Europe, as it were hinted to them by the cat Basilio and the fox Alice of the Ukrainian politicum. How much you can offer us, we did not understand - why do we need your conversations about democracy and freedom? You were not going to give anything to bad Yanukovych, but we expect to quickly join the family of Europe's most wealthy countries with your money and sit next to Merkel and Hollande.
We do not want to know that Bosnia is in association with the EU since 2008 of the year, and all industrial enterprises have already closed there, as in Latvia, Lithuania and Estonia. We do not want to see what is happening in Bulgaria, Romania, when the prices for utilities are raised twice to meet the requirements of the EU and the IMF. We do not even want to understand the processes taking place in Hungary and Slovakia, when foreign debts are calculated by state property residues. We are not able to understand the processes going on in the energy sector of Poland and the Baltic states.
You give us the loot on any conditions today - and tomorrow the grass will not grow.
"
We need a visa-free regime, financial assistance so that the country does not go bankrupt. We need investments to have work and salary, immediate reforms - the judicial and law enforcement system. We also need Ukraine to become not just a member of the European family, but a member of the EU - sooner or later ",
- Pan Yatsenyuk continued his speech, worthy of repeated repetitions by beggars at all stations of the country. It is strange that he did not add -
"we ourselves are not local."
The second leader from the top savior of the Motherland,
Vitaliy Klichko
also awaits much from Frau Merkel.
"
I will ask for sanctions, which the European Union can apply against people who violate rights and who are representatives of today's government, and whose business is located abroad ... Visa restrictions are also sanctions, freezing accounts is also sanctions. And on this subject I will talk with Merkel "
, he said today after the conciliatory council of the leaders of the faction BP
After the authorities have fulfilled their obligations under the agreements on the release of activists, which in itself is unprecedented what other rights Herr Doctor is talking about, I personally do not understand. The EU has already answered that more reasons are needed to freeze accounts and other sanctions than stories about 30-50 years being beaten up by children, and against the backdrop of lawlessness by right-wing radicals in the center of the capital and covering these events in Media - everything already looks in a different light.
And again about sore: "
Tomorrow we have to adopt a resolution confirming the validity of the Constitution of 2004. BP can form a government ... Technical reform government. But the government can only be after returning to the Constitution of 2004 of the year ",
- Vitaly dreams, doing a good face on a bad game, knowing in advance that the opposition has no votes for that.
In connection with these enchanting statements I would like to address Frau Merkel, I will write her a message today. There is such a Russian proverb "Don't feed the horse", think, Frau Angela, before meeting with our unique leaders about its interpretation. You can ask the old Wehrmacht veterans at your leisure about Germany's cooperation with Ukrainian nationalists and think about what Russophobia and forgetfulness about some
historical
events.