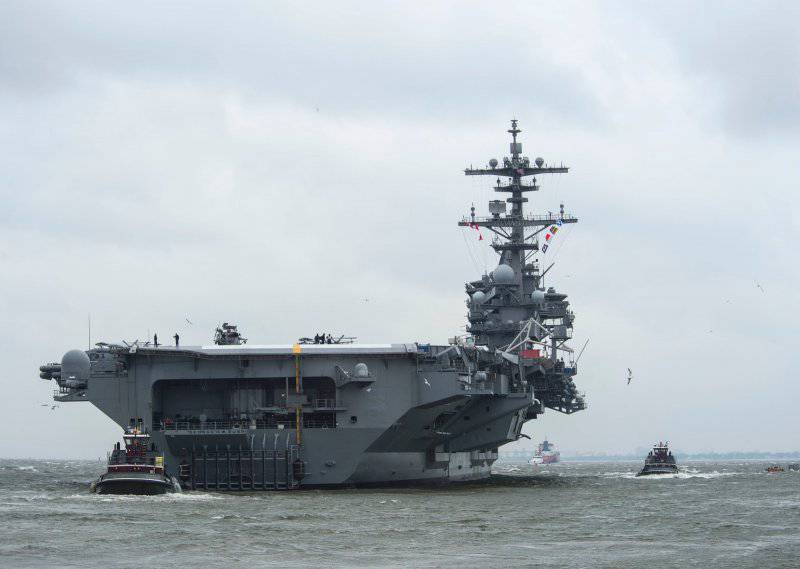 The US Navy nuclear heavy aircraft carrier CVN-77 "George Herbert Walker Bush" (George HWBush) headed for the Persian Gulf and the Mediterranean.
On Saturday, "George Bush" and escort ships forming the US Navy's 2 carrier strike group (AUG) left the home ports of Norfolk (Virginia) and Mayport (Fla.) (To go on this voyage.
According to the press service of the US Navy, the group includes, along with the aircraft carrier, in particular, the missile destroyers Trakstun (Truxtun) and Roosevelt (Roosevelt), the Philippine Sea missile cruiser. The destroyer "Trakstan" went out to sea with the aircraft carrier "George G.W. Bush" from Norfolk, while the destroyer "Roosevelt" and the cruiser "Philippine C" left the homeport of Mayport.
"AUG will be in the operational zone of the 5 th and 6 th fleets of the US Navy, carrying out operations aimed at ensuring safety at sea, supporting security cooperation in these theaters of operations, as well as missions in support of the operation (in Afghanistan under codename) "Enduring Freedom," the Pentagon said. According to AUG Commander 2 number Rear Admiral John Aquilino, the current campaign, which is supposed to last nine months, is "part of the regular rotation of forces" in the United States it is not.
In addition, from Norfolk on Saturday a separate 8-month campaign with a missile defense mission to the operational responsibility area of ​​the 5th
fleet
US Navy advanced missile destroyer "Arleigh Burke" (Arleigh Burke). It is equipped with the Aegis multi-purpose anti-aircraft missile system.
The US Navy's 6 Fleet is based in Naples. About half of the Atlantic Ocean, as well as the Adriatic, Baltic, Barents, Caspian, Northern and Black Seas, are included in his operational responsibility area. Meanwhile, the 5 fleet operates in the Persian Gulf, the Omani Strait, the Red Sea, and several areas of the Indian Ocean. Its headquarters is in Bahrain.
The aircraft carrier George G. W. Bush was launched in January 2009. He became the tenth and last ship of the Nimitz type. Its displacement is 97 thousand tons. The personnel of the 2-th AUG, headed by the aircraft carrier CVN-77, has almost 6 thousand people. The aircraft carrier wing has more than 80 combat aircraft.