Comment by Vladimir Ulyanich, a retired 1 rank captain, author of the book "In the circles of Minsk", to the article "On the decks of aircraft carriers of the Cold War" Part 1 Part 2 Part 3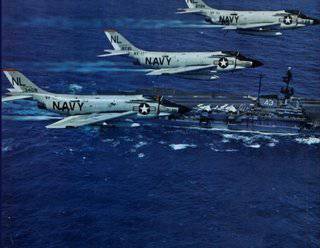 I really liked what you did. This such, in some way, even "unkempt" dialogue is worth a lot! They do not impose anything on the reader, do not direct them to the right track, but give themselves the opportunity to think, remember, analyze, nostalize themselves ... And in many respects not at the level of an event, but in some emotional perceptions of returning to where you didn't care about what you still can not argue impassively.
I recall my first meeting with the aircraft carriers in November 1975 of the year at the NATO Ocean Safari naval exercises. At first it was
"Independence"
. We were looking for him at the exit of the Skagerrak for almost a day if there was some kind of intelligence. This was the first shock: not everything is so simple in the ocean. And then began the direct tracking. Storm Atlantic, dvuhsmenka for absolutely all categories of the team - it was a decent test. We were inside a multi-ship armada under the flags of different countries, which was marching in a completely incomprehensible, seemingly chaotic order. But at the same time, it synchronously maneuvered and flights ... flights ... flights ... All the officers, including political workers, were scheduled in screen recording groups, direction finders, they recorded all events with second accuracy.
It should be noted that the Americans themselves got in touch. Signalers began to take "light" semaphores, but at first did not understand that they were in English. Yes, and signal spotlights differed from our signal color. We made the interfloor crossing, we got into this mess out of plan, so there were no translators on board. The commander, by "polling the population", made a small group of officers who "speak English with a dictionary", and the dialogue was soon picked up by us. The commander of the AVM conveyed his greetings to our commander, congratulated 7 on November, and apologized that we could not calmly celebrate, as he has a "demonstration" in honor of this event. And the flights began! It was a real show! We walked on its course degrees 110-120 on one of the sides, sometimes moving closer to 20 KB. The number of aircraft on the radar screens exceeded all standards of decency. I already spoke about navigation radar. And in this mode, five days.
Five minutes before each turn, we received a semaphore about this with the indication of the next course, and then about the direct turn. In that case, it was completely out of place, especially at night. I remember one of the last "semaphores" (close to the text): "Commander, you have not slept for several days, you can rest. I guarantee the absence of evolution to 06.00 ". And he kept his word. In the area of ​​this time, we got a semaphore: "In 5 minutes, turn onto a course ..." We answered as best we could. Basically, thanks monosyllabic replicas. What caused such a politeness of a probable opponent, can only be assumed. There were a lot of factors here: the concern for their navigational safety, and the recently signed agreements to prevent incidents at sea between our countries.
Somewhere somewhere in the depths of my soul there was a feeling that we were brothers by profession, that we treated each other with respect, despite all the differences between us. And they hoped that mutual intelligence (if you can call it that), respect for each other's human nature will never allow our armies and countries to cross the line beyond which there is nothing. I was 25 years old ... I did not know yet that the world is much more complicated than I imagine it to be.
Then we passed the contact to the arrivals from the North
fleet
BOD "Admiral Makarov"
, and they themselves entered into the direct tracking of
AVU "Ark Royal"
who rammed our three years ago
EM "Brave"
"In the Mediterranean when several of our sailors died. Here all knighthood vis-a-vis is over. Royal Navy with us did not stand on ceremony. Our perception of reality has changed with the first evolution of the aircraft carrier. What are the semaphores and greetings! Truly "... the world will become spacious already, and everyone will be compressed into a lump ..."
And then in 1979, already on
"Minsk"
we met in the Mediterranean with another American aircraft carrier,
"Saratoga"
, if my memory serves me. I don't remember if he was with us on visual visibility, but his
aviation
we flew around, and we also received a radio inviting our commander of a squad of ships to visit an aircraft carrier. And I remember Rear Admiral Varganov V.F., who, pacing back and forth along the wheelhouse, sincerely listed aloud what he would give so that at least with one foot ... at least one eye ... He, like everyone , understood how impossible it was then, but some boyish mischief flashed in his eyes, and at that moment, as it seemed to me, he was completely no different from me - the 25-year-old senior lieutenant ...
And after a couple of decades, reciprocal visits to aircraft carriers and even flight of pilots on each other's airplanes took place. And nothing happened. True, our fleet by that time was almost no longer ...
I did not expect that it will bring me so. Returning to our heroes.
They are terribly cute to me, because, as perfectly normal, they left in my memory only that which is worthy of attention. And I know very well how hard and responsible the work of engineers and technicians (and often ungrateful). But for normal people, only good things remain in their memory when they feel they are involved in serious business, when they realize that they "were not superfluous there."
I had wonderful relationships with many engineers and technicians, and I know a lot about their hard work.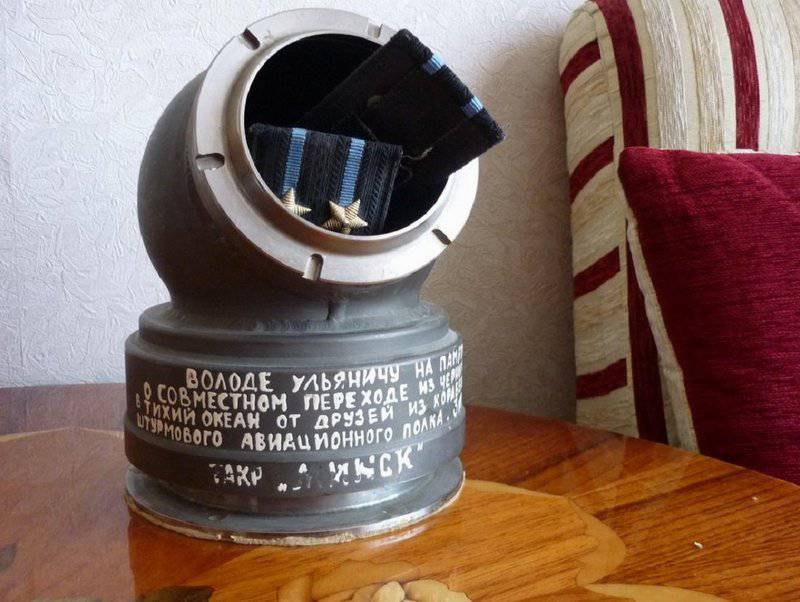 They gave me this inkjet steering wheel with the arrival of "Minsk" to the permanent location of 3 July 1979. And now, 34, this gift is always with me and stands in the apartment at the most honorable place.
Drawing parallels between virtual interlocutors, you feel not only the general, but also the fact that it was different. If from the board it was possible to equally admire the stars, the changeable color of water, dolphins, flying fish, then ours, of course, could not even dream of restaurants, hotels, girls and other worldly pleasures. The American slogan: "Do the navy and see the world" for Soviet sailors was also relevant, but had a narrower semantic framework, alas ...
We at Minsk had a thick rotaprint edition with photos, including a detailed description of the work of all the teams on American aircraft carriers. We re-photographed this book, studied it, discussed it.
In addition, what Sergei calls the "carousel", we went progressively and correctly at "Minsk". When I had not yet been flying with the WRC drone pilots. But otherwise, the number of flight shifts and aircraft sorties constantly increased, the quality of the organization was honed and everything went into a continuous cycle: it was noisy, humming, and ringing. And the faces of everyone who took part in it shone with happiness. The pinnacle of the new organization was the first aircraft-helicopter flight changes, when there were no intermissions on the flight deck at all.
About the terminology.
Of course, it's right to say how you write - they are recited, to wear ... But!
Ship-aviation terminology was born spontaneously. This was from the first helicopter without a ballast, and then hangar. Then it all moved to
"Moscow"
, and then on
"Leningrad"
. Its
"Kiev"
trained on these cruisers, "Minsk" on "Kiev", etc. Some terms were born in the process, some adapted to new conditions, some interpenetrated into the new environment.
Therefore, at first, the helicopters, and then the planes on the ships, were precisely "moored" and precisely "moored".
And if on the ship you ask what "mooring" is for boatswains, they will point you to trivial canvas gloves in which mooring ends are dragged on the mooring.
So everything is relative!
Well, that seems to be all for now.