It is not possible to harness Yanukovich with Yatsenyuk and Klitschko in one cart, and even with a friend, their neo-Nazi Tyagnibok. What is allowed? Removal from the real power of Yanukovich, and the formation of a "pro-European" government, on the advice of US Vice President Joe Biden, is also not possible, this will lead to the closure of the credit line by Moscow, with very serious consequences for any Ukrainian government. Political deadlock.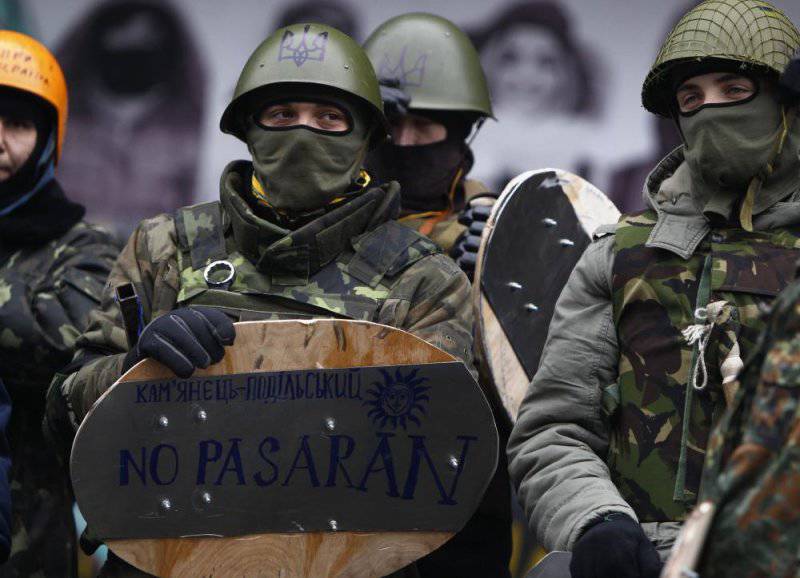 Maydannaya schizophrenia in the center of Kiev can continue indefinitely, interested people will find the money for this, but the question of the power of euromaidan cannot be solved. In this situation, the Ukrainian authorities 14 February release all detained "protesting" Bandera, and Dmitry Yarosh, leader of the "Right Sector", confirms that all the "hostages" are released, and generously agrees to unblock Grushevsky street.
That's what Yanukovych will do after 17 in February, when the amnesty law expires, if neo-Nazis do not fulfill all its provisions? Or put forward any requirements? If you turn to
stories
, we again see the policy of appeasing the fascists, once also appeasing Hitler, and today Dmitry Yarosh. However, it is known that history has never taught anyone anything ...
From the current deadlock, Yanukovych had two choices.
1. The suppression of the Maidan, which went beyond the whole democratic and just legal framework, turned into a Bandera neo-Nazi, but such a legal decision would complicate relations with the West, which continues its historical tradition of supporting any of its "sons of bitches". Yanukovych would have been declared a "dictator", but he would have won the position, kept the current Ukraine, it would be a kind of version of "early Putin," but Yanukovych is not Putin.
2. The search for a compromise, even with neo-Nazis, as we see. This option, at best, will end with the transition of Ukraine to a federal structure. The third option - "small civil war" is still unlikely, for external reasons, because its consequences are undesirable for most European countries, and the United States cannot do anything about it.
Refusing to suppress the Bandera mutiny, Yanukovych himself put an end to the unitary system of Ukraine. De facto, Ukraine is already a federation, since parallel, semi-fascist power structures have already been created in Galicia. Now it will be difficult to do anything with them.
MP from the Party of Regions Vadim Kolesnichenko has long said that Ukraine should become a federation in order to relieve tensions between different, difficultly compatible regions. Today, in the Crimea, in the south-east and in the center of Ukraine, self-defense units of the Ukrainian front are already being formed in opposition to the "national guard" units of Galicia. The process has gone, time has been missed when it could be stopped.
Andrei Vorobyov, the envoy of the Russian Embassy in Ukraine, drew attention to this: "I am sure that, regardless of political wishes, the country is developing in the direction of the federation. Will this be fixed by the constitution, or Ukraine will continue to be a unitary state, but now it is unofficially a federation. And the consolidation of the constitution is only a question of the agreements of the Ukrainian political elites. "
However, this business is unlikely to be entrusted only to Ukrainian elites. Apparently, Russia and Germany will also be engaged in this business.
New German Foreign Minister Frank-Walter Steinmeier said in an interview during a recent visit to Moscow: "Time does not stand still - neither in Germany nor in Russia. Serious conflicts and crises came closer to us. However, my principle remains unchanged the conviction: Russia cannot do without Russia. "
This means that Joe Biden and Victoria Nuland, with Ambassador Payette and the idea of ​​a "pro-European anti-Russian government," can be free, and the European Union and Catherine Ashton have already been sent to distant places.
In the end, nothing terrible will happen in Ukraine: Germany is a federation, and this does not in the least interfere with its democracy.