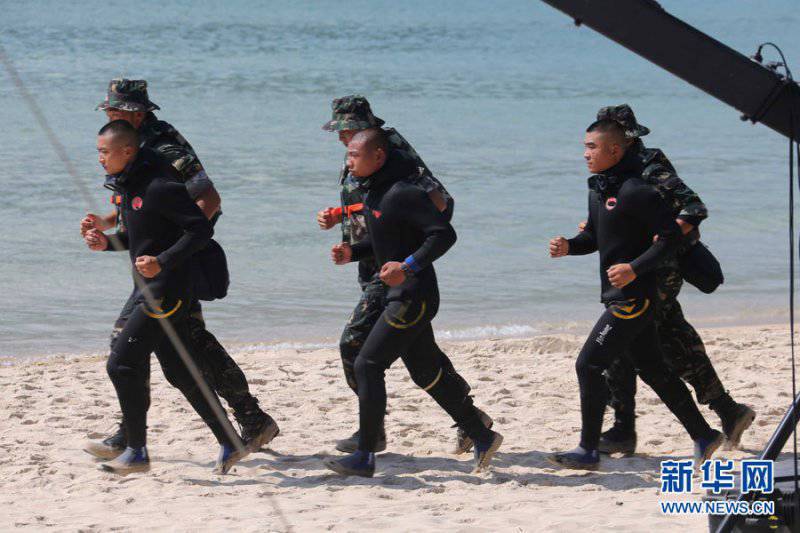 History
China's Marine Special Forces began in 1953 with the creation of marine units. The main task that was set before the infantry at that time was to occupy the islands under the control of Korea. By the time the conflict ended, there were about 110 thousand men in the Marine Corps, which were consolidated into 8 divisions. Later, in 1957, the Marine Corps was disbanded because the country's leadership abandoned its plans to seize Taiwan. However, the marines and combat swimmers remained in the Navy.
In the middle of the 1970s, when disagreements began in the South China Sea over sovereignty over the Spratly and Paracel Islands, China once again had to rely on forces capable of amphibious and air assault operations. That is why in the 1979, the marines were again formed as a branch of service. A year later, a brigade of marines was deployed on Hainan Island. Later, in the 1990-ies, when the tension between the two Chinas began to increase, the number of marines increased significantly, and in addition, the unit was reequipped and re-equipped. In 1998, a marine brigade was stationed in Guangdong Province in Zhanjiang City.
As part of the Marine Corps Division is a reconnaissance company, the number of which is one hundred people and which is exactly the task of conducting special operations. Organizationally, it consists of two platoons for 30 fighters and a headquarters. In addition, the company is a division of combat swimmers, the number of which is 40 people.
The main tasks facing the forces of special operations of the naval
fleet
China, are: conducting instrumental, visual, photo and radio reconnaissance of coastal objects and the activities of enemy naval forces in the areas of their deployment; destruction of submarines and ships at anchorage, raids and bases; the destruction of critical hydraulic structures; destruction of coastal and underwater barriers; enemy defense intelligence; the organization and conduct of sabotage at industrial and military facilities, transport highways in the coastal strip; damage to the lines of civil and military communications.
The unit's capabilities are enough to simultaneously send 18 reconnaissance sabotage groups to the enemy's rear to 5. All of them are capable of operating for 10 days at a distance of 40 kilometers from the coast.
Groups of saboteurs are delivered secretly to helicopters, airplanes, ships, submarines, and boats to the place of assignments. As part of the amphibious assault operations, a company of underwater reconnaissance-saboteurs landed first when the marines were being thrown.
The unit is recruited by volunteers on a competitive basis, which provides for particularly high requirements for the general educational, physical and psychological preparation of applicants.
The training program for the reconnaissance company of the Marine Corps includes 18 items, including tactical-special and fire training, diving, automobile and airborne training, mountain training, mine-blasting, physical and medical training, topography.
As part of the special tactical training, the fighters work out methods of conducting reconnaissance of enemy objects, organizing a surprise attack. In addition, since the unit is preparing to perform combat missions not only in field conditions, but also in the conditions of the city, the soldiers also work on such tasks as capturing and destroying key objects of sea and ocean communications, objects of air and land transport systems, as well as other important objects of the rear support of the enemy.
In the framework of fire training, great attention is paid to individual training. In order to improve the quality indicators of firing during training, non-traditional methods and techniques of firing are used. In particular, the fighters practice shooting skills when weighting
weapons
and changing its centering.
During the airborne training, special emphasis is placed on jumping at night, from extremely low altitudes and with strong wind.
All the skills that fighters acquire are practiced later in the course of combat training. It, as a rule, is carried out in various geographical and climatic conditions, which are characteristic not only for China, but also for other states. Part of the training is carried out in an extremely hot climate on the beach, as well as at extremely low temperatures in the mountains.
Every day, 12 hours are assigned to combat training of naval special forces. About three times a year, the special forces leave for paratrooper charges, which last about a month.
It should be noted that in combat training, great attention is paid to survival in extreme conditions. For practicing skills, an area is located that is located at a considerable distance from populated areas, where there are no transport networks, and the weather is changeable. A survival course for seven days is necessarily conducted in such an area. It is carried out, as a rule, on uninhabited islands on which there is no vegetation. There fighters delivered by helicopters. They have a supply of food with them, which consists of several packs of noodles, packs of wafer biscuits and one jar of water.
As for weapons, the company's fighters have at their disposal not only ordinary, but also special silent weapons: AK-47 assault rifles and Chinese AKMS, RPD-44, RPK, RP-46 submachine guns, "Type 64" and "Type 56 "," Colt "," Beretta "pistols, TT, ultrasound submachine guns. Note that China produces all these weapons under its own names. In addition, in order to destroy the enemy's manpower, as well as destroy his equipment and other objects, the personnel of the company can use hand grenades РГ-42, Ф-1, РГГ-3, demolition charges, RPG-7 rocket launchers and RPG-2. In addition to standard weapons, reconnaissance sabotage groups have harpoons and shooting knives.
Amphibious parachutes D-5, D-1-5, З-5, diving suits, breathing underwater vehicles, small-scale power stations, underwater tugboats are used to deliver sabotage groups.
For operations on land, the fighters are provided with steel helmets, camouflage suits, body armor, night-vision equipment, and air and underwater communications and navigation systems.
In a few words it is necessary to mention the division of combat swimmers. As a rule, they are created according to the type of reconnaissance sabotage groups and are also part of the special forces of the marines. The number of units is 250 people.
The main tasks of combat swimmers are to conduct reconnaissance in the sea and coastal areas controlled by the enemy, the destruction of its mobile and stationary rocket launchers, hydraulic structures and command posts, and rescue operations during natural disasters.
Groups of combat swimmers are made up of military personnel, mainly marines. To get into the unit, you need to pass mental and physical testing, which lasts three weeks. In the course of his assessment of the ability to master modern special and military equipment, identifying the potential capabilities of fighters. Much attention is paid to fire training: the applicant for a place in the unit must hit all targets at a distance of 550 meters, as well as 90 percent of targets at a distance of 915 meters.
After enrolling in the unit, the fighters undergo an intensive course of physical training, which includes passing standards in the following disciplines: a cross to the 3 distance of a kilometer with a full display, a march to 10 kilometers, which must be overcome in no more than 45 minutes, the fulfillment of standards for swimming ( 5 kilometers per 2 hours), double overcoming an obstacle course of 400 meters in length, throwing grenades on 30 meters and beyond.
At the end of combat training, combat swimmers undergo a series of training sessions under extreme conditions.
As for the special technical training, it is designed for 4 of the year and will include courses in the underwater, navigation, airborne practice, control of small boats and vehicles, disruptive business, the use of communications.
Summing up, it can be said that despite the fact that the Special Operations Forces of China, and in particular their naval component, exist relatively recently, they have a fairly high level of professional training and can effectively accomplish the tasks that they face.
Materials used:
http://otvaga2004.ru/krasny-drakon/krasny-drakon-stat/specnaz-podnebesnoj/
http://iknigi.net/avtor-sergey-balenko/52146-specnaz-vezde-specnaz-polnaya-enciklopediya-elitnyh-podrazdeleniy-sergey-balenko/read/page-61.html
http://truppen.ru/spetscnaz-inostrannyh-gosudarstv/spetscnaz-stran-azii/vmf-knr.-podgotovka.html