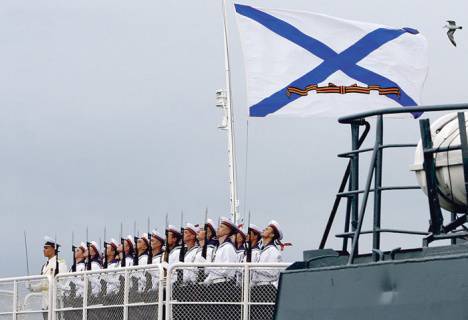 Large landing ships (BDK) of the Baltic
fleet
After replenishment of supplies in Novorossiysk on the night of February 11, Minsk and the Black Sea Yamal crossed the Bosphorus Strait and became operational subordinate of the permanent operational connection of the Russian Navy in the Mediterranean Sea, Interfax-AVN reported with reference to information received at the General Headquarters Navy.
Thus, the compound under the command of captain 1 of the rank of Oleg Peshkurov today already has 16 ships and vessels. These are the heavy nuclear missile cruiser "Peter the Great", the heavy aircraft carrying cruiser "Admiral of the Fleet of the Soviet Union Kuznetsov", the large anti-submarine ship "Admiral Levchenko", BDK "Azov", "George the Victorious" "Olenegorsky miner", "Kaliningrad" and joined it "Minsk" and "Yamal", as well as the average reconnaissance ship "Admiral Fedor Golovin." Their activities are provided by tugboats "Altai" and "Nikolay Chiker", tankers "Sergey Osipov", "Iman" and "Kama". In the Syrian port of Tartus there is a floating workshop PM-56. The operational compound assembled in the Mediterranean today is the strongest in the Navy in terms of the composition of the shock forces, including nuclear
weapon
.
It is noteworthy that the 15 of January Gibraltar was forced by three warships and a naval support vessel with two tactical groups. It is possible that under the cover of the first tactical group led by the cruiser Admiral of the Fleet of the Soviet Union Kuznetsov, it made a breakthrough into the Mediterranean Sea and a nuclear submarine of the Northern Fleet.