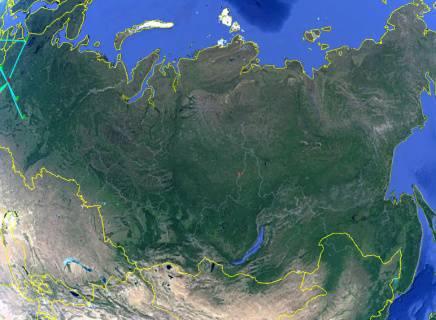 The Russian Armed Forces are working on the creation of a modern aircraft-mapper of a new generation, ITAR-TASS reported with reference to Rear-Admiral Sergei Kozlov, head of the Topographic Service of the Armed Forces of the Russian Federation. The admiral did not specify to the agency what the new aircraft would be. Perhaps in some ways it will be similar to the Tu-154-LK-1, created on the basis of the passenger Tu-154. It is also called crystal, because it has 450 mm quartz glass windows and two 750 windows on 800 mm in it.
The main value of the new flying cartographer will, of course, be its equipment, designed to quickly and accurately obtain geospatial information about the terrain for the compilation of state topographic maps. Until recently, they were compiled using 70 – 80-s equipment of the last century. But the troops are already receiving new software and hardware complexes, for example, a system of digital information about the terrain and a unified automated system for providing geospatial information, the development work on which ended literally last year. Both systems are included in the subsystem of topographic, geodetic and navigation support of a promising automatic command and control system for troops.
The new aircraft will be a significant help in the work of military topographers. But the main work on remote sensing of the Earth will continue from space. Here are also planned breakthrough projects. In particular, Roscosmos promised in the period from 2017-th to 2018 year to put into orbit eight spacecraft, which will take only a week to capture the entire territory of Russia.
However, the problems of topographic, geodetic and navigational support of the Armed Forces are not solved in space and sky, but on the ground, in the cabinets by specialists. And yet they cannot agree among themselves on how to integrate topographic and geodetic and navigation software into a single system of geo-information support for the Armed Forces of the Russian Federation.