Probably many of you are familiar with the American Colt M1911, which has become a truly legendary pistol. Even those who have little interest in shooting have heard about him.
weapons
and
history
. In the spring of 2012, Arsenal Firearms introduced an unusual AF2011-A1 "Second Century" pistol model to the market. It is unusual in that it has two trunks at once. AF2011-A1 - double-barreled pistol. It was designed by the company's engineers for the centenary of the legendary Colt 1911-A1 pistol.
It is worth noting that Arsenal Firearms is a Russian-Italian joint venture. Its headquarters is located in Russia, and production is located in our country, as well as in Austria and Italy. The most well-known samples of the products of this private arms company are the already-named double-barreled AF2011-A1 pistol and the automatic Swift pistol, which is proposed for adoption by the Russian army.
However, we will talk about double-barreled development. It is reported that the Arsenal Firearms development team was able to create an AF2011-A1 "Second Century" pistol in just 6 months of intense and fruitful work. At the same time, the company's specialists widely used stereolithographic modeling and computer 3D simulations of the model. As a result, an interesting double-barreled model of an 45 pistol of caliber was born, which is industrial and is in demand among lovers of small arms.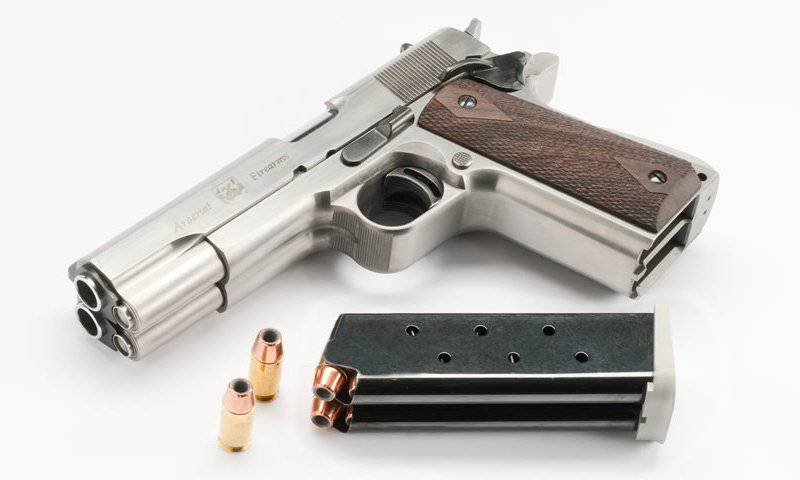 In fairness, it should be noted that the idea of ​​combining two trunks, the creation of the so-called "sparks", is not new. In the years of the First World War, Maxim double machine guns were used at the front, which were very effective against the first airplanes. Also during the First World War, Italian existed and was successfully used.
aviation
double-barreled submachine gun Villar-Perosa. Similar weapons do not cease to appear in our days. For example, the Israeli double-barreled automatic submachine gun "Shmemit" ("Desert"), which is a pair made of 2 standard Uzi infantry, which are able to shoot without human intervention as soon as someone crosses invisible to human eye ray. 5,56x45 mm caliber double-barreled assault rifle by the Israeli company Israeli Shadow also comes to mind, which looks very similar to two M16 assault rifles glued together. There are also domestic developments, for example, the Soviet TKB-059, aka "3B device" - this is a three-barreled experimental machine, which was created under a standard automatic cartridge. Continue this list for quite some time.
It should be noted that such "pairing" pursues only one goal - increasing the density of the fire, that is, the possibility of releasing as many bullets as possible at the target while maintaining a sufficiently high accuracy typical of the standard "single-barreled version". Of course, this is not the most common way to increase the density of fire, but it is quite common. It is worth noting that the gun AF2011-A1 has a really terrible destructive power. Two bullets fired from this pistol, having a total mass of 30 grams and beating at a distance from 2 to 10, see each other (this distance directly depends on the distance of the target from the shooter) can knock an ox off its feet.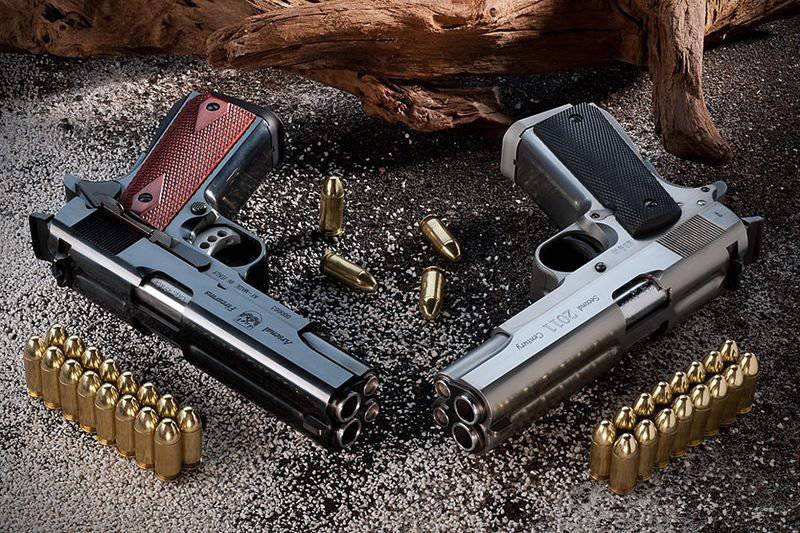 In one shot, the gun simultaneously produces two .45 ACP caliber bullets (11,43x23 mm). The gun is charged by the 16 magazine for cartridges, which is a 2 parallel magazine for 8 cartridges that are bonded to each other with a common base and inserted into the pistol grip as a single unit. Surprisingly, anyone who has ever fired a .45 ACP caliber pistol can handle this unusual pistol. According to experts, the AF2011-A1 double-barreled pistol is not only pleasant to use, but also fairly accurate.
Experts speak very positively of the gun. Note its power and accuracy. So, from a distance in 13 meters, an experienced shooter will send all 16 bullets to an area the size of an ordinary orange, and from a distance to 25 meters - to a "melon". The design of the gun allows you to fire from each barrel in turn, as experts also note a rather comfortable recoil of the gun. Its advantage is the density of fire, the gun allows 3-5 seconds to launch 16-caliber bullets at the 45 target in seconds.
The double-barreled AF2011-A1 pistol incorporates a number of original parts. These include a single frame, a single bolt, a single lever fuse, a single drummer with two trigger triggers, a single lid of the magazine box, having 2 sockets, a single pair socket of a mainspring, special guide bushings, a single pair magazine latch, a side lever fuse and an open shutter handle. However, a more interesting feature of the gun is the fact that the designers tried to implement in it the maximum interchangeability of the internal parts that are standard for a Colt M1911 pistol. Such details include spring, whisper, hammer, return spring, recoil spring and spring recoil spring, inner parts of spring spring, magazine box, etc.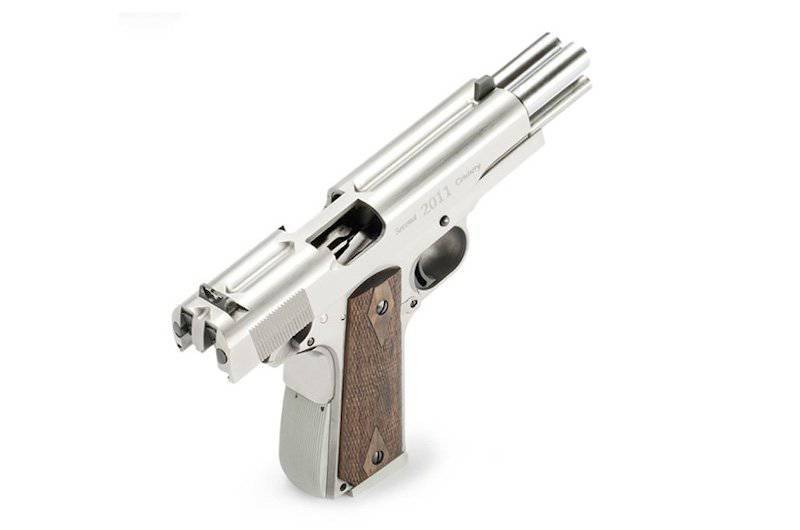 The AF2011-A1 pistol can be purchased with either one trigger (right or left, which the shooter can replace for right- and left-side operations) and two triggers independent of each other, and two triggers, which will be permanently fastened to each other, and one or two triggers to choose from.
Specifications gun AF2011-A1:
Caliber: .45 ACP (11,43x23 mm).
Gun length: 220 mm.
Gun height - 145 mm, width - 50 mm.
Barrel length: 125 mm.
Gun weight: 1,85 kg.
Information sources:
http://www.km.ru/nauka/2012/03/26/izobreteniya-i-innovatsii-v-razlichnykh-oblastyakh-znanii/razrabotan-pervyi-dvustvo
http://shkolazhizni.ru/archive/0/n-63253
http://i-korotchenko.livejournal.com/780501.html