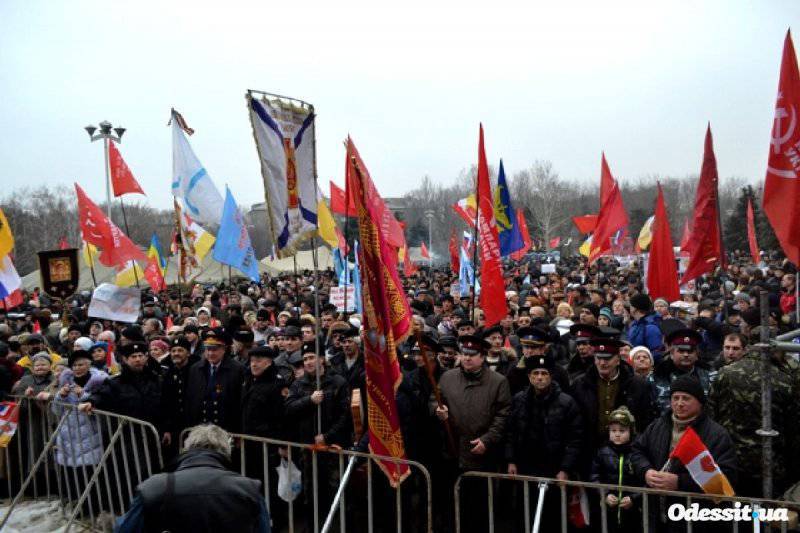 8 February 2014, a group of Odessans gathered at the consulate of Germany in Odessa.
They arrived with slogans and flags depicting Stalin, Russian flags.
The slogans read "USA, England, EU - Satan's Empire", supported by the latest scandalous expression expressed by US Assistant Secretary of State Victoria Nuland to the European Union.
Odessans, immediately, spoke in the address of Angela Merkel. They made it clear that the opposition, which is taken care of by A. Merkel, in the opinion of Odessa's citizens was a bunch of Nazis and fascists who were carrying out a coup in Ukraine, and the European Union, which had taken the Ukrainian fascists under protection, was called fascist, and identified it with the fascist NATO.
Odessans reminded A. Merkel of who in 1941 year invaded Ukraine in the USSR, who started the war against the USSR, as well as the fact that Odessans are not its subordinates and especially its slaves.
Odessans also reported that they did not want to join the fascist European Union.
And they said their firm NO Brussels.
They demanded from A. Merkel to stop supporting extremists, terrorists and Nazis on euromaidan, to stop interfering in the internal affairs of Ukraine. They offered A.Merkel that she "take her flimsy Klitschko to herself in Germany to carry out coups in Germany."
Before the end of the picket, the citizens of Odessa showed their attitude towards the respected, strongly supported by A. Merkel, Klitschko, sticking his portrait, in the form of the famous German Fuhrer, in an embroidered shirt with a swastika, in a dustbin well visible to the consulate. In addition, the same portrait was presented to the German consultant by sticking it under the emblem of the consulate.