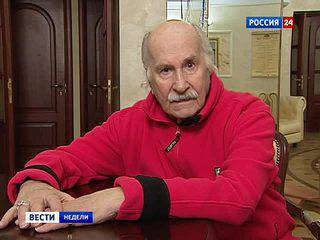 Theater and film actor, People's Artist of the USSR Vladimir Zeldin, who turned 99 years old, celebrated this date with a creative evening with friends in the Central Academic Theater of the Russian Army, which has been serving for almost seventy years. Defense Minister Sergei Shoigu gave him a dirk.
Colleagues and friends of Zeldin told about his creative path, and the actor commented on fragments from films and performances with his participation, Interfax reports. Young artists and pupils of the Children's Studio of the Theater of the Russian Army performed in front of their idol and teacher with a festive "skit".
Colleagues and friends of the artist - Olga Bogdanova, Arkady Inin, Alexander Shirvindt and Tamara Gverdtsiteli, as well as Chief of the General Staff of the Armed Forces of the Russian Federation, Army General Valery Gerasimov took part in the festive evening.
He conveyed to Zeldin congratulations from Russian Defense Minister Sergei Shoigu, the college and the entire military department staff. "By the order of the minister, you were awarded a dirk," added Gerasimov and handed the birthday man a gift.