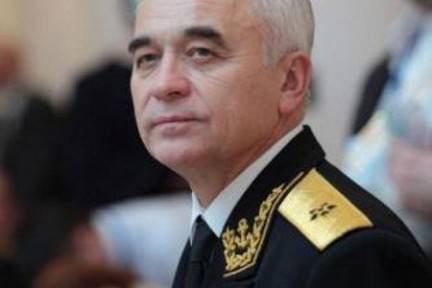 Monday morning, without regaining consciousness, Rear Admiral Vyacheslav Apanasenko died, reports FlashNord agency referring to the rank of 1 captain, secretary of the organization of the "Commonwealth of Veterans of Gadzhievo submariners" Yuri Travkin.
"Vyacheslav Mikhailovich left us today at 10 in the morning," Travkin said. According to him, the date of the funeral has not yet been determined, but the place of burial is already known - this is the Troekurovskoye cemetery in Moscow.
As reported, Vyacheslav Apanasenko February 7 attempted suicide by shooting himself in the head with a pistol. In serious condition, he was taken to hospital. For four days the admiral was in a coma.
His daughter Ekaterina Lokshina in an interview with Ekho Moskvy earlier told about the reasons for her father's actions: "My father did it not for himself, and not because he could not continue to cope with this severe pain (Apanasenko was diagnosed with cancer). He did it for his relatives, because it was difficult for him to observe how difficult it was for his relatives to take care of the drug supply. In particular, in order to receive pain medication, he had to spend many hours in the clinic. And the day before his death, his mother once again failed to get The rfin, prescribed for him, because literally one signature was missing. And when she came home in a very depressed state, apparently, that was the last straw. "
On her Facebook page, she quoted Apanasenko's suicide note: "I'm not to blame anyone except the Ministry of Health and the government. I'm ready to suffer, but to see the suffering of my family and friends is intolerable."
The tragedy occurred on the admiral's 67 year. Vyacheslav Apanasenko, prior to his transfer to the reserve, headed the department of rocket and artillery weapons of the Navy. He was an expert in ballistic missile submarines. The Rear Admiral has repeatedly criticized the current state of the defense industry in the Russian Federation. After retiring to the reserve, Apanasenko headed the "Commonwealth of Veterans of the Submariners Gadzhiyevo".
In 2012, Vyacheslav Apanasenko, being the head of the "Commonwealth of submariners Gadzhievo veterans", intended to come to Gadzhiyevo, where he served for many years, to participate in the celebrations marking the 55 anniversary of the submariners' garrison. Shortly before the round date, the rear admiral was made a terrible diagnosis and an operation was scheduled. But even in such a difficult period of life, Apanasenko did not cease to be interested in the fate of Gadzhievo, often called the garrison, maintained a close relationship with the leadership of the closed city and command, notes SeverPost.ru.