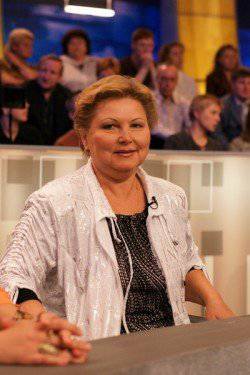 - Irina Vladimirovna, but why weapon? After all, for example, Academician of the Russian Academy of Sciences Konstantin Scriabin, representing in Russia the interests of the Monsanto corporation (the largest producer of GM products), says that using transgenic plants and animals for food is harmless to humans and even useful.
- Academician himself did not check how transgenic organisms affect animals. He is a biotechnologist who participates in the creation of such organisms, receiving weighty grants. Of course, he is interested in his grants and work. While numerous studies abroad and in Russia have proven that transgenic organisms lead to oncology, allergies, infertility, and pathologies of internal organs. That is, they act destructively at the system level. In 2012, the award was given to an American scientist who proved: where there was a lot of GMO in food, there was obesity and diabetes. Because there is a breakdown of the human body, metabolic disorders, exacerbated many diseases.
When I conducted research on rats, the following results were obtained: in adult animals, to which we added GM soy, we observed strong liver pathology (cell destruction), underdevelopment of the genitals, and hormonal imbalance. Other researchers have also found that the gastrointestinal tract, pancreas, spleen, kidneys and other organs are also affected.
In Germany, studies have been conducted that show which internal organs can penetrate foreign inserts from GM plants. A so-called fluorescent green label was used. Plasmids (circular DNA of pathogenic bacteria) with the gene of fluorescent green protein were added to animal feed (animals and humans do not have green protein in the body). After a few hours, a glowing green protein was found in the cells of various organs in experimental mice using a fluorescent microscope.
Then fluorescent protein was added to the feed of pregnant females - and it was found in some babies in different organs: in the gastrointestinal tract, genitals, skin, heart, in the brain, etc.
These alien inserts (transgenes) are not destroyed, as previously assumed, but calmly penetrate into the cells of our organs. And then they can provoke a disruption of the cells, the development of a tumor, and so on. This is really very scary.
-
It turns out that Mr. Academician is deceiving us, asserting that transgenic proteins are broken down in the gastrointestinal tract to ordinary amino acids and therefore do not enter the bloodstream and are not spread throughout the body?
- Well, let's start with the fact that not all food is digested in the gastrointestinal tract, there are undigested pieces. Therefore, transgenic DNA can easily fall into the bacteria of the intestine, then into the blood and lymph.
Moreover, if you take soy, there are so-called trypsin inhibitors, that is, substances that block the work of the digestive enzyme. Therefore, when we absorb soy transgenic products, nothing is really digested.
-
How do these risk factors affect the next generation?
- The use of transgenic products by parents causes great harm to their offspring. In my experiments, more than half of the rats died because they were not viable. And forty percent of the survivors were underdeveloped, that is, much smaller than their peers in size and weight. And all the survivors were fruitless.
In the first three series of experiments, I fed only females with transgenic soybeans, that is, I added a small amount of it to their food. And this led to such terrible results in their offspring. And in one of the last episodes, I added transgenic soybean meal to the feed of both the females and the males — and I no longer had the normal even the first generation: 85 percent of the females did not produce any offspring.
And, of course, if we eat transgenic foods, then it is clear what they will lead to: a surge of diseases, especially cancer, and infertility.
At the end of the last century, German scientists published a scientific paper "GMO and Oncogenesis". It argued that GMOs can lead to oncology. This was confirmed recently by French studies of the Séralini group. I found the same huge tumors in the descendants of experimental rats, in whose food GM soy was added, but not in all, but only in 5 percent. But in my experiments I fed the females and the born rats for a short time. And if I continued to feed the rats and further, then most likely, many people would have developed tumors.
The tumors in my rats were really huge, they made up the third part of the body. It is these tumors that the Séralini group found in their experimental rats.
-
But multinational companies that produce GMOs also conduct research. And they supposedly prove the harmlessness of transgenic organisms?
- How our research differs about those that transnational companies are doing. They observe the test subjects for a short period of time — one to three months. And Séralini looked throughout the life of the animals to which GM maize was added to the food. And he found tumors in their fourth or fifth month. And I found these tumors in the offspring. That is, we did what the companies did not. They really did not check anything - and they launched GMOs in large quantities.
That is why GMO is a weapon. Eating them, people will get sick and die, and the offspring will become fruitless. In fact, this leads to the extinction of the population of a country. Back in 2004, one of the NATO Science for Peace and Security Committees stated that GMOs can be used as biological weapons.
-
If these weapons are widely used in Russia, then our people will experience amazing transformations similar to those that are already occurring, for example, in Germany. A huge number of hermaphrodites began to appear there. And some experts associate this with GM foods. Like, with their help, people made like the infamous Dolly the sheep, which was bred by cloning. Only there were mixed the genetic material of sheep, and here - people and ... those creatures whose genes were introduced into plants.

Dolly was very sick and died of old age much earlier than her peers. Petr Petrovich Gariaev, a member of the Russian Academy of Natural Sciences, argues that the manipulation of genes always leads to the following consequences: painful creatures are born that live a little. If they miraculously can conceive from their own kind and give birth, their children will be even less adapted to life. Their race will end on the second or third generation. It seems that the replication of hermaphrodites is one of the methods of reducing the population of the planet, which is now used by "curators of humanity" from the corporation "Monsanto"?
- It seems so. Hermaphrodites are people who have both female and male genitals. They were born always, but in very limited quantities. And now it is almost a mass phenomenon. Why? I think that in fact there is a global experiment on people, and I associate it with genetically modified products.
For example, in the American GM potato, we found the SRY gene, which triggers the development of male genital organs. It is possible that the consumption of such potatoes has led to the fact that girls with male genitals began to be born. This gave rise to the appearance of hermaphrodites. In Germany, they have already achieved the adoption of a law on the presence of the third sex.
-
Can a hermaphrodite give birth to children?
- It is very difficult. First you have to decide who he wants to be, a boy or a girl, and have an operation. I know the woman who did it and gave birth to a child. But she has a strong masculinity. She walks in men's trousers, has a very short haircut, is engaged in wrestling, that is, behaves like a man. She is not capable of being a tender mother for her child. This can give rise to mental disorders. And if he still will eat the same American GM-potato ... Of course, all this is very sad and scary.
-
Is it true that transgenic plants pollinate the related weeds around the fields - when ordinary crops are planted on them, they are interrogated by weeds and also become transgenic? So, on the planet, natural plants are supplanted by transgenic. For example, there is no natural rape left. And a similar fate threatens all useful plants: will they become harmful or will they become extinct?
- It's true. Only you need to consider that there is pollination in one direction and in the other. That is, ordinary plants can also pollinate transgenic, and their seeds will become ordinary.
-
Is there a struggle between them?
- Yes. But why is it scary? If the pollen of a transgenic plant gets to normal, its transgenic seeds will give only one crop, and the second will not be. That is, they will become fruitless and begin to disappear. They will not be able to fight for existence, simply because they are no longer there.
-
Wow!
- Moreover. Insects that sit on transgenic plants and feed, they stop breeding and disappear. Now it happens to bees, bumblebees, butterflies. That is, a plant resistant to some pest kills beneficial insects. And they start to fade. You see, the whole horror, then what? For example, there was a job when the ladybirds of God were fed by aphids, which were bred in GM potatoes. At these ladybirds the laying of eggs decreased and the term of life decreased.
-
It turns out that not only people are dying of GMOs, but also all living things with the exception of transgenic freaks who disappear in one generation without artificial support. That is, as a result of this global "experiment", the Earth can be completely lifeless?
- I repeat that GMOs are worse than atomic weapons. The bomb in Hiroshima exploded — everyone saw how bad it was and started taking action. And here transgenic cultures were spread all over the planet - and the gradual extinction of all living things began.
Many do not understand what is happening around. For some reason the butterflies have disappeared, for some reason the bees are dying, even cockroaches are becoming rare. And in fact, the entire biosphere of the Earth is being destroyed. And, ultimately, the world can die because the biosphere collapses. And it will collapse because of these transgenic crops.
-
Growing them, poured into the fields and poured a huge amount of poisons that kill harmful insects, weeds and all living things around. Only transgenic mutants are tolerated. But the earth itself becomes dead: worms, bacteria and everything that ensures the natural fertility of the soil die in it. Fields turn into wastelands that crawl around the neighborhood. We have to throw them, look for new lands, which after a few years also become lifeless. So GMOs kill lands that have fed people for thousands of years. The former granaries of Russia and Ukraine, which a hundred years ago provided food for half of Europe, turn into deserts like the Mars ones.
- Why did you need these chemicals? The fact is that the concern Monsanto half a century ago was producing chemical poisons that were sprayed over Vietnam during the war in order to destroy the vegetation that hid the partisans. Not only plants but also people got sick and died. And among their descendants were many freaks and barren.
But the war ended, and the chemical concern Monsanto continued to work, modifying its products. Maybe his workers even had the good intention to correct their mistakes - to create plants resistant to chemicals used in the war. But then they began to widely distribute it, sell chemicals and plants resistant to them. And, oddly enough, the farmers very actively supported them.
It seemed to the farmers: how good you are spraying the chemical, all the weeds are dying, and a resistant crop gives a good harvest. But this culture accumulates these toxic substances! Moreover, the land, surrounding plants and people living near the fields are being poisoned. There is oncology, infertility, early mortality.
I was amazed to visit one of these villages. It would seem that people live in nature and should not get sick. But three had tumors cut out, one young woman cannot give birth to the second child, two died "for some unknown reason." Children began to get sick often. Who was capable, leaving his native place, the townspeople were selling their villas ...
GMOs are a colossal threat to our country. Colossal!
-
After such information I really do not want to live ... Therefore, let's talk about the good. There is information that on the earth with a high level of radiation as a result of the Chernobyl disaster, people leading the Orthodox way of life are not ill: they pray, partake, fast, and so on. Therefore, there are many healthy people in the parishes; young people give birth and bring up healthy children. And atheists die from leukemia, heart disease and other ailments caused by radiation, or from hard drinking.

Official science does not know why this is happening. But there is a hypothesis. Physicists told me that high-energy particles kill a huge number of cells in our body (one alpha particle destroys more than a thousand cells), breaks chemical bonds, DNA chains. But wave genetics (they are headed by Peter Garyaev) claim that under the influence of beneficial information, broken bonds can be restored, broken chains of molecules can grow together. All material takes its place, is built correctly on the wave frame that surrounds and permeates our body.

So, studies have shown that of all the informational influences, the most beneficial is Orthodox prayers. They heal not only humans, but also the environment, which is able to memorize and store this beneficial effect for many hours and even days, until other factors change it.

The beneficial physical environment created by prayers can change matter. For example, after water prayer and sprinkling with holy water, it becomes non-radioactive food, which previously radiated so much that it went off the Geiger counter. It is tested in temples and monasteries on radioactive earth.

So, the hypothesis is that the Orthodox way of life will save us from diseases caused by chemical poisons and transgenic organisms. After all, Jesus Christ gave a sign to his disciples: "As soon as a mortal drinks, he will not harm you." How do you feel about this idea?
- I agree with everything you said. But it is impossible to entrust the solution of all problems to God - you have to do something yourself. I once visited a beautiful city, where there are many beautiful temples and monasteries, many shrines. But this city was so dirty that there is nowhere else. And at a meeting with local residents, I said this: "Of course, everything will be as God wishes. But what, He will clean up the papers on the streets for you? "And two years later she arrived there - the streets are clean. Thank God, people understood that something also depends on them in this world.
Therefore, God - He seems to give us the right direction, but we must fight. People need to stop the spread of GMOs on our planet.
Now we are developing a device by which everyone can determine whether a transgenic organism is or not. Then you can avoid GMO-containing foods. We must protect our children and animals who cannot protect themselves with prayers from transgenic organisms.
-
Irina Vladimirovna, you said recently at the conference that scientists who research plant and animal products on the instructions of manufacturing companies and declare that there are no transgenes in them, they simply cannot detect them. After all, there are thousands of transgenes, and only a few of them can detect instruments from these scientists. Therefore, their statements about the absence of transgenes are a frank deception. And how will your device determine all the variety of transgenes?

- According to the GOST accepted by us, only two regulatory genes are required to search. With the help of instruments available in laboratories, a transgene can be detected only if there is a "standard" of this gene. In our laboratories such standards 40-50. If there is no standard, you do not identify GMOs. But transgenes are hundreds of times more! It would seem that everything should be certified, and corporations should indicate the presence of transgenes in their products. But if there is a long war, and our country has entered the "axis of evil" for America, then no one will tell us the truth.
As for our device, it is not based on the identification of certain genes and transgenes, but on a completely different principle. In plants with an altered genome, a completely different physicochemical nature. Here are the physical and chemical properties and will determine our device.
-
As I understand it, these reactions are the same in all transgenic plants, and they are completely different from the reactions of ordinary plants. So your device will react to any mutant?
- Exactly.
-
And the last question is good. At the conference, you noticed that you pray to God ... What and about whom are these prayers?
- First of all, I always pray for Russia. If everything is in order in the country, then I would like for my whole family to be fine.
-
Irina Vladimirovna, let me say a little about my own - when I serve as an altar boy in the church, I feel the healing power of prayers. The reading of psalms, canons, the Apostle itself - loud, clear, cordial - it is so good for my health that I have all my illnesses. I do not go to clinics, I do not lie in hospitals - I am being treated in the temple. And I know many people like me. And you, as a biologist, can confirm the reality of the beneficial effects on the health of people of the congregational prayer in the temple?
- The fact that a beneficial effect occurs is certain. I myself faced this. And I protect myself with prayers.
Before, I was not very churchly, I didn't believe so much in God to pray regularly and go to the temple. But when I seriously took up the problem of GMOs, sorcerers and psychics began to appear around me who tried to manipulate me. And knowledgeable people said to me: "Urgently run to the church — prayers such and such, do this and that." I began to do it - and everything seemed to have cleared around me. Since then, I often go to the temple. And I try to keep the Orthodox way of life.
-
Perhaps this is your most valuable experience, Irina Vladimirovna. And an example for us, unbelievers. May God grant you health and success.