Very often we hear the myth of complete freedom of speech in Western countries. There is nothing like this in reality. There is one, official point of view, which is imposed from all screens, from all newspapers and from all radio stations. Is there a "different" point of view? Of course. But they don't show it, they don't talk about it, they don't broadcast it. There is also a body that controls how "conscientiously" the media cover events.
But there are some things that most of the citizens of our country simply do not realize. Because children's programs with a political bias in our country can only be perceived as a joke. Children's political literature publishing house ...
But in the so-called "civilized world" this is already a reality. Brainwashing in the right direction absolutely frankly and openly begins in early childhood.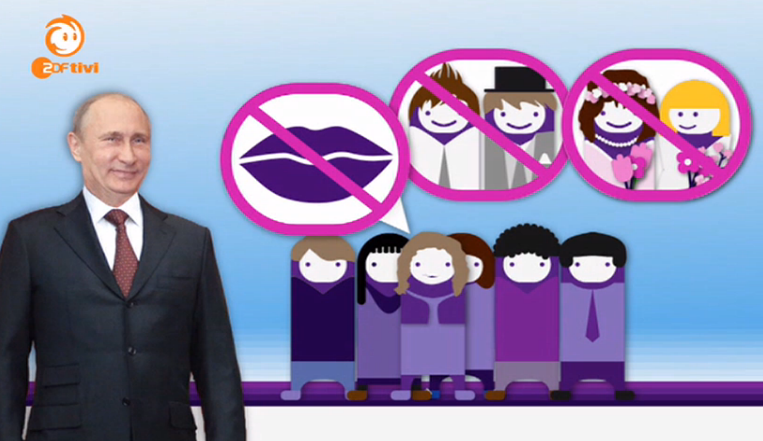 Source: http://www.alexej-schmidt.de/2013/12/blog-post_12.html
«
Anti-Russian propaganda for the youngest
Imagine you turn on the TV in the evening to watch "good night kids" with your child, and Khryusha and Stepashka, instead of the usual empty talk, begin to burn the verb "rotting West", complain about human rights violations in Guantanamo or sodomy planting, that is to retell in the language accessible to the child all that you saw in the past program of Mamontov or Kiselev.
Imagine, startled?
In Germany, there is no need to imagine such things, since they have long been a harsh everyday reality. There is a children's television channel in Germany - KiKa, on which cartoons are shown, often Soviet ones, as well as all sorts of cognitive programs. This channel belongs to the German First and Second public channels, that is, it is funded directly by all residents of Germany, where each family pays for the pleasure of watching public television 17,98 euros per month, that is, about 800 rubles. Like any public channel, KiKa pays great attention to educating the population, in this case, primary school children, for which the channel has its own release
News
- Logo program.
The Logo program often talks about Russia, not losing the opportunity to call Putin a dictator, as well as mention uncompromising fighters with the bloody regime: Navalny, Pussy Riot, belolentochniki or homosexuals.
Yesterday, curious little viewers could learn from the Logo program a lot of new things about the upcoming Olympiad in Sochi: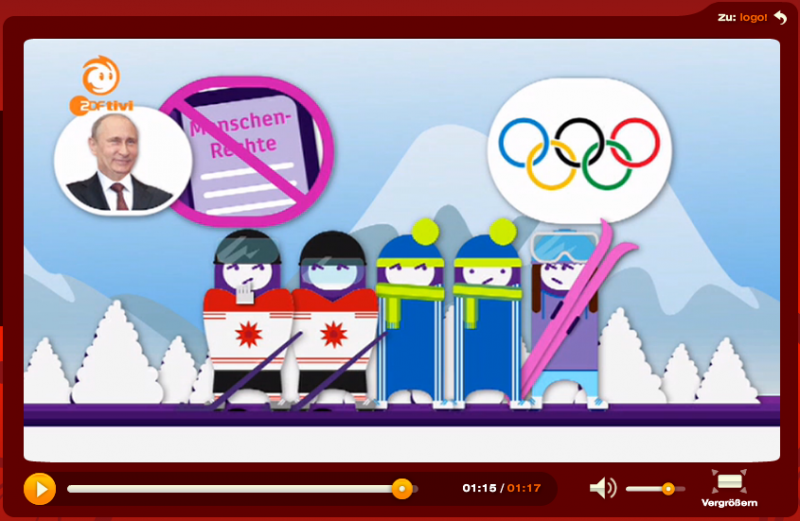 Contents of the next portion:
Sochi - City in Russia
The president in Russia is Vladimir Putin and he does not always respect human rights in his country.
Many critics say: "Putin's opponents cannot freely express their opinions; if they do, they must expect to be mistreated, and sometimes they are put in prison at all."

Others do not like the way homosexuals are treated in Russia - men who love men and women who love women. Vladimir Putin and many other people in the country consider this to be NON-FORMAL.

Homosexuals cannot be married in Russia, and there it is even impossible to publicly speak positively about homosexuality or about it, for example, writing on the Internet. Whoever does this, must count on what will be punished. Behind all this is Vladimir Putin.

Many athletes go to the Olympics in Sochi with mixed feelings. On the one hand, they believe that it is bad, that human rights are not always respected in Russia, on the other hand, they just want to be successful in their sport. Others believe that sport and politics have nothing in common. "

My comment: Pay attention to what and how they say German children. In addition to anti-Russian agitation, there is also the direct propaganda of the unnatural. Representing the relationship of homosexual and lesbian, as something normal and normal.
And further. Russia is a conservative country, with traditions that have their roots back centuries. And this applies to all the peoples of our country. So for 99,9% of the population of all Slavic and non-Slavic regions of Russia and 98% of the population of Moscow and St. Petersburg extracts from the children's German anti-Russian program look like ... the best advertisement for President Vladimir Putin.
Judge for yourself.
"Homosexuals cannot be married in Russia, and there it's even impossible to publicly speak positively about homosexuality .... Vladimir Putin is behind all this. "

"For a snack" is another example of anti-Russian agitation for German children. You can find out the contents of the video even without looking at it. This is a copy of the materials of "conscientious bloggers" and the belolentochnoy "opposition." The high cost of construction (it would be better to help people), the use of labor by migrant workers (is it only in Russia that exists, but not in the West?), Wood cut for construction, etc.
http://www.tivi.de/tiviVideos/beitrag/2083494?view=flash#2100
Looking at all this "criticism," I would like to ask one question, why did Leonid Ilyich Brezhnev and the Politburo of the Central Committee of the CPSU decide in 1980 to hold the Olympics in the USSR? Why was the colossal construction program implemented in many parts of the Union in preparation for that Olympiad? To steal money? To experience migrant workers? To cut down the forest?
Or to show the power and prestige of their country.
Remember the 1980 year. About any sports festival, you can tell nasty things. Consciously tell a story. About the 1980 year, the then "conscientious dissidents" would say:
- about the war in Afghanistan (we left it, the Americans came there);
- about the high cost (you can always say that the cost is high and the money can be given to "pensioners and the disabled");
- about Novodvorsky sitting in the mental hospitals (looking at those who were "released" and who then destroyed the country and spits on the graves of our soldiers, you begin to doubt that the USSR was so wrong about the Fifth Column of all shades);
- about Jews who are not allowed to leave the USSR (today homosexuals play "offended");
- about the nature, which is not protected (in any situation at least one tree will be cut down and it can be given out as "unique", as in the situation with the "relict Khimki forest";
- about the allegedly used "labor of prisoners", etc.
I wonder what the liberals will say about the facts of open political agitation against Russia in children's programs in the West?