Corruption has raged all over Europe. There are no exceptions: it turned out that not a single EU country is free from the hard work of bribe-takers who are firmly fused with the greedy bureaucrats from the state apparatus. Recently, Eurostat conducted the first study (apparently, sociologists did not believe in European corruption before) in the 28 countries of the European Union. And now, from the newspapers and the Internet, enlightened Europeans with dismay learned that the word "corruption" is well applied not only to "Putin's Olympics". And not only they found out, but they also recalled that quite often they themselves dragged the money to the begging bureaucrat or saw how someone else was pulling it.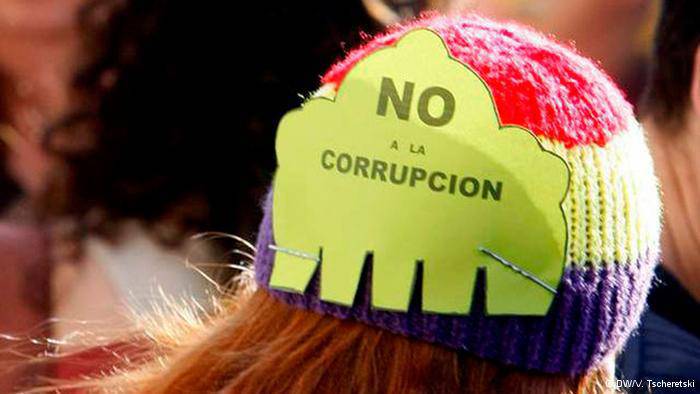 Sociologists have found: 76% of European citizens believe that corruption is widespread in Europe. More than half of these same citizens (56 percent) are confident that over the past three years, this type of bribe has risen to unbelievable limits (in the terminology of scientists, it has "increased significantly").
But the largest number: 85% of Europeans said they had witnessed corruption over the past year.
In total, almost one third (32 percent) of companies participating in government tenders and government procurement are confident that their loss is a consequence of corruption. Here are some examples by country: in Bulgaria, 58% of companies think so, in Slovakia - 57%, in Cyprus - 55%.
As noted by the European Commissioner for Domestic Politics Cecilia Malström, in many European countries there are relevant laws to combat corruption. There exist something, but for some reason the matter does not reach constant and universal application. In addition, in her opinion, law enforcement agencies lack resources. And some European countries have sunk to the point that they don't even have the political will to fight corruption.
So go on, all the corruption will be the one to eat ...
99% of the inhabitants of Greece confirmed that corruption is a common thing. In Italy, 97% of respondents said about the "common thing". The three remaining Italian percentages are, of course, the mafia. She has her own attitude to business.
The leaders in the spread of corruption in the European Union are not Greece and Italy, but Romania and Bulgaria.
93% of Romanians believe that corruption is widespread among them. 84% of Bulgarians believe that their corruption is very strong. In 2013, there were even demonstrations against government ties with oligarchs.
The countries with the least corruption are Denmark and Finland.
There are no countries without corruption.
The European Commissioner for Domestic Policy says that corruption costs the European economy 120 billion euros per year, which is slightly less than the EU budget. A sort of parallel budget, we note, is created with ease. And someone carefully considers it. Cecilia Malmström noted that the actual rate of corruption could be higher.
"The magnitude of the problem in the EU is breathtaking. Corruption undermines confidence in democratic institutions, drains the economy and its resources and is an environment for the development of organized crime, "Malmstrom wrote in the Swedish newspaper" Goeteborgs-Posten ".
Likhobory thrive in funding political parties, industrialize on the construction of cities, break the bank in health care and guard the construction of roads, Malmstrom said.
Well, this is for some reason not surprising. Those areas in which state and regional authorities are involved, just attract dashing people. The state struggle against corruption is ineffective precisely because the state is the main source of corruption. It would be naive to assume that the authorities will fight with themselves. It is the same as if the robber announced suddenly that he would fight the robbers. Other robbers would have laughed at such a statement for a long time, and then they would have put the boss in an insane asylum.
Something about corruption in the UK
"Voice of Russia"
told the press secretary of the interior of the European Commission Michele Serkone:
"In general, our results are positive. If there is anything that may require further efforts on our part, it is to limit the risk of bribing foreign officials in vulnerable industries, such as defense. In addition, we need to strengthen accountability in the management of banks.

When it comes to the political sphere, the commission proposes to reduce the costs of political parties, impose restrictions on the costs of various campaigns and ensure monitoring and prosecution of potential violations. "
He stressed that there is not a single country in the EU without corruption spots.
Well, with the countries everything is clear. Everywhere there is corruption. And what about the supranational EU institutions that look, so to speak, at this disgrace from above?
And nothing. The European rulers themselves do not consider themselves.
This is no good. European commissioners should count corruption in the corridors of their own institutions, that is, in their own pockets. Supranational corruption, it seems, also exists. Oh, how human rights activists would be happy to learn that the European Commissioners are trying to catch themselves by the tail!
And now - a few words about where does corruption in the EU come from and why is it indestructible?
"Komsomolskaya Pravda" in Ukraine "
published an opinion on the growth of corruption in the EU, Michael Dreher, a professor at the Institute of Political Science at the Friedrich Schiller University (Germany). This man gave an exclusive comment to the channel "BTB".
According to him, the problem of bribery is associated with a reduction in wages in the public sector. It became more difficult for officials to survive on salary alone. Now they are forced to take bribes. They need to support their families.
"Corruption grows when, for example, civil servants do not receive decent pay. That is, if you are a civil servant in Sweden, you can live very comfortably on your salary, you have little incentive to strive to earn more by dishonest means. You do not need corruption in order to survive. In other countries where there is a shortage of funds, for example, Greece, Portugal, where government pay has been drastically reduced, it is much harder for them to make ends meet, to earn enough money for themselves and their families. This becomes an incentive for corruption. If you pay people decent wages, if the state is capable of it, the level of corruption is sharply reduced. "
On this explanation, hardly too convincing, Dreher did not stop.
He further noted that corruption exists not only at a low level of government, but also at the highest political level. True, here her reasons are completely different. The need to take bribes does not arise from questions of survival.
So, so interesting ...
"At high levels of corruption is also present. These people do not need money. Here, I think it's about personal greed. Criminals in white collar is in any country. Many people in high positions think they deserve more. And they have good opportunities to achieve this by means of corruption. "
Well, the channel "BTB" got a good expert. All laid out on the shelves. That is, if you are a poor state official, then you take bribes because of poverty: you have to support your family (single officials, undoubtedly, save the capital for the planned family future). If you are a wealthy official who occupies a solid post, then greed awakens in you, and you are already freaking out simply because you cannot stop.
If you follow Dreer's logic, the following will become clear. With the increase in salaries of officials or promotion of their careers, they begin to move the interests of not survival of the family, but greed. That is why, it turns out, corruption is ineradicable. Where survival ends, greed begins.
And without Euro-analytics we did not know that!
Observed and commented on Oleg Chuvakin
- especially for topwar.ru