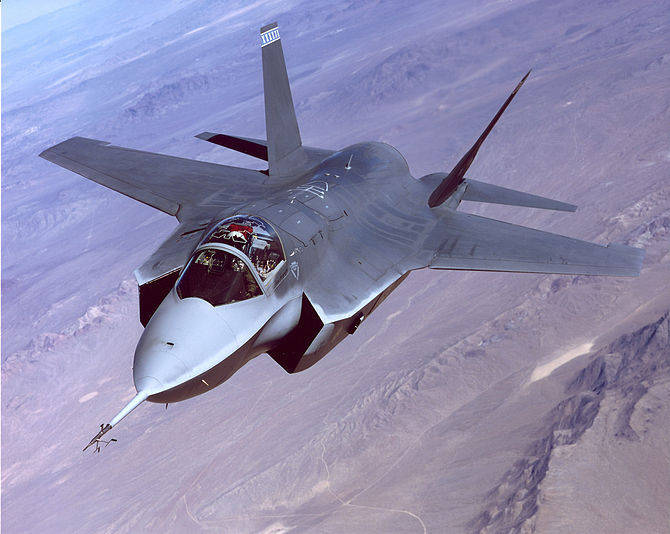 Renowned American military expert Loren Thompson (Loren Thompson) criticized the "fabrications" that some media admit to the F-35 fighter program, reports February forNX 3.
Thompson, in particular, completely disagrees with the assessment of the influential RealClearDefense website that the F-35 is "unreliable in battle, defenseless, toothless and vulnerable." This statement, in his opinion, shows the "extreme ignorance" of critics who are trying to discredit the program. "Criticism of irresponsible critics" echoes early cases where the same "subversors" declared the complete failure of such programs as the creation of the F-15 fighter,
tank
Abrams and the V-22 Osprey convertiplane, which then became world-class combat systems, Lawrence writes.
Such groundless criticism is designed to demoralize the work of thousands of engineers and workers involved in the F-35 fighter program, which, according to Senator John McCain, can become "the greatest combat aircraft in
stories
world
aviation
».
Already completed more than 8000 flight tests (half of the planned). When a problem is detected, changes are quickly made to each subsequent aircraft. Executive Director Lieutenant General Christopher Bogdan argues that the desire to identify problems is typical at this stage of aircraft development: "This is the time when we are trying to find any problems during testing to eliminate them and create an extremely effective combat aircraft for our combat pilots. "
In 2013, 1153 flight was completed, 9000 control points (tasks) were reached. Software issues will not affect the Pentagon's plans to introduce the F-35 version to the Marine Corps in 2015. Also successfully solve the problems with the reliability of stealth coatings of vertical tail assembly and the helmet of the pilot target designation. Pentagon officials say that the flight test program rarely satisfies anyone, but it is necessary for the rapid identification of deficiencies before large-scale production begins.
Journalists who write about the program do not have sufficient knowledge and tend to refer more to critics who exaggerate existing problems and "interpret them too worryingly".
The F-35 program may be the most complex project in the history of military equipment. The creation of three completely different aircraft for the Air Force, Navy, Marine Corps and for many of our allies, writes Thompson. Information about most of the onboard equipment and software is secret, as it is necessary to maintain the global superiority of American military aircraft until the middle of the century. Problems arising from the creation of F-35, will be eliminated one by one, if America seeks to preserve the role of guarantor of global security, the author of the article is convinced.