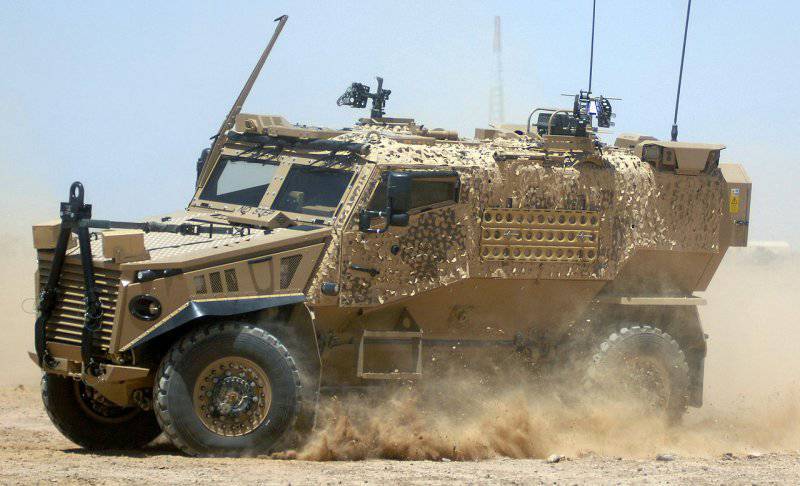 The very high levels of protection for the British Foxhound patrol vehicle are the result of using super-expensive composite materials for the crew's protected capsule. But not all users are able or unwilling to maintain the high cost of exotic armor materials.
Nanotechnologies offer attractive prospects for the application of new exotic materials, but it turns out that some of the most significant steps in modern innovative booking solutions actually occur due to the introduction of technologies into mass production, often using more traditional materials.
The life realities of the last decade have turned the assumptions of the military planning agencies of the mid 90-s of the last century to such an extent that the rapid growth in demand for light, airborne armored formations that appeared after the Cold War now seems to be a pure fantasy.
The rockets and rocket-propelled grenades that seriously plagued Israeli forces in the last decade led to the development of the 70 ton Namer BMP, while the experience of the American army in Iraq and Afghanistan made them think about plans to replace the Bradley BMP (combat weight to 33 tons) with an elephant-like ground one. ground combat vehicle that can weigh up to 84 tons. Armor and protection systems make up a significant portion of this mass, so what do modern, lightweight miracle materials promise us?
So, partly a sharp increase in mass is due to the fact that, by definition, the only way to enhance the protection of existing machines is to install mounted (invoice) armor. In part, this is also due to the laws of physics and the ability of heavy machines to cope with the explosion. However, economic and price issues have a considerable impact.
The representative of the Swiss company RUAG said that "If you want to protect the entire machine from the full range of threats - you look at kinetic energy, RPG-like threats and roadside bombs, that is, you must cope with explosions and high-speed fragments - then protection against these threats should be integrated into the base machine. "
"Not much you can do to reduce weight until you return to the drawing board and say," I'm happy with the basic machine, which essentially has no protection, but constructively can bear any protection that is currently needed in the theater ". Large-scale mass reduction due to innovations in universal armor is not a very good idea, and, realizing such a solution, you simply do not remove the mass problem. "
Nevertheless, he added that "we have our finger on the pulse, we work with research institutes and universities and see what steps are being taken and, if we see the application, we will be the first to work with them to make friends with the materials and requirements" .
In fact, research and academic institutions are fertile soil. In December 2012, Lockheed Martin announced that it had entered into a partnership agreement with the University of Surrey from Southern England to use the method developed by this university at its facilities, which increases the adhesion forces between aluminum and silicon carbide ceramics and composite backing bases and thus avoids the disadvantages of traditional light ceramics. A statement from Lockheed Martin said that initial testing showed that the composite armor panel "remained intact with multiple hits" 15,5-mm armor-piercing incendiary bullets.
In the meantime, a quite obvious transition from the aluminum armor used on many machines, such as the British Warrior and the widely-used M113 series armored vehicles, to the steel armor of the vehicles currently manufactured, for example the Nexter VBCI (attule Blinde de Combat d'Infanterie - armored Infantry fighting vehicle).
Over the last decade, steel has become much more hard due to modern production technologies, but composite materials, nevertheless, play an absolutely vital role, especially where designers and engineers want to save mass. Also, engineers can mix aramid fibers, ceramics, graphite, and other materials so that the parameters of the armor meet the requirements for its performance.
However, this usually significantly increases the cost, which is not for all users.
For example, in the Ocelot car from General Dynamics Force Protection Europe (developed as part of the British Foxhound light security patrol program), special composite materials are used in the crew's protected capsule, which offer stunning levels of protection, but at a fabulous price. The exact level of protection is classified, but is described as a whole, as equivalent to the level of protection of a Mastiff machine weighing more than 23,5 tons, although the Ocelot mass is less than one third of this mass. The cost of one machine with such characteristics is estimated at about 1,3 million dollars, while the cost of a theater machine standard increases by almost 50% due to the integration of equipment supplied by the government.
For well-protected cars made in small quantities using exotic materials, this doesn't sound too bad, but for machines that were originally intended to replace fairly simple and inexpensive Land Rover Snatch cars, it is prohibitively expensive.
The program of the US Army on the joint tactical machine JLTV (Joint Light Tactical Vehicle) tends to be approximately equivalent to the level of protection, but for a much more reasonable price 300000 dollars per piece (although still high). It is clear that Force Protection is eyeing alternative suppliers in order to reduce the cost of the Ocelot project machine to a value close to this figure.
After the shelling of the SidePRO-ATR module with marks of multiple hits of jet grenades. Polygon Oxenboden in Switzerland
Steel value
In times of tight budgets, there is a growing understanding of the pragmatism of operating steel-cased machines when relying on more sophisticated theaters with increased threat levels rely on patch sheets of more exotic materials and active protection systems.
And even in such cases, the steel in the system of additional booking has its fans. Not a single columnist of defense technologies could not fail to notice the tremendous growth in the popularity of lattice armor to protect against RPGs in the last decade. Moreover, over the past three to four years, we have seen an increasing distribution of woven systems, for example, Tarian from AMSAFE, offering easier, less cumbersome and more flexible protection than traditional hinged lattice screens, which can significantly increase the size of the machine, making it difficult to maneuver. narrow streets.
However, some developers remain true to steel solutions. RUAG SidePRO-LASSO, for example, is an attempt to offer an easy solution, but retain the benefits of the steel construction. A company spokesman said: "If you look at the properties of composite materials, their shortcomings are too significant compared to conventional steel. Looking at the service life, you get composites restrictions of about one and a half to two years, while steel can serve 20 for years and work just fine. She is a little susceptible to external conditions. Composite materials will burn if they get a Molotov cocktail. Steel is not deformed, it depends little on low temperatures ... Therefore, we use steel from the very beginning. "
"For kinetic and other types of threats, we also use composites. As for the mass of steel, there is not very large scope for creativity. If the vehicle does have mass limitations, then you should look at other options other than steel. You need to look at ceramics, aramid materials and a whole range of available materials. RUAG does not have the capacity for large-scale production of composite materials, so it makes sense for us to buy ready-made ones. "
"Solutions that we can't just buy, we make ourselves. For example, in the roof protection system, rubber is used, specially created for this, and we ourselves produce it, but we buy aramids and fiberglass composites and then combine them into a single system for the roof protection kit. "
He added: "The appearance of real nanomaterials will radically change things, and then you will be able to create your own path to perfect material instead of choosing from materials already available. But until it goes into mass production, I don't see any big changes in the future. "
Jankel is another supporter of steel armor in the low-cost market segment of products. She began to apply hot forming technology — in fact, stamping and tempering steel at the same time — to obtain parts from high-strength steel armor with very precise tolerances. The main product of Jankel, which uses this technology, is the armored Toyota 200 Land Cruiser, but the company also developed a fully-molded J8 Jeep. "We dropped the regular case and completely replaced it with armor," said Daniel Crosby, business development director at Jankel.
The process is very expensive, since special tooling is needed to get the panels, but it is profitable in mass production (at any time Jankel has Land Cruiser 60 vehicles in production and also keeps stocks to buy a car from a warehouse). Since the technology of hot molding is very accurate, it can be used in the manufacture of large complex panels, thereby reducing the number of parts required for this car. For example, for a Land Cruiser armored vehicle modified by Jankel, all 36 panels are needed, a huge decrease compared to more than 200 panels made of more traditional armor plates.
Crosby explained that this offers a number of advantages in protection, not only because of the type of steel used (the standard steel grade is 500 Br), which has better anti-explosion characteristics, but also because of the smaller number of panels. That is, Jankel can create a more attractive final product, making a tighter, more durable and lighter body.
"The side wall of the machine consists of one piece," he added, "it provides improved protection against side blasts, and also eliminates the need to cook additional lap-joints and crease protection for splinter protection, which could otherwise increase the manufacturing time and weaken the design. Exact tolerances also mean that new armor panels easily fit, saving even more time and money when re-assembling the car. "
Although in essence Jankel sells a major advantage by offering higher protection at the same cost. "Currently, the price is a serious incentive." He acknowledged that although military users of hot-formed machines often have a high level of integration of systems and additional equipment, "the base machine is actually considered a mass product, so the pursuit of some expensive composite materials in order to increase by even a slightly lower payload makes sense for this type of machine, since we are already satisfied with the available carrying capacity. "
Jankel uses composite materials in other product lines, while striving to combine the properties of various materials in a single product with strong cohesive bonds. "There is nanotechnology and in some areas movement is starting, but at the present time it is often most effective to improve existing systems."
"If someone can refine the fiber and come up with something that is a little better and that will save me a 0,02 kilogram compared to using something ready that is fully tested and deployed, then this should be a big step forward and it is very valuable for Buyer. We always receive calls from people who say that they have the latest and greatest thing, but when we look carefully, it turns out that they have created an industrial solution that is practically unrealizable on the market. "
Nir Kahn, chief designer at Plasan Vehicle Design Department, has a similar opinion. He said that "technology has, in general, reached a stage where the question is no longer what can be done, but what is commercially available and what is the most effective way to do something."
And here, for many engineers and developers, real innovation comes into play, they seek to introduce exotic techniques and materials into mass production in order to "democratize" their further use.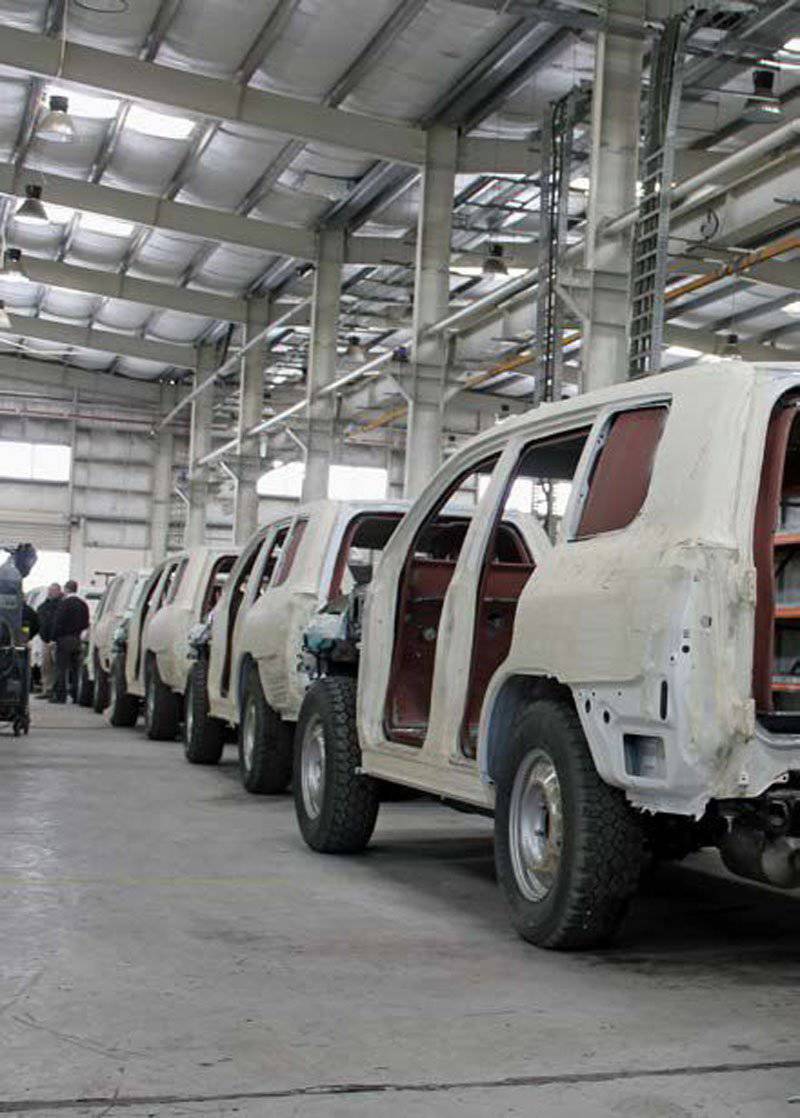 Jankel's hot-forming method offers a number of advantages in terms of cost, strength and performance. But it is really competitive from a commercial point of view only for mass production machines due to high initial costs.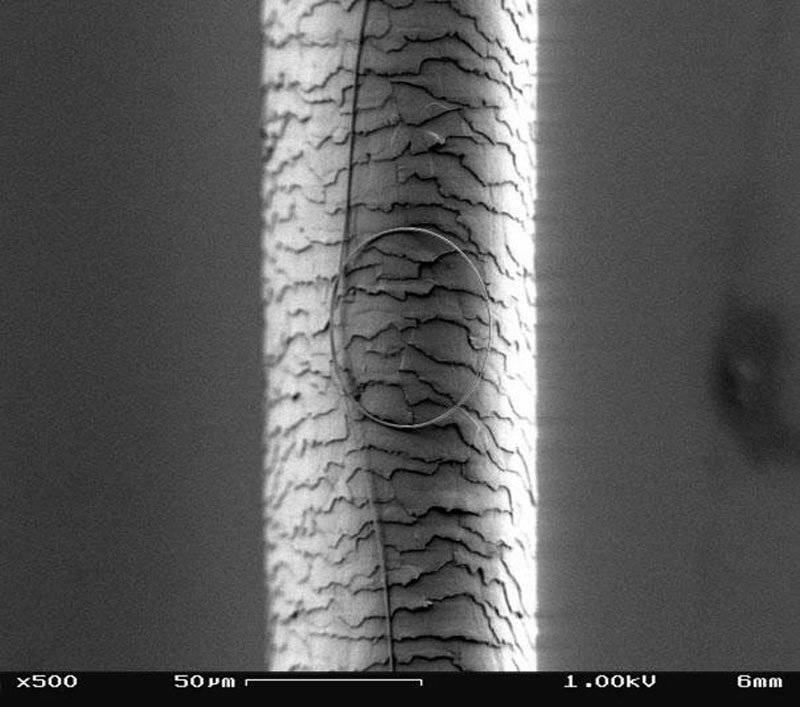 Carbon nanotubes are proclaimed as the great hope of armor materials, they are able to conduct heat and electricity, and thus it is possible to embed various sensors and energy structures into these materials in incredibly thin forms. Demonstration of the thickness of the nanotube, in the photo it is bent on a human hair loop
New methods come into mass production.
The Boston company Plasan US Defense Composite Structures (PLUS DCS) is at the forefront of composite materials production technology, having developed a method that received the term "pultrusion", which Kan describes as "composite equivalent of extrusion (extrusion extrusion). Almost any form that you extrude (extruded on a press) from aluminum can be created by the method of pultrusion. Any form with a constant cross section can be pultruded from any type of composite - graphite, fiberglass, Kevlar - and you can actually mix different fibers into the same pultruded part. As for armor, one of the advantages is the ability to pultrudite layers of composite materials of different structures in a single continuous process. The great advantage of this process is that it neutralizes most of the production costs. A significant part of the price of the part is more the cost of the material, not the cost of the technological process.
He said that although commercial pultrusion is usually used to obtain very small parts of "carriage-like shafts of remotely operated vehicles", however, the Plasan technology turned out to be particularly suitable for booking ships, where there are usually large surfaces that are covered with flat panels. "Pultrusion is most often used to obtain parts in the form of beams and bars and similar geometric shapes, but you can pultrude a flat panel just as if you were using flat stamping. This ability to combine many materials in one piece makes it very efficient for mass production of composite materials, "while another advantage is that this technique does not require a large area, which is usually necessary for autoclaves.
Another Plasan subsidiary is Tortech, a joint venture with the University of Cambridge. They want to find a way to mass-produce CNT (carbon nanotube) hydrocarbon nanotubes, which many people call the open door to real innovation in armor materials. Mr Kahn, who is a supporter of this trend, said that "the properties of the CNT themselves are very, very promising, many applications have already been invented for them. These fibers are stronger than carbon fiber, which is already quite durable. "
In addition, CNTs have electrical conductivity, which means that they can be used in batteries and in the production of intelligent materials. "By embedding CNT in today's multi-layered materials, you can get materials that can communicate. You can build lightweight sensors into armor materials. " He added that the new production method Tortech is working on will allow the company in the next few years to create CNT competing in value with direct carbon fibers.
One of the current major manufacturers of CNT is Nanocomp Technologies of New Hampshire. After the announcement by the US Department of Defense of the significance of these materials for the country's defense, this company (the only one) began supplying CNT-based fiber and sheet materials to the agencies of this department in accordance with the US Defense Industry Act Audit III of 2010 of the Year.
In June, 2012, the company also entered into a strategic partnership with DuPont with the intention to use for the ballistic protection systems good tensile strength and lower weight of CNT nanotubes along with their electrical, thermal and structural characteristics due to "interweaving" them into other materials. When used in the configuration of body protection, for example, CNT could be integrated into existing woven materials, connecting the built-in electronics, serving as a data transmission line, as well as the state monitoring and heating system of the owner.
A company spokesman said that Nanocomp's real strength lies in its ability to produce large volumes of CNT carbon nanotubes. "We are developing with our partners and get the level of technological readiness that is necessary for customers, and we also need to be able to supply products in the required quantities. You need a helicopter to fly around the building in which you are, and then you will get an impression about the scale of our production. There is no hint of nano here. We are located in a building of 100000 square. feet, of which a third is currently engaged in production. In the next 12 months we are planning to expand by another third and in two or three years we will occupy the entire building for our production. "
Along with the CNT sheet form, which is of particular interest for protection systems, the company also manufactures fiber structures. Cable manufacturers use them to replace copper wires, but they can also serve as a reinforcing element in some protection solutions. CNTs are also produced in the form of a tape, wrapping cables as a shielding material.
Material evolution
DuPont's partner Nanocomp is the most famous name in the field of soft protective materials. Having developed Kevlar, which has become a nominal term in the public consciousness, she did not stop there. She became interested in CNT technology and acquired Tensylon High Performance Materials in July 2012 from BAE Systems, intending to strengthen its presence in solutions for tensile protection. Tensylon produces ultra high molecular weight polyethylene tape for ballistic inserts in body armor, shields and machine panels. This transaction promotes healthy competition with other manufacturers in this area and a very real influx of innovation.
The development of materials is quite obvious, the developers are constantly modifying and modifying mixtures, fabric materials and fibers in order to match their characteristics to the requirements put forward. For example, in February 2013, at the IDEX show in Abu Dhabi, TenCate Advanced Armor showed a new Targa-Light CX ballistic shield. This shield is certified for the NIJ Level IV protection level and with a weight of 17,2 kg TenCate in its segment is the lightest shield on the market.
Also in February 2013, the British Laboratory for Defense Science and Technology DSTL launched a project to search for new intellectual materials for the British Ministry of Defense. As part of this project, the Science and Technology Center for Materials and Structures in DSTL is looking for new materials and opportunities to create micro and nanomaterials that can react to external influences, and as they say in this organization "with a desire for revolution rather than evolution".
Areas of special interest include smart coatings that show and warn of damage, smart fabrics with textile threads and adaptive, "morphing" structures that can provide improved performance.
This seems to reflect Kahn's view of promising technologies. "Now we are not wondering what is possible in this area and what should we do? When you start collecting materials atom by atom and basically get what you want to get, there are no longer any boundaries. "
"Therefore, in the medium and long term, I definitely see materials that have properties seen only in science fiction films, for example, self-assembling robots from the movie Terminator 2? Very little is currently found in the basis of scientific physics, which could be said "this can not be realized." The real question is whether it is realizable in the market, is it profitable? "
This is especially applicable to the production of armor, where combining known and even new materials into layered structures remains a very effective way of mixing the characteristics of armor. "In the armor, the formation of layers is still really the essence of everything," said Kan. "When the projectile moves through the material, you want one event to occur at the initial impact, another event when it moves inside, and the third model for the development of events at the rear."
"Although you can create monolithic material (for lack of a better term) that changes its properties as you move through it, it is probably more cost-effective to form material from layers, which will give the properties you are looking for. I believe this situation will continue in the foreseeable future, not because it cannot be done, but rather because of the greater economic efficiency of this method of producing laminated materials. "
In November 2012, the formation of the Union of Industry and Scholars was announced, which included AIGIS Blast protection, BAE Systems, MIRA, Permali Gloucester, Sigmatex, TPS and the University of Nottingham. This association will explore the potential of cost-effective multi-layer and "multimaterial" structures, which will provide improved light protection from mines and air explosions and reduce the likelihood of chipping and flaking of the material.
This team began research under the designation LiMBS (Lightweight Material & Structures for Blast and Ballistic Survivability - lightweight materials and structures for explosive and ballistic survivability). Particular attention is paid to the development of materials with a surface density significantly lower than that of homogeneous rolled armor, but with equal levels of explosive and ballistic protection. These materials should also be cost effective to manufacture and repair, suitable for retrofits and modifications, and have reduced splitting.
Initial research includes testing basic Armox 370T armor, aluminum, carbon fiber, fiberglass, aramid fiber and Tabreshield.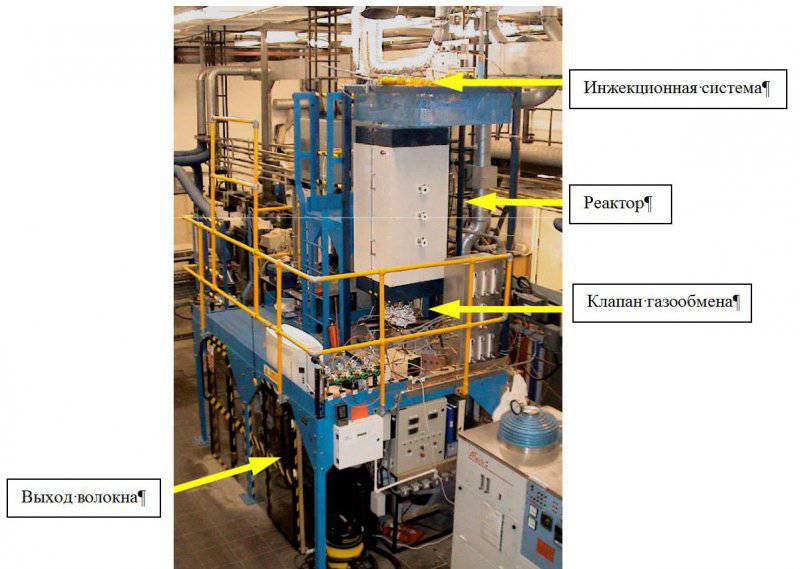 Tortech, a joint venture of Plasan with the University of Cambridge, is developing a method for mass production of carbon nanotubes that compete in price with standard carbon fiber
Materials used:
Jane's International Defense Review April 2013
http://www.jankel.com
http://www.monch.com
http://www.plasansasa.com