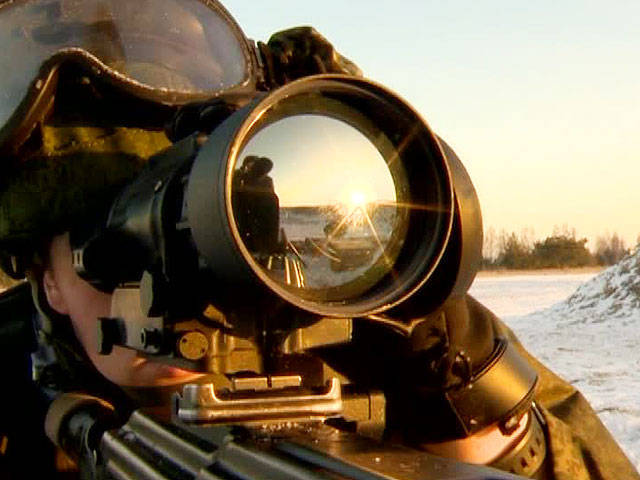 In the Pskov region, experiencing new gear for paratroopers "Warrior". New tried on a platoon of contract soldiers. Included - a thermal imager, a new body armor, special headphones that muffle the roar of shots, other devices that are useful for the fighters, and all this can be customized.
Soldiers of the Pskov Airborne Assault Division, the first in the army began to master on the shooting range equipment "Warrior". One of its elements is a new thermal sight. For scouts, this is an irreplaceable thing: it allows you to see the enemy and equipment in the dark and in the smoke.
Scout-machine-gunner Valery Gorbunov explains: "It works in the infrared spectrum, that is, it is induced by thermal radiation. Such a sight can detect both openly located targets and targets in the bushes, behind thin obstacles, disguised."
There are also special headphones for machine gunners and grenade throwers, which allow you to drown out loud sharp sounds, for example, from shots. However, the usual noise background - human speech or steps - are well distinguishable in them.
In addition, the soldier of the future can no longer do without knee pads, elbow pads, goggles, combat and engineering knives. Improved and body armor: it is made of lightweight composite materials and is able to withstand a bullet hit at close range. Denis Salakhov, chief designer of the enterprise developer, notes: "We see eight hits from a SVD sniper rifle. Steel core bullets from 10 meters. The result is that the armor panel is not pierced, that is, the person will have a bruise, but the person will remain in service."
A set of equipment each fighter literally customizes. The unloading vest, on the one hand, will additionally protect the scout from debris on the battlefield, on the other, it will free up his hands and distribute all the necessary weapons.
The head of the intelligence department, Vadim Beda, says: "Troop tests imply not only the wearing of this outfit that you see on military personnel, but also various other studies. These are hygienic tests for the absorption of dirt, durability, and biomedical research - the impact of sets of equipment on the state of the soldier. "
Test and evaluate the "Warrior" entrusted platoon contract. All of them are professional reconnaissance paratroopers, each with more than 30 jumps behind them. The culmination of equipment testing is the landing of a reconnaissance platoon from an aircraft in Ratnik outfit, albeit with standard armament. "It is convenient enough to make an airborne landing - it does not constrain, it does not hinder movement. The positive assessment of the actions during the jump," said Ilya Sheshokin, a sniper scout.
New assault rifles and machine guns, designed specifically for the "Warrior", will arrive in the spring of this year, and plan to complete the tests by the summer. After that, a set of equipment must be adopted by the Airborne Forces, marines and special forces units.