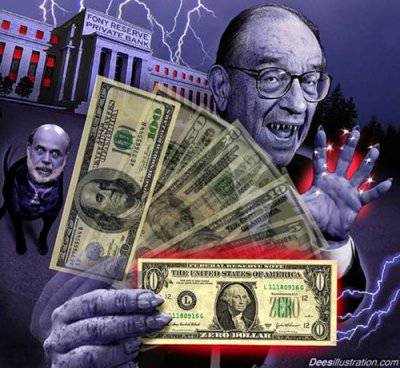 In 2014, Russia took the chair in the G8 (G8), whose summit will be held in early June in Sochi. According to the provisional agenda, the summit will focus on the issues of combating drug trafficking and terrorism, as well as offshore companies. These global problems are directly or indirectly related to the banking sector, which systematically provides the criminal world with an extensive list of services. We started talking about this in the article "International Drug Business and Money-Laundering". In this article, the technique of banks providing such services to the drug business, international terrorism, and other forces of organized crime is discussed in more detail.
1. Principles of organization of banking "washing"
The key feature of dirty money is that it is cash in the form of paper currency. Their laundering is carried out both with the participation of banks and without their participation. The second option involves, for example, the acquisition of cash houses and other real estate. However, not in all countries the law allows such transactions.
The gold market is used quite widely for money laundering. Significant turnover of trade in this metal remains in the shadow sphere. The gold acquired in such shadow markets is then sold through mafia-controlled enterprises for the extraction and refining of gold on the white market of the precious metal.
In a number of countries, anonymous financial instruments such as stocks and bearer bonds are widespread. Dirty money can be used to purchase such securities and then sell them and accumulate the money in bank accounts.
The option of money laundering involving banks is fundamental when it comes to large sums, measured in tens of millions of dollars. First of all, drug dealers are turning to banks and other financial institutions for money laundering services. According to the report of the UN Office on Drugs and Crime (UNODC), of the total turnover of dirty money received from all forms of cross-border organized crime, at least 70% is laundered through financial institutions. In addition to banks, insurance companies and various investment funds, including "charity" funds that are widely used in the United States, can perform this function.
We note some features of this process.
First, money laundering is often multistage, money passes through a chain of several banks and other financial institutions. Multi-stagedness guarantees absolute "whiteness" of money at the exit, although such a scheme is associated with additional costs.
Secondly, before getting into the "washing machine" of the financial and banking sector, money usually undergoes a preliminary "cleaning" in various small commercial institutions. These are restaurants, casinos, entertainment centers, hotels, cinema halls and other institutions whose business is connected with cash. These are mainly service firms; Imitation of the sale of services is much easier than imitation of the sale of goods. Cash is credited to the bank accounts of commercial "laundering" organizations. In some cases, the bank is at the end of a chain of sequential laundering, in which several one-day companies participate. Each of these companies is created only in order to take the money and transfer it to the next link in the chain.
Thirdly, the establishment of dirty money in the banking system is carried out mainly in countries that do not belong to the group of economically developed ones. Only at the subsequent stages of the money fall into the banking system of the West, then to be invested in the white economy. In many washing schemes, banks and firms located in offshore zones play an important role, where not only is tax evasion provided, but also complete confidentiality of operations. Offshore structures often act as an intermediary link between Western banks and peripheral banks of the global financial system.
Leading Western banks are creating a wide transnational network of their branches, subsidiaries and grandchildren in Central and South America, West Africa, Southeast Asia, and Russia. It is rightly believed that these transnational giants are expanding to conquer new credit and money markets, but they almost never mention such a motive of their activity as dirty money laundering. This is why it is not possible to establish effective financial and banking control in the countries of the periphery of world capitalism, that such control directly contradicts the interests of the largest banks and the drug mafia ...
Misha Glenny (Misha Glenny) in his book "Shadow Lords" gives examples of how control over the movement of dirty money is organized in the American Citibank branch in a small state in Dubai. In fact, there is only the appearance of control. The bank never refuses big money. M. Glenni cites the story of a successful entrepreneur, Ranko Lukic, operating mainly in the gray sector of the economy. When Lukach first arrived in Dubai and transferred thousands of dollars to 3 to his Dubai lawyer from the local Citibank branch, he was soon pretty shocked. Let us give the floor to Lukács: "Some aggressive type calls me and asks:" What is the purpose of this money transfer? "I say to him: this is none of your business, this only concerns me and my lawyer. I was terribly amazed: I had to fill out some form, and only then they translated these lousy three pieces! True, Citibank is an American company.
When I had to send two transfers of 2 million euros to a bank in the Emirates to buy property along Sheikh Zayid Avenue, the bank called me and said: "Please tell me what the origin of this money is?" I answer them: it comes from my tobacco plantations in Zimbabwe! They say ok and don't ask any more questions. It is done! Why should they be interested in where I get the money? If they ask too many questions, they won't sell anything here! "
2. Private Banking - a service for bandits
To launder dirty money in 90-ies. the last century, in the large Western banks began to create special units that provide private banking services - private banking (BH). B & W services are intended for very rich clients who are willing to place amounts in the bank from a million dollars. First of all, such services are attractive to customers with dirty money. B & W units receive money from customers for managing their accounts and providing special services that go beyond the ordinary. Such services include investment advice, real estate, taxes, offshore accounts, the development of complex schemes for "noticing the traces" of moving money. Private Banking units usually offer customers code names for accounts, concentrated accounts that merge bank money with customer money and disguise customer money flow, recommended by offshore private investment companies located in countries with strict bank secrecy laws. In recent years, banking and other supervisory authorities of Western countries have managed to bring some order in the operations of security agencies in the United States, Western Europe, and other economically developed countries. But on the periphery of world capitalism, the units of the BH still remain a "hole" through which billions of dirty money flow into the world banking system.
In addition to the BW, carried out in branches and subsidiaries of multinational banks, dirty money laundering through correspondent accounts is also used. Such accounts allow foreign banks to serve their customers (including drug dealers and other criminals) in places such as the United States where they do not have branches or subsidiaries. A bank registered abroad and not located in the United States attracts rich criminals who want to launder money in the United States. Without being controlled in the USA and avoiding high expenses for branches, the bank opens a correspondent account in one of the banks in the USA. Thus, overseas banks (called respondents) and their criminal clients receive many or all types of services provided by large US banks (called correspondent banks). In 2001, the scandalous
история
With the massive transfer of dirty money through the correspondent accounts of leading American banks became the subject of discussion in the Upper House of Congress. The press wrote: "According to the senators, in recent years, 12 offshore banks have transferred billions of dollars through correspondent accounts with American banks. Among the banks in which, according to senators, "there is no adequate money-laundering control system," four of the country's six largest banks were named: Citibank, JP Morgan Chase, Bank of America and First Union. The current hearings will be devoted to the practice of maintaining correspondent accounts and the fight against money laundering, passing through US banks. For Citibank, the hearings are of particular importance in light of the suspicious cases recently discovered in this bank. No other bank in the world has such a wide network of representative offices. Citibank executives, as well as some analysts, say that the bank's large-scale international activities create additional problems for it in the fight against unscrupulous clients. "
3. Laundering through correspondent accounts
Commenting on the participation of American banks in money laundering through correspondent accounts, James Petras wrote: "Many of the largest banks in Europe and the US in financial centers serve as correspondents for thousands of other banks. Most offshore banks laundering billions for criminal clients have US accounts. Some of the largest banks specializing in international money transfers (central money banks) transfer up to a trillion non-cash dollars a day. In June 1999, the five largest correspondent bank holdings in the United States kept over 17 billions of dollars in balance, the total amount of correspondent balance sheets of 75, the largest correspondent banks in the USA, was 34,9 billion dollars. For billionaire criminals, correspondent banks are important because they provide access to the international money transfer system — this makes it easy to transfer money across borders and within countries. According to the latest estimates (1998), in 60 offshore zones around the world around 4000 offshore banks are registered, which control approximately 5 trillions of dollars. "
The same James Petras, several years later (in 2011), admitted that the situation with the money-laundering of Wall Street banks became even more catastrophic: "Almost every major US bank has been involved in laundering hundreds of billions of dollars of drug profits over the past 10 ... provided and protected by the ability of cartels to launder and transfer billions of dollars to accounts, using the American banking system. The scale of cooperation between American banks and drug dealers leaves behind any other type of banking system activity ... Any large bank in the United States was a major financial partner of criminal drug cartels - Bank of America, Citibank, JP Morgan, as well as foreign banks operating in New York, Miami, Los "Angeles and in London."