Somehow I caught the phrase, which I consider to be a wonderful definition of the true nature of Ukrainian-Russian relations: "God and Russia, Ukraine, probably, like twin children, are outwardly different, but are inwardly loved by their Heavenly Father. As far as we are Orthodox, as much as we and together, as far as we depart from the faith, so much we depart from each other. "
Unfortunately, some things have to be explained again and again to many people. And both in Ukraine and in Russia. And the main of these things is that we are all one.
Russian people - what is it? This is not a narrow national concept like the Western European nations. This is a rather unique community formed on the territory of Russia on the basis of Eastern Slavic tribes and the Orthodox faith. After all, it is no secret that if we take the issue of blood, then for many centuries many others mixed with the Russian people - Polovtsy, Finns, Tatars, numerous Ural and Caucasian ethnic groups and others. Those. Russian today is not just a representative of nationality. This person is Orthodox (even if not very religious) in his mentality, in his outlook, in his system of values. Russian is more of a civilization affiliation than just a nationality, much less a citizenship.
So, today's problems in Ukraine are determined primarily by the crisis of self-consciousness of the people living here. The people, who for centuries have recognized themselves as Russian, belonging to the Russian civilization, suddenly began to explain that they were not Russian, that they were completely different - Ukrainian. The most "enlightened" minds even began to assert that there is no blood connection between the Ukrainian and the Russian at all. That they almost all enemies were enemies. What they didn't remember: the squalid battles of the 12th century, some miserable episodes of the Russian-Polish wars, and Mazepa ... They couldn't dig up anything significant, but they sowed the grain of lies and hatred into immature minds. So today, a person is sitting somewhere in Kiev, Russian to the bone in his ideas about good and evil, according to the most basic values, according to his worldview, in essence, sits - and cannot understand who he is! The mind tells him that he is Ukrainian, so he was taught at school, at the institute, or just 25 was hammered on TV for years. And his heart does not accept this, and he does not see anything in common with any Pole or German. But with his native Ivan from Kostroma - very much so. Well, it turns out that Pushkin, Tchaikovsky, Dostoevsky, Lomonosov and all-all-all-it's like not mine? Is this some kind of foreign culture made? What is mine? Shevchenko and Franco? And all? For one and a half thousand years
stories
Of Ukraine, how is this being told in the media and textbooks? Isn't it humiliating in the end? Instead of a sense of belonging to one of the greatest civilizations and cultures in the entire history of mankind, he is offered an image of a slaughtered provincial, suppressed for hundreds of years by some terrible Russia. Provincial, which for all these hundreds of years and create something failed. Even the language, because no matter how much the guardians shout for the Ukrainian language everywhere and everywhere, any sane person must admit that the Ukrainian language is, sorry for being rude, underdeveloped. It is literally underdeveloped. That is, did not develop into a high language. He simply does not have a highly developed conceptual apparatus, sufficient to describe the whole range of scientific, cultural issues and just human relations, all the subtleties of social being. This can be seen at least from the fact that today all these missing concepts and terms are actively being invented by journalists and other figures - we all see this in the media, everyone is already sick of this "Ukrainian new". This is absolutely not the nightingale mova that we were taught in school under the Union (by the way, it was the carriers of this mova who were taught). This is some mutilated adverb. And this man is sitting and cannot find himself. He is constantly in a state of some kind of dope, uncertainty, painfully reflecting on who he is.
And now comes the moment of truth. After 25 years of the "borderline" state, you still have to choose - either you are Russian or not. The trouble is that even those who make a choice in favor of "non-Russians" still remain Russians by nature. And they will get into the same network, in which 400 years ago the unhappy Galicians got: they will give up their Russianness, but they will not melt into anything else. And they will hate the Poles and Muscovites, and they will hate them. An unfortunate, strayed tribe, hating, in fact, themselves, their nature. A complex of a fragment of Russian culture, which has been tossed around for four centuries between its Russian essence and the imposed Western culture.
Often one has to read on the web the statements of some people from Russia, especially those who do not remember the times of the USSR, that, say, Ukrainians are, of course, fraternal people, but do the brothers behave like this? And similar phrases. Understand, finally, that we are all Russians - and here, in Ukraine, and in Belarus, and in Russia. Yes, there are differences in language, culture, some traditions. But we are all united by a single Russian entity, based on Slavic roots and the Orthodox worldview. This worldview has been brought up in us for a thousand years, and it is almost impossible to erase it from us. Even if a person is an unbeliever, his entire value system, the whole world perception, the scale of the gradations of good and evil — all this remains essentially Orthodox. And it is fundamentally different from the Western system of values, the Catholic-Protestant. What exactly - is the subject of individual reflection.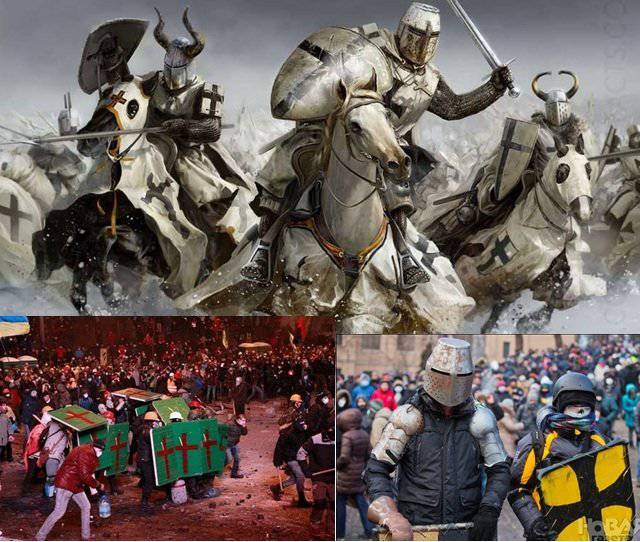 Today we all - all Russians - were, perhaps, before the decisive choice. We must remember, finally, that we are all one, despite our local peculiarities, that what is called Russian culture and civilization is our common heritage and achievement, that in modern literary Russian the share of Kiev's influence is no less than Moscow's . Otherwise, we will finally be divided and will inevitably perish. Russia is an empire. Without the imperial spirit (in the understanding of the Orthodox empire), Russia cannot exist. That is its purpose. And without Ukraine, as we know, there is no Russian empire. And not because Ukraine is so important with its resources or its strategic position. Because the fact that today is called Ukraine is the spiritual center, the historical basis and the root of the Empire. This is Small Russia, central Russia, Russia in its most direct and immediate meaning. And the defense of this Russia is the duty of every Russian, no matter where he lives - in Kiev, Moscow or Minsk.
Today, "Maidan" challenges not Ukraine, and not Russians in Ukraine, and not Putin. He is under the star-blue flag of Europe. For the crusaders of the European integrators he challenges Russia as such. And I want to believe that the Russian spirit is still alive, and that Russia will still rise to its full mighty growth - from the Carpathians to Vladivostok, from the Crimea to Lithuania - and once again show the world who is the boss here!