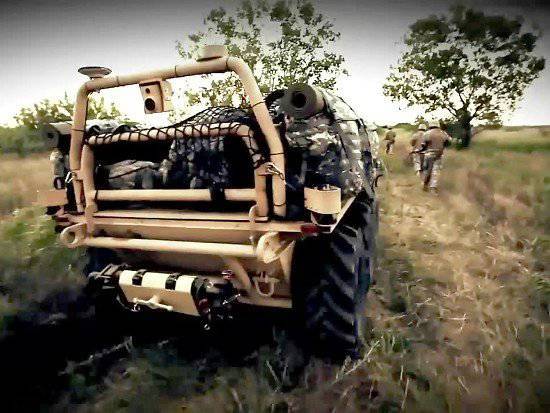 In January of this year, Lockheed Martin conducted an Autonomous Mobility Appliqué System (AMAS) [1] test at the Fort Hood test site in Texas, which is designed to turn any army truck into an unmanned vehicle. The system is being developed as part of the 11-million contract concluded in 2012. After installing a set of sensors and control systems on an ordinary truck, it will be able to fully autonomously navigate roads, including urban ones, go around obstacles, respond to the appearance of pedestrians and other cars. If necessary, they can be controlled remotely.
▶ 2014 Autonomous Mobility Appliqué System - Capabilities Advancement Demonstration (AMAS CAD) - YouTube
Several unmanned trucks can move the column. The main threat to the convoy in the field of hostilities - mines, improvised explosive devices and suicide bombers. Autonomous trucks will be able to deliver cargo without risking the lives of drivers. Just like in the cars that Google is developing, the unmanned truck is oriented in space with the help of a lidar.
Lockheed Martin already has experience developing autonomous army vehicles, albeit on a smaller scale. Squad Mission Support System (SMSS) [2], a six-wheeled autonomous all-terrain vehicle for transporting ammunition, equipment and ammunition of small units, has already been field tested in Afghanistan. He is able to follow the soldiers in a fully automatic mode, go on a given route or be controlled remotely via satellite.
▶ SMSS - Squad Mission Support System - YouTube
The armies of industrialized countries are increasingly robotized. Unmanned aerial vehicles already surprise no one. The border of South Korea is guarded by [3] robots-gunners from Samsung. According to Scott Hartley, co-founder and chief engineer of 5D Robotics, by the 2023 year there will be a dozen different robots per soldier of the US Army [4], from reconnaissance and cargo to combat.
references
1. http://www.lockheedmartin.com/us/news/press-releases/2014/january/mfc-013014-us-army-lm-complete-advanced-autonomous.html
2. http://www.lockheedmartin.com/us/products/smss.html
3. http://habrahabr.ru/post/99292/
4. http://www.computerworld.com/s/article/9244060/US_military_may_have_10_robots_per_soldier_by_2023
Footage from both videos: A column of trucks without drivers skirts obstacles. Soldiers go light, accompanied by a six-wheeled vehicle carrying stuff; visible fast-rotating scanner surrounding areas.