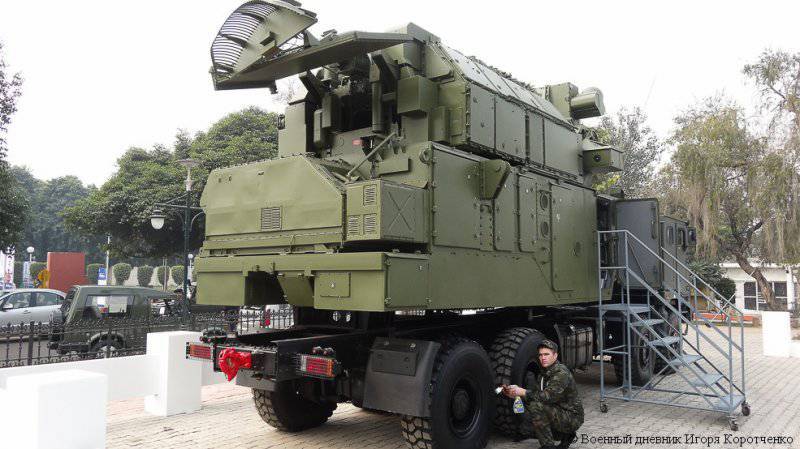 The Tor-M2KM anti-aircraft missile system (ZRK) became the main Russian exhibit at the DEFEXPO INDIA 2014 international exhibition of weapons that opened today in New Delhi. It should be noted that this air defense system with combat and technical equipment in modular design for the first time is able to completely solve the task of air defense of large megapolists and industrial centers while inside their borders.
This newest development of the Almaz-Antey Air Defense Concern and the Izhevsk Electromechanical Plant Kupol, which is part of it, has all the advantages of the Tor-M2E air defense system, specially designed to combat the most common air attack systems, such as actively maneuvering air targets, managed and planned
aviation
bombs, anti-radar and cruise missiles, unmanned aerial vehicles, airplanes and helicopters.
Top-M2KM is equipped with modern computing facilities and modern radars, which allow detecting and processing up to 48 targets, displaying information on the 10 of the most dangerous of them and ensuring the simultaneous destruction of four air targets. The area of ​​the protected object by one autonomous combat module of the Tor-M2KM air defense missile system is more than 200 square kilometers.
At the same time, the design of the new complex provides for the possibility of placing it at the request of the customer on any automobile chassis, semi-trailer, trailer, railway platforms of appropriate capacity, as well as light-tonnage vessels or use in a stationary version on the roofs of buildings and structures. This allows you to significantly expand the range of application of the Tor-M2KM air defense system up to the protection of stadiums from air terrorists during major international sporting events and significantly reduce the cost of its operation.
In April-June, 2014, it is planned to conduct tests of the Tor-M2KM air defense system on an Indian-made TATA automobile chassis as part of a tender announced by the Indian Defense Ministry for the purchase of two short-range anti-aircraft missile regiments.
At present, IEMZ Kupol OJSC is actively working to further improve the air defense system and enhance its combat performance. In particular, the leading Torr-MXNHMKM naval air defense system is being modernized together with leading developers and manufacturers of combat ships for the Russian Navy. "-" M-Tor ". A version of the Tor-M2KM air defense missile system for the Arctic units of the Armed Forces of the Russian Federation is also being worked out.