6 February 2014 at the training center in Borisoglebsk from Irkutsk arrived the next two combat-training aircraft Yak-130, transferred to the Russian Air Force after construction at the Irkutsk Aviation Plant OJSC Irkut Corporation. Unlike previously transferred, the aircraft have a new one (and rather, the "old") two-ton light camouflage color and the red side numbers "64" (serial number 1114) and "65" (serial number 1115). Driving was carried out with intermediate landings at the airfields of Tolmachevo (Novosibirsk) and Shagol (Chelyabinsk). Departure from Irkutsk held 1 Feb ala, however, is reported to be due to technical reasons both aircraft before February 6 "stuck" in Shagol.
These are the first Yak-130 aircraft transferred by the Russian Air Force to the Irkutsk aircraft plant in the 2014 year. In fact, both cars were built in the 2013 year - the aircraft with the 1114 serial number made the first flight of the 4 December of the 2013 of the year, and with the 1115 serial number of the 11 of the December. The aircraft were built under a contract with the Russian Ministry of Defense on December 2011 for the supply of 55 Yak-130 vehicles by the end of 2015, and are the 34 and 35 machines under this contract. Under this contract, 15 Yak-130 (31 to 45) were delivered by the Irkutsk aircraft plant in 2012, and 18 aircraft (46 to 63), in 2013.
The web portal, forums.airforce.ru also reports that the 6 of February in Irkutsk made the first flight of the first Yak-130 built on the 2014 of the year - an aircraft with a serial number 1116.
After the delivery of two new Yak-130 in Borisoglebsk there are already a total of 45 Yak-130 planes (tail numbers from "21" to "65"). It is possible that the aircraft delivery 2014, will be further sent from Borisoglebsk to another training unit (in particular, in Kuschevskaya).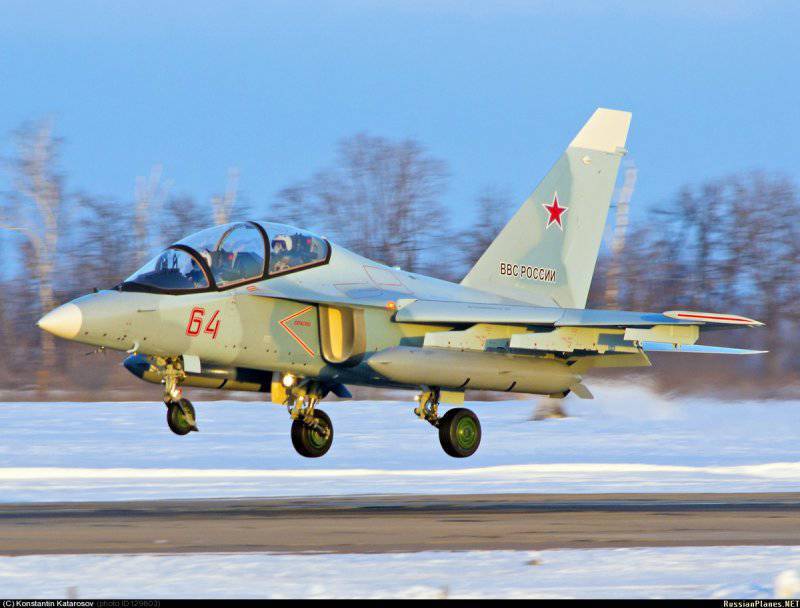 New Yak-130 (tail number "64 red", serial number 1114) in Borisoglebsk. 06.02.2014 (c) Konstantin Katarosov / russianplanes.net