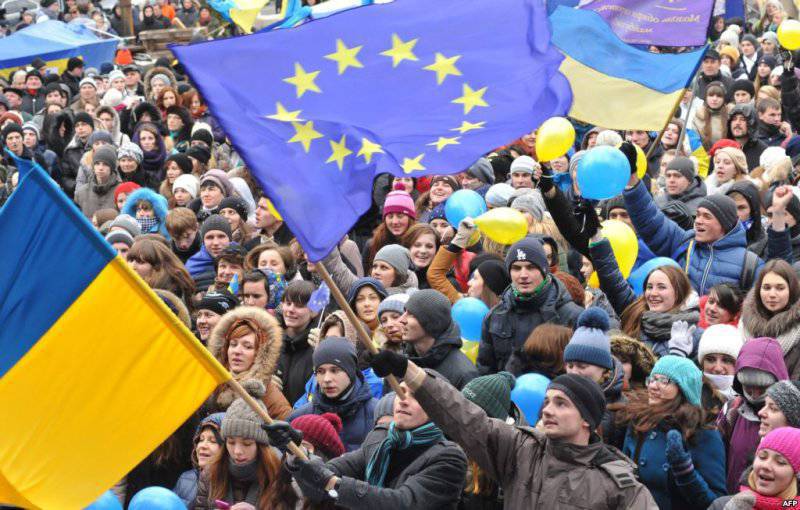 Now it is clear and understandable to everyone, the new brawl in Ukraine, the so-called Euromaidown, is a planned action against Russia, not against Yanukovych. Frankly speaking, Yanukovych is nothing, and to call him in any way, but the blow is delivered specifically to Putin. And Yanukovych knows this very well. And what's the matter, in Ukraine that the light came together? Exactly! Uncle Sam needs to stop Putin at all costs, and his integration project on the Eurasian continent.
Recently, the world hegemon, Uncle Sam, has suffered one after another geopolitical defeats on all fronts under the onslaught of Russia. For the United States came the "critical" days, the loss of influence in Ukraine is guaranteed to put an end to Uncle Sam, as the global hegemon. Ordinary average people may not guess this, but literally all interested players in world politics know this perfectly well. The truth is that these players are silent as one, that those partisans are afraid to jinx some, while others are simply afraid. And what's so scary? Some people are afraid of being left alone with Russia, because they know that the debt is beautiful and there is no statute of limitations in international politics. Some people understand that in vain they kicked the Russian bear while he was in hibernation - the country could not be transferred across the ocean.
Literally the whole world is closely watching the confrontation between Russia and the United States in Ukraine. Moreover, the fate of the European Union is literally decided here and now in Ukraine, many do not even realize this, but this is so. Best of all, this is evidenced by the howling of European bureaucrats and politicians of limitropic nedogosudarstvov, if they do not know: "Whoever is having dinner for a girl, thats her dancing. »How can you not understand the sincere words of the head of the Ministry of Foreign Affairs of Ukraine: you don't have to go into the affairs of a sovereign state for everyone who's not Gold words. Only it was necessary to "scratch" Nenko earlier at the expense of his sovereignty and self-sufficiency, from the very first day of the collapse of the USSR. When referendums were held in the former Ukrainian SSR: "On the independence of independence of Ukraine", the agitators distributed fairly simple leaflets among the residents of Ukraine for visual fixation. These flyers brought almost every house and apartment in Ukraine. In these leaflets with a pharmaceutical accuracy, a comparison was made of how much Ukraine produces within the USSR, and most importantly, how much remains in Ukraine, and how much Moscow takes, and then the Muscovites devour the klyats. According to all indicators of the compilers, it turned out that Ukraine feeds and waters Russia, and all the other parasites throughout the USSR. By the way, the Ukrainians in this account were not alone, the main breadwinners and coils of the USSR lived in the Baltic States. Yes, the Balts, they are such pribalty, now they have retrained in the main breadwinners of Europe. You look, in years through .... and Europe will be billed: for attractive and rape in a perverted form, in unhygienic conditions. But it is in the future, but in the past. Separate accountants of "Votruby" found that by all economic indicators Ukraine will be the second or third European economy. What about Russia? According to the understanding of the nascent ancient Ukrainians, Russia did not have any relation to Europe, moreover, it still had to rot and collapse alive. It was from that time and the leaflets that the conviction of a small Ukrainian and a popular expression went that Ukraine is the second France. Immediately a natural question arises: Hulk, and where is the second Hfrance? ... .. What, it is not? ... ... .. So have you already managed to have *** and second Hfrance? ....... Ah, so it was not. Ugh, you are relieved. Means, accountants-pharmacists made a little mistake. Well, at least then Ukrainian accountants did not aim at Germany, otherwise it would have been a rjack. ... Why? And you do not know - who is now the first, a dash, the second economy in Europe? ....... What? Do not know. Russia !!! ….. What's wrong with you? You, whether in a stupor, or in touch?
And do not tell me where then Nenko? Shhhhhh wait, I'll shut my ears. SPEAK! ……………
They say that time heals, but this saying is clearly not about Ukraine. It has already been the whole 22 of the year, and "leaflets" are still being distributed throughout Ukraine. Do not believe? And rightly so, leaflets are no longer in fashion. Today, little Ukrainians are shown supernova from each Internet party for comparison, and most importantly, they are colored. Shaw, again? No, no, now these tables do not show how Russia is devouring Ukraine, although there are such signs. Now a new fashion and compare that very fat one with that. ... with thin? No, with liquid. Like this? That's how. Assume that certain indicators are taken for Russia or the Customs Union, and they are compared with indicators in the European Union. Naturally, according to the numbers, it turns out that in the EU there is a real paradise and grace, and in the CU, hell and hopelessness. Even prisoners in prisons bothered to compare in "paradise" and "Mordor". It would be better to compare the number of inmates in a stronghold of democracy, in the United States, and in the European Union. But here, in fact, much depends on the compilers; manipulating information is not a tricky business.
However, for many applicants of European happiness, from the Young Ukrainian citizens, there is no need for anything more, they were literally shown on their fingers, paradise and civilization in Europe, and Russia are wild and uncultured Mongolokats. Little Ukrainian and unaware that they again consider the money in another's pocket. How to explain at once to deaf and blind Ukrainians - these are exclusively Germans, Austrians, and the Dutch have earned their good life, and you here have not stood sideways and close by. Who is so clever told the Ukrainians that ordinary Hans are ready to tear themselves away, and give their salaries in favor of the suffering European life of a small Ukrainian. How, give, keep your pocket wider, catch up and give more. In this life, everything is much more complicated, and for all the "buns" you have to pay. By the way, Ukrainian prostitutes, who in Europe are one third of the total number of all prostitutes, know this best of all, and their visas are not a hindrance. Unfortunately, little Ukrainians have been viciously zombied for many years in a row, and they cannot think for themselves. And what, unless Yanukovych, and his opponents from the opposition did not understand and do not understand that you have to pay for everything? Especially since they are the same prostitutes, political, only more prostituted.
Understand, they are just perfectly aware that if not those, so these figures, in any case, will have to pay, since Ukraine is completely bankrupt and at the moment it simply cannot physically feed itself. Yanukovych, though forcedly but made his civilization choice, he decided on rapprochement with Russia. But his opponents did not have to make a choice, they have long been on the content of the West, or on the financial hook. So it turns out that Ukraine has no choice, it needs to be determined, either to run across those lines, or to return to Russia. Ukraine has long been in the millstones between the two world superpowers Russia and the United States, and it cannot be a choice. Fedoritch could have gone over to the US side, but he has a phenomenal flair, the beast knows that even if he goes to Uncle Sam's camp, then "colleagues and allies" will merge him anyway. Even better, Yanukovych knows that if Putin said: yes, and gave his word, then it will be so. Well, for Putin, all these layouts and "secrets", according to the true customer and sponsor of Maydaun, as well as who, where and for how much is willing to sell Ukraine - are not at all secrets. Putin said bluntly about EuroMaydaun - this circus performance was being prepared for another event. ... ... That's right, for the next presidential election, which should have been held in Ukraine in 2015 year. Under these elections, mercenaries and Banderamen were intensively trained, the very ones who are now rampant in Kiev - under the "unbiased" cameras of "independent" media from Europe and the USA. The circus works strictly according to the schedule, the fire show is closer to the night - the picture is just brilliant.
The cars and tires burning on a clear day will not impress the European and overseas average people, so "good" they have all the TV channels packed to capacity. The most important thing for the 2015 election of the year was that the United States should have fully paid into Ukrainian oligarchs through the promise of legalizing their capital in the West. That is why the oligarchs so zealously pulled Ukraine into the EU, its shirt closer to the body. In this election, the candidate should have won from the West, or rather from the United States, to completely and irrevocably tear Ukraine away from Russia. Uncle Sam is still delirious with the idea of ​​a fix, as if he would first debit Ukraine on the cheap, and then "drag" it into NATO. Yes, by the way, some of the leaders of Ukraine didn't have to be "dragged in" there, they themselves were not averse to jump in, as quickly as possible - into NATO. Have you thought about Pan Yushchenko and about his personal curator from the CIA, radio operator Kat? You almost never made a mistake. The first who declared that Ukraine should join NATO was Pan Kuchma, in May 2002 of the year it was the cry of his soul. The fact is that Putin came to power in Russia, and the corrupt elites of Ukraine have been keenly aware of this - this person is dangerous, he wants to restore Great Russia. Kuchma had to urgently sit down at the computer and he wrote a fairy-tale-utopia "Ukraine is not Russia", but thinking everything drilled Danilych's brain: they will notice "there" and will certainly give the Nobel Prize in literature. Kuchma, as always, turned out in Ukrainian, a requiem for Ukraine. Kuchma and the oligarchs were afraid of losing the country that unexpectedly fell on them, and hence the source of getting easy money. By the way, Yanukovych was at that time Prime Minister of Ukraine, and he was in full solidarity with Kuchma - for NATO. So it was then. So it is about now, almost all the oligarchs of Ukraine fear the rapprochement with Russia as a devil of incense. What are they afraid of? So they said after all, Putin and his goals, to rebuild the Russian Empire. The oligarchs of Ukraine, do not want to rebuild the Russian world, they just want to be their own in the West. Oligarch Nenki knows very well, if Ukraine joins the CU, they will be, though indirectly, but under Putin's cap, and they will have other roles - modest. And the oligarchs of Ukraine are afraid of competition, their business is extremely inefficient. When Ukraine joins the CU, most large Ukrainian companies will be "swallowed up" by Russian business empires. Ukrainian oligarchs all the years of "independence" of Ukraine, and only those engaged in that they sucked all the money out of the country. At the same time, they absolutely did not care about capital investments in "their" production assets, nor about personnel, nor about Ukraine itself. They are temporary workers, and that says it all. We will not be cunning, and in Russia it would be the same if it were not for Putin. And when Yanukovych suddenly decided to turn around sharply, and get up to face Russia, and back to the West, then the oligarchs of Ukraine began to panic. The oligarch of Ukraine immediately ran to his tillage with a howl: Chief usyo was gone, the client was leaving, the cast was removed! Everything did not go as planned by the overseas director, he had to urgently give the go-ahead to the extraordinary Maidan. In Russia, there is something that is beyond the control of the overwhelming majority of countries in the world - this is imperial thinking, vast organizational experience, and its own civilizational path. So it was, so it is, and always will be! This is what allows the state apparatus and the special services of Russia to predict the future development of events around themselves, and in the world for many years to come. Only the blind and deaf, could not see and not hear, with what excitement the United States, diluted the brains of the average Ukrainian. Naturally, this was done not directly, but through their special services, which in turn were controlled by hundreds of "non-governmental" organizations and foreign "compatriot" organizations. The ideological Sprut has operated on the territory of Ukraine for more than 20 years. And all these years of "independence" of Ukraine, from it sculpted the worst enemy of Russia, and the population was methodically turned into an American corps "Janissaries", for the subsequent war against their Russian brothers. The first "bell" sounded in 2004, when Uncle Sam inspired a coup d'état in Ukraine. He was committed by the then Orange Maidan and the brilliantly "democratic" third round of presidential elections. Then Uncle Sam won the battle, putting his protégé, Pan Yushchenko, at the head of Ukraine. It must be said directly that the United States helped Putin, since Yushchenko was a complete nonentity and an amateur in government. Yushchenko decided to immediately take "the bull by the horns", that is, he began to "swing" the rights and demand from Russia full payment for all the services of Ukraine, including the theft.
Such a turn of events completely freed Putin's hands, and he didn't fail to take advantage of it on all 100%, having thrown Ukraine off the Russian contentment.
As mentioned above, the second call was to be heard in the 2015 election of the year. That is why, without waiting until Uncle Sam finally resolved the Ukrainian question in 2015, through New Maidan, Putin sharply aggravated the game by opening the abscess, not waiting for the development of gangrene. As long as Uncle Sam was just planning, Putin had been acting for a long time. For some half a year, he drove Ukraine into a financial dead end and forced Yanukovich to choose, either an early default and an explosion of popular anger, or a saving loan from Russia and a discount on gas. But this loan is nothing in itself, and even a discount on gas is a trifle, the most important thing was in the details.
Russia offered Ukraine extensive cooperation: in the nuclear power industry, aircraft industry, rocket production, shipbuilding, and in many other industries - for the sum of hundreds of billions of dollars. Yes - these amounts will not be received by Ukraine at once, but they are real, not virtual, like those of the EU. The money allocated by Putin to Ukraine, discounts on gas, and the most extensive program in industrial production, is nothing more than "Putin's plan". What is the plan? Plan for emergency resuscitation and economic rescue of Ukraine, with subsequent psychological therapy and its return to its origins, in the bosom of the Russian world. This is our answer to "Chamberlain," that is, the "Marshall Plan." The same "Marshall Plan" which Yatsenyuk and to, went to beg for money from the West in Munich. Yatsenyuk really wants to become prime minister, all the more, Yanukovych offered him this sinekur and he does not mind at heart, but without money, this is a firing position. Well, Ukraine has no money, and there will be no - the country is bankrupt. Yatsenyuk and co, go to Munich in order to try to make a castle. They want to replace the money allocated by Russia for Ukraine with the hypothetical "Marshall Plan" for Ukraine - from the West. If Yatsenyuk and co.
beg money from the West, then he will fly into this position. Only this "Marshall Plan" will be no better than the requirements of the IMF, which provide shock therapy for Ukraine - a sharp increase in prices for utilities, gas and much more, a reduction in civil servants. The implementation of this plan means one thing: Ukraine will finally turn into a medieval suburb.
It is precisely the outskirts that Europe really needs, primarily as an exporter of cheap serfs: nurses in Germany, Italy, Austria, Greece, new prostitutes for Europe, strawberry pickers in Ireland, plumber Mykola in Poland - instead of the immigrated Polish Peter.
If we compare these two plans, but only really, and not speculatively, then the Putin Plan is the actual salvation of Ukraine from bankruptcy and the new industrialization within the Russian Empire. But the "Marshall Plan" in the hands of the West is the de-industrialization of Ukraine and its breakdown into latifundist plots with nominal slaves. This is the reincarnation of the new Middle Ages.
Here and the blind man will see the real "Putin's Plan" in all respects beats the hypothetical Marshall's Plan. Quite right, but not in this case, the zombie Ukrainians were in too neglected condition.
Many Ukrainians are still in their infant confidence that Ukraine is still producing giant airplanes, rockets, engines for airplanes and helicopters, many types of weapons and much more. Partly yes - that's right. Airplanes can be said Ukraine almost does not release, especially such giants as "Ruslana". The rockets in Ukraine are still being assembled, but these missiles contain more than half of the components from Russia, and make them for Russia. The engines for helicopters produced in Ukraine almost all go to Russia, but the fact is that Russia has already launched the production of similar engines. The question is only in whether to buy out these plants in Ukraine, or build new ones at home. Modern armaments in Ukraine have not been produced for a long time, the Soviet reserve, stockpiles, and even factory illiquid assets of the USSR times are docked. According to the Putin Plan, it was broad cooperation in the "heavy" industry and the military industrial complex that should have given impetus to the accelerated recovery of the Ukrainian industry. Some plans to restore the Nikolaev shipyards are worth something! Naturally, all these plans will be realized not without benefit for Russia. Is it different? No, it does not happen. In the case of joint plans with Russia, Ukraine has a chance to stay in a narrow circle of industrialized countries of the world. The plan of the West for Ukraine provides for building a continuous paling fence around it of restrictions and requirements. If you follow these requirements, it is easier for Ukraine to immediately close the vast majority of its plants and factories, since it will be impossible to fulfill them. The fact that would catch up with Germany, France, Italy, Austria, even the question can not be. And in order to develop and make their high-tech products, we need time, scientific and technical personnel and huge money. Does Ukraine have this now? Almost not. If you follow in the wake of the West, then Ukraine will have nothing, neither industry, nor work in the country, nor money, and even workers will not be missed.
This is exactly what the EU will aggressively seek from Ukraine. The only export commodity that will be sent from Ukraine to Europe is cheap slave workers. What kind of industry in Ukraine can we talk about, if the EU has nowhere to put the products of its manufacturers, and then there is Ukraine. EU competitors are not needed.
So why, then, many Ukrainians are unhappy with the agreement between Yanukovych and Putin? You see, the little Ukrainian was "stuck" by the fact that Russia actually bought Ukraine, both on sale and cheaply. Is it a matter of pride? Nearly. If you do not take into account the fact that about 57% of Ukrainians want to leave the country to work. Some of them want to leave temporarily, while others want to leave forever more than 20% of the protesting "proud people". This is where the whole riot revolt is, the little Ukrainian thought that they had taken away a "happy" lottery ticket, on which he had to win a visa-free trip to the EU countries. That is, the "Protestants" from Maudoun have actually already sold Nenko for their visas. Naive people, who told you that they are waiting for you in Europe? In the first France, unemployment is greater than 10% of the total working-age population, and in Spain 27% are unemployed, in Greece under 30% are unemployed, and there is no end to this disaster. And then suddenly millions of job seekers from impoverished Ukraine will enter the European Union. But who will be happy about this "welding" in the European Union? Maybe the Portuguese? Or maybe the Greeks? Or maybe the Spaniards? Or maybe Italians? In the European Union, and so established a precarious situation, the budgets of the countries of Southern Europe have long cracked at all points. And now, not only in Southern Europe, but also in France and Belgium, they will also need financial investments very soon, and then another Hfrance. Everyone hopes for Germany, but it's not rubber, and after a year the Germans will ask: where is Angie's money? Most of all wants, that Germany would hang up on itself the next collar and at last it was overstrained, uncle Sam. Why does he need it? Shadow rulers of the United States are very profitable to repeat their old scenario in Europe, the birth of new mini and micro Hitlers in the area from Portugal to Galicia. No matter how blasphemous it sounds, Uncle Sam needs new centers of Nazism and fascism in Europe, only in this case, capital from Europe will run to them. To put these plans into practice, all means are good, from direct forgeries, provocations and sacred murders - this is exactly what is happening in Ukraine now. Uncle Sam is struggling with his foreheads between Russia and the European Union - or rather Germany, but he has little work. The fact is that Germany itself is split into two camps: on the one hand there are large industrialists, and on the other hand financial international in conjunction with political parties - from the green party, the CDU and to the freak-pirate party. German industrialists need a close alliance with Russia, first of all, for guaranteed supplies of natural resources, and this is the most important thing. And secondly, to receive giant orders from Russia and participate in the modernization of its industry. The financiers and their party political pawns are historically oriented towards the USA and are trying to pursue the political line of the Washington Regional Committee. Pay attention to the behavior and participation of the Germans in the development of events in Ukraine. In early December, Maydaunov was visited by German Foreign Minister Guido Westerwelle, and he spoke with opposition protesters. This is not surprising, since he accepted the invitation of Klitschko, his countryman and partner in interests. Germany might not mind if it were to put her man in the chair of the president of Ukraine, but who would allow her to do so. The very next day, Putin and Medvedev said openly: it was not good for the foreign minister of a foreign state to participate in illegal gatherings on the territory of other states. And if we do this in Germany? Westerwelle's misconduct is against all international norms and rules, and must be condemned.
Well, with Westerwelle, so everything is clear, he was already actually acting as the German Foreign Ministry, and decided to take his darling back to Putin. Well, he hates Putin, the more he is a lobbyist (blue) FID * rskogo lobby-it is his interests. Notice that no one has seen more official German politicians near the Maydaun, and will not see. The Germans were really afraid of the beginning of the civil war in Ukraine. Shooting in Europe will immediately put an end to the economy of Germany and the entire European Union. Are the Germans suicidal? No, of course, so Merkel had to urgently call up with Putin and press the brakes, as well as put pressure on his mongrels in the European Union. Merkel began advising bureaucrats from the EU to urgently include in their negotiations with Ukraine, "On the Association of Ukraine with the EU", a third party, I mean Russia. Germany will not chop the branch on which she sits, if Russia easily survives the quarrel with the German business, then for Germany it will be a fatal mistake, comparable to a crime against its people.
You probably noticed how calmly Putin reacted and is still responding to the events that are taking place in Ukraine and around it. Yes, Putin expresses sincere concern over the tragic development of the situation in the fraternal country, criticizes Western politicians, but within the bounds of decency and without threats. Which is very different from the behavior of European and American politicians. In this situation, Putin has nowhere to hurry, he just had to wait. What? Well, certainly not the sea weather.
Putin, as a true grandmaster of political battles, calmly waited for Majdaun to stick out his yellow-block face with ukrofashizm, directed by Uncle Sam. The Banderlogs simply could not do this, they were still forced to remove the democratic mask from their faces, and all that was left for Putin was to fix this moment for the entire world community. By the way, many have probably already noticed how suddenly the comments on the Ukrainian Maydaun suddenly changed, from the lips of Russian Jewish demos and marsh rot. The same Posner, Dmitry Zilberdrud (Bykov), Venediktov, Norkin, and many, many other "prometheus" of democracy, suddenly began to strongly condemn those methods and goals for which Maydaun activists began to call. What is so gentlemen? Do you smelt like fascism zavonyalo? And how is fraternization in the Swamp? Oh, so you thought only to bring down Putin who hates you so much, and then take out the curve. Well, yes, yes, and thought at least with what? ... .. Head? No, I do not believe it !!! Here, in Kiev, the local intelligentsia as he wanted to get rid of the Donetsk "thief" and his team. I wanted, I wanted, but suddenly I turned over, it became scary! Ah, this Jewish intelligentsia, like this always, at first she wants to overthrow the "tyrant", and only then thinks about how she will fraternize with the liberated people.
So is all this and our Ukraine? And here it is not necessary to hurry.
Although Putin has driven the US and the EU into time trouble and gives them no respite, the party
just beginning.
A great confrontation between the Russian world and the West, for Ukraine, is just beginning. Putin did everything that is possible and even impossible for Ukraine, and he can only wait and observe what decisions the people of Ukraine and Yanukovych will take. Of course, everything, or almost everything depends on the people of Ukraine. Russia has had its say, everything is in your hands Russian brothers from Ukraine.
Do not be afraid to fall, it is terrible to accept slavery and not rise from its knees!
PS Putin does not throw his words to the wind, unlike the same "leaders"
West - Obama, Sarkozy, Hollande, Harper, and many others from the western polithlama.