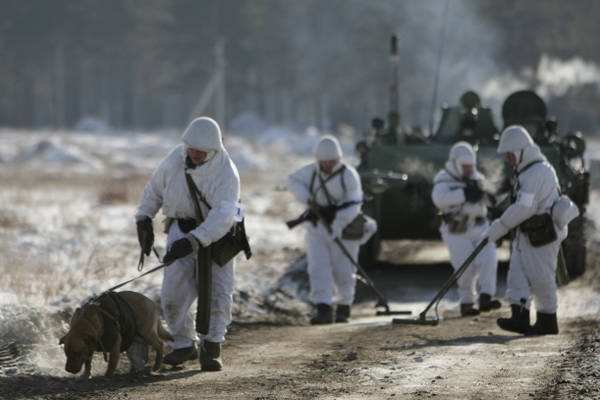 The Defense Ministry decided how best to protect the soldiers and officers involved in the demining of the area and various objects.
To this end, the demining units will be equipped with new engineering equipment and promising means of protection from thermal damage and debris. Among the many technical innovations in this area, the attention of the generals was attracted by two domestic developments - a remote-controlled robot-manipulator and a protective suit of the sapper, the SOB-1 Sokol.
The latter should be told in detail. A set of special uniforms "Falcon" was conceived as a reliable means of protection against fragments generated when explosive devices are triggered. The armored elements of the costume were made of lightweight and high-strength polyethylene. They will save the sapper and from ammunition, having a proximity fuze, and from the hellish machines that react to the metal. The upper fabric "Falcon" is made of non-combustible material that can withstand very high temperatures. If we say in general, that the new kit retains its protective properties both at minus forty, and at plus fifty degrees. In addition, he is not afraid of rain and sleet. Suit weighs only 8,5 kilogram. It is, we note, more than four times lighter than the Dublon, which military sappers now use.
Three dozen soldiers and officers from the engineering battalion, which is engaged in mine clearance in Chechnya, tried on this defensive update first. To master the Falcon and study the rules for remote control of a robotic arm, these soldiers were sent for retraining to specialized centers of the Ministry of Defense.
Meanwhile, according to the Ministry of Defense, last year military sappers only in Chechnya and Ingushetia checked and cleared more than 2220 hectares of agricultural land and forests from explosive objects. They discovered and destroyed over 1700 mines, bombs and shells. This work will continue from mid-March, when it will snow in most regions of the North Caucasus. According to the plans of the military, a continuous clearing of the terrain awaits the territory of the Grozny, Achkhoy - Martan, Shatoi, Vedeno and Zavodsky districts of the Chechen Republic, as well as the Sunzhensky and Jeyrakh districts of the Republic of Ingushetia.