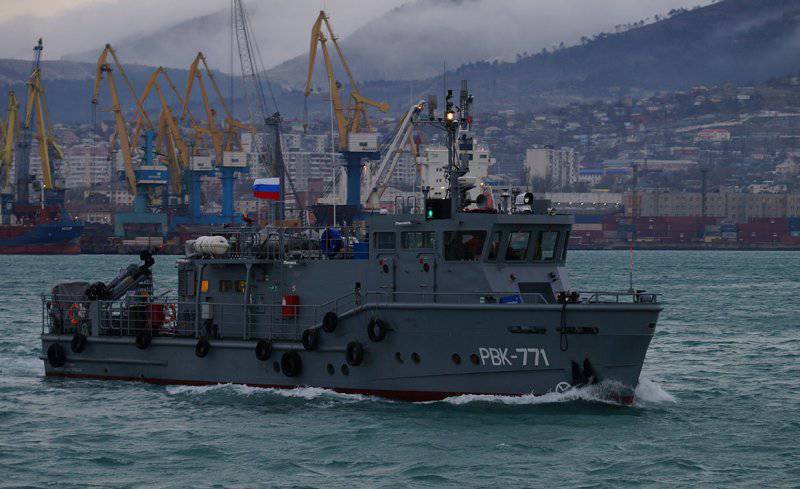 State tests of four new diving boats of Project 23040 are carried out in the Novorossiysk Naval Base of the Black Sea
fleet
(Black Sea Fleet), said the head of the information support department of the Black Sea Fleet 1st-Class Captain Vyacheslav Trukhachev.
Crews of special vessels together with the specialists of the manufacturer - OJSC "Plant Nizhegorodsky Teplokhod" have begun the final stage of state tests. At the end of March, boats are planned to be part of the Black Sea Fleet.
Boats of this project are designed for diving maintenance of underwater technical works at depths up to 60 m. At sea roughness up to 3 points, diving works are foreseen for two divers at the same time. Boats can participate in rescue, hydrotechnical and ship-raising operations, surveys of the bottom of water areas, sunken objects, extinguishing fires on ships and ships, floating and coastal facilities.
In addition, they can be used for pumping water from an emergency vessel, inspecting underwater objects using a small, remotely controlled, unmanned underwater vehicle, searching for various objects at depths up to 150 m., Finding people overboard using a thermal imaging system for night vision. ship or object.
For the first time a joystick control system is provided on boats of this type. The main characteristics of the boat: maximum length - 28,09 m., Maximum width - 5,56 m., Average draft - 1,5 m., Full displacement - about 118 tons, travel speed - more than 11 nodes, crew - 3 divers .