In the coming weeks, a contract will be signed between Germany and Egypt on two submarines of the Type 209 project in addition to two more submarines of this project, bought in 2011 for 920 million euros. Reported by the German press.
With reference to an unnamed source, it is argued that Egypt needs to bring the total number of submarines to four, so that one is permanently maintained, one is used for crew training, one is on combat duty and another is in constant readiness for sailing.
Two previously ordered Type 209 boats are being built in Kiel by HDW, a division of ThyssenKrupp Marine Systems.
The leak of information about the upcoming contract on submarines for Egypt may adversely affect the reception, which is waiting for German Chancellor Angela Merkel during her visit to Israel, scheduled for the end of February. The Israelis themselves are armed with five boats of the Dolphin class, produced by the German concern (the sixth one is ordered). In addition, two F221 MEKO class ships worth 1,37 billion euros were also ordered in Germany. The purchase of new destroyers is caused by the need to strengthen Israel's military presence in the Mediterranean Sea to protect the Tamar gas field, which began development in April of 2013.
Supposedly, Israel will make every effort to prevent the emergence of new German boats in Egypt. However, as the press notes, in 2011, when the two first submarines for Egypt were discussed, Germany had already promised to postpone the implementation of the contract until 2016 and wait for the domestic political situation in the Arab Republic to develop - this statement did not deter the Germans from negotiating two new boats.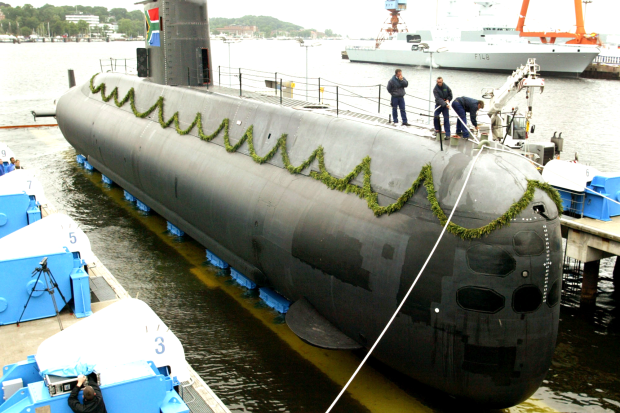 Submarine Type 209 South African Navy at shipyard in Kiel | abendblatt.de
Meanwhile, at the end of January 2014, Der Spiegel magazine reported that Berlin had allowed it to sign a contract with Riyadh for more than 100 patrol ships worth 1,4 billion euros. In addition, it is known that Germany uses existing
weapons
contracts with Israel for political pressure on Tel Aviv - for example, on the Palestinian issue and the problem of settlements.
Stern magazine in late January 2014 reported that Vice Chancellor and Economy Minister in Germany's new coalition government, Sigmar Gabriel, in an interview with this magazine promised that the new government would pursue a "more ethical" policy on arms exports.
"It's a shame that Germany is among the largest exporters of weapons," the minister said. However, the minister does not condemn the deal with Saudi Arabia on ships, because, according to him, the Saudi authorities will not be able to use these ships against their own people.
The Bundestag deputy from Hamburg, Jan van Aken, in September 2013, told the newspaper Abendblatt that "selling submarines to Egypt at the height of internal political upheavals in this country is irresponsible."
Obviously, however, that using boats "against one's own people" is even more difficult than guard ships.
The shipbuilding concern TKMS refrains from official comments on Egypt. For the industrial giant Thyssen-Krupp as a whole, the order for each boat is a vital issue. In December, Handelsblat reported that negative cash flow in the amount of about 2014 million euros was expected in 200.