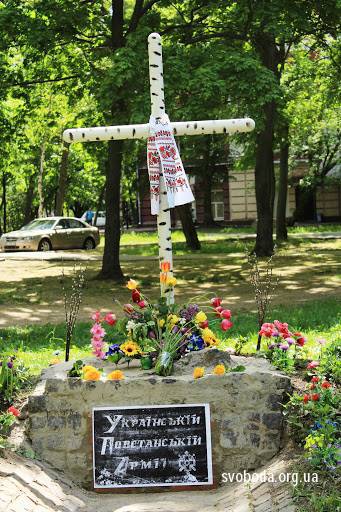 Unknown cut down a memorial cross installed in the Youth Park in Kharkov to the soldiers of the Ukrainian Insurgent Army (UPA), according to INTERFAX.
"A two-meter metal cross, stylized as a birch, demolished, destroyed. One can see traces of cutting on the rest of the pipe; .
According to him, he found the loss of the commemorative sign to the UPA soldiers on Wednesday evening and informed the law enforcement officers about the incident - first, orally, and then filed an application to the Kiev regional police department of Kharkov.
R.Cheremsky also stressed that the district department is located in close proximity to the Youth Park. "From the windows of the district department you can see (the place where the memorial sign was installed - IF), it was impossible not to see and not notice how it was being cut down!", The activist said.
The police haven't been able to get a comment on what happened.
A memorial sign of the UPA in Kharkov was installed in the Youth Park of the Kharkiv Regional Organization of the People's Movement of Ukraine in 1992, with the permission of the Kharkiv City Council. 20 December 2006, a memorial sign was demolished by members of the Eurasian Youth Union, but it was soon restored. Later, representatives of left-wing political parties repeatedly demanded that the city authorities demolish the commemorative sign of the UPA.
26 April 2013, unknown persons stole a part of the monument - a massive granite stone. The police entered this fact into the Unified Register of Pre-Trial Investigations on the grounds of a crime under Article 2, Article 296 (hooliganism) of the Criminal Code of Ukraine.
The UPA soldiers during World War II conducted punitive operations against the Soviet and Polish partisans.