Moscow. Basmanny court. The final word of Sergey Gordeev:
Sorry about what happened. Let me go home to my parents.
The court of Gordeev did not release the parents ... Judge Natalya Mushnikova decided to detain an 15-year-old student in Moscow school No.263 (Otradnoe) in custody for a term of 2 a month because of its potential public danger due to serious crimes.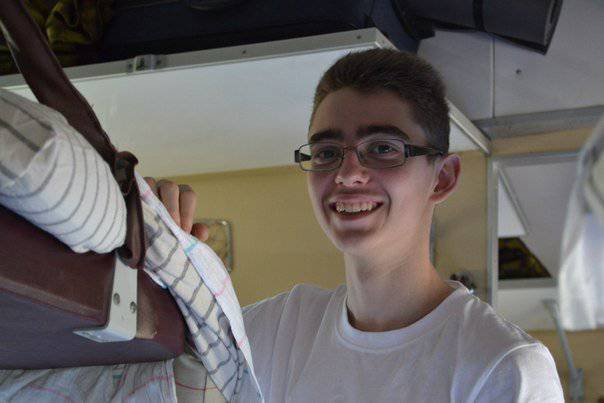 Bloody drama, as literally every person already knows, at least occasionally getting acquainted with Russian
the news
, played out at the beginning of the week (Monday, February 3). The result of this drama is known to many: the murder of a school teacher and a police officer by the same 15-year-old teenager, and another law enforcement officer was seriously injured. The details of the course of events just today can hardly be described for the simple reason that access to materials from video recording cameras in the educational institution for the media is closed, and the performance of numerous witnesses often contradict each other. A pile of details and confusion in eyewitness accounts have already led to the fact that "distinguished", for example, "Komsomolskaya Pravda", "hot on the heels" came out with a photo of the criminal, which had nothing to do with the real criminal Sergey Gordeev ...
Of those testimonies that are presented by eyewitnesses, as well as for those materials of surveillance cameras that have become available to journalists, the approximate picture of bloody Monday at school No. XXUMX looks like this (once again it is necessary to clarify - it is an approximate picture of events).
Pupil of 10 class Sergey Gordeev (excellent student, participant and winner of many subject olympiads, visitor of school circles and sections) on Sunday blocked access to his page on the social network and informed his parents that the first three lessons at school would not be on Monday; when 3 February came, Gordeev easily took from his father's safe to store
weapons
rifle Tikka T3, as well as the second unit of firearms (according to some sources this is a Browning self-loading rifle), several dozen rounds of ammunition for them. Dressed in a long coat, Gordeev proceeded to the school, barely holding very weighty trunks with his hands.
A teenager without any obstacles hit the school around 11: 40 (5 minutes after the start of the fourth lesson). According to 57-year-old security guard Yury Egorov, who was on duty at that moment, he himself (Egorov) was absent from the post (at the entrance) because he was walking around the building of the educational institution and was in the other wing of this building. The guard explained the purpose of the round as follows: look, the students didn't get anywhere ...
Returning "from a detour," Yuri Yegorov saw a student in a coat (from the back) walking along the corridor and called him. According to the same Yegorov, Gordeyev put something on the floor and approached him, pointing the barrel of a small-caliber rifle (this is how the guard characterizes the weapon). The teenager said that it was not a joke, and that he did not come to school to talk with him (with the guard).
Yuri Egorov (employee of the private security company Saturn) quotes Gordeev (for Life News):
I know who I can figure out. And you went outside the gate.
After that, Gordeev proceeded to the office where the geography was going, and security guard Egorov, as he himself declares, went to the director (this description of events leads to certain thoughts about the security readiness for emergency situations) and already on duty pressed the alarm button.
If everything was exactly as Gordeev said, then this indirectly explains why, after a few minutes, the private security officers came to the office, in fact, unaware of the serious danger. What is an alarm button pressed at school? In most cases, for the representatives of the guard or the police, this is a signal that some of the students are simply hooligans, and not a signal that something really serious happens in school ...
What happened in the director's office when the guard "reached" him (or "got him" ...) is unclear ...
At this time, Gordeev was already knocking (according to the testimony of 10 "A" pupils of the class) at the door of the geography room, in which the lesson was taught by the teacher Andrei Kirillov. The geography teacher got up and opened the door himself. Sergei Gordeyev entered the office, his classmates met quite actively (someone clapped his hands, someone laughed), but the laughter quickly broke off when Gordeyev fired at the teacher. A teenager class was ordered to get under the desks and sit quietly, saying that they (classmates) were "like" hostages, but he would not kill them. After Gordeyev re-shot the teacher (as it turned out later, the first shot seriously wounded Andrei Kirillov, and the second shot Gordeyev killed him when he heard the rattle of an 30-year-old man lying on the floor of the office).
Then within a few minutes, Gordeyev (according to the evidence of schoolchildren numb in horror at the time) said that before the teacher was killed, he had already killed the guard, that he was sick of this life, that he was an adherent of the ideas of solipsism (philosophy, which man recognizes his only consciousness as the only reality), and that he wants to die in order to see what is "at the end" there. At the time of the "monologue" of the murderer, calls were made to his telephone, he answered, and the monologues turned into dialogues. Gordeyev spoke with his mother, with his grandmother, with his father.
When private security officers approached the door, he fired a carbine several times. One employee (Sergey Bushuev, born 1976) died on the spot, the other (Vladimir Krokhin) is still in extremely serious condition.
Gordeyev walked between the rows, periodically firing shots at the ceiling and continuing to talk about what he wanted to see what death was and what he was not going to give up.
At that time, when a helicopter of the Ministry of Emergency Situations began to fly up to the school, Gordeyev fired several shots at him from a weapon that he did not let go of.
In one of the telephone conversations with his father (after his father had learned about the tragedy being played out), the teenager declared that he agreed that Gordeyev Sr. would come to school. The father did appear at school a few minutes later (according to some information, he was wearing a bulletproof vest, as the police were afraid that Sergei might start shooting, despite family ties). The teenager's father entered the office without any special obstacles, talked with his son for quite a long time, after which Gordeyev told the students that they could leave the classroom. Then, he took the weapon from his son, threw him on the floor, and both came out of the audience, where police officers put handcuffs on Gordeev Jr.
Naturally, this incident caused a huge resonance. Numerous deputy and public proposals, ideas, remarks, which, to be honest, in the overwhelming majority of cases resemble either something resembling a frank self-PR or a banal fever connected with non-possession of information about the cause and the course of events, were immediately identified. Some spoke in favor of the need to necessarily equip school teachers with taking courses in bullet shooting. Others offered to open a service that will go home to schoolchildren and check which computer games they play. And someone said that it is imperative to involve the Russian youth in productions of the Theater for Young People ... Doctor of Medical Sciences Mikhail Vinogradov, in an interview with Interfax, in general "put an eye on i, giving literally the following: problems could have been avoided if Andrei Kirillov ( geography teacher) would allow Sergei Gordeev to retake ...
UNESECTS and giving teachers the opportunity for students to retake something is certainly great, but does this have a direct bearing on the tragedy that took place on Monday? .. Or if someone from modern young people does not attend theaters, and someone from modern teachers puts well-deserved, but not the highest mark (if at all the matter of marks-marks ...), then this is a reason for some to suspect an abnormality, and to blame others for provocation of a crime? .. If it were so, then all psychology would be easier to do turnips ...
Everyone rushed to discuss what they had, to put it mildly, not the most accurate information. If they initially talked about the fact that this allegedly the most unfortunate geography teacher put the four on Gordeev, and that Gordeyev allegedly decided to kill him for it, then it turned out that the geography teacher, as they say, was not at the wrong place at the wrong time . Gordeyev himself told about this at the first interrogation. The only incident (if you can call it that) that 10 "A" students of the 263 school could recall, which occurred between Gordeyev and geography teacher Kirillov, is that their classmate supposedly noticed an inaccuracy expressed by the teacher some time ago. After that, Gordeev rarely attended the lessons of Andrei Kirillov. Well, if the teaching inaccuracy could be a reason for the massacre for Gordeev, then what can be said about the education of this young man, and the size of cockroaches in his head ...
Some time after the arrest, the "shooter", who at the time of the commission of the crime presented himself either as the master of other people's destinies, or as a fearless cowboy, was taken to the first interrogation. And, figuratively speaking, Gordeev put in his pants - he closed in on himself, without uttering a word. A long silence was replaced by a request to bring him tea and biscuits (!) And call for a conversation a teacher of Russian language and literature, who led these subjects in the 263 school in the very same 10 "A" class.
Cookies with tea were given to Gordeev, the teacher was brought ... Already after the killer's conversation with the Russian teacher Tatiana Babkina, it turned out (at least, Babkin herself said so) that Sergey did not go to the geographer, but to her ... And prove that she was wrong when she said that there is more good in this world than evil. The teacher noted that Sergey was supposedly walking only for his own death, but again, supposedly did not want to kill anyone. Gordeeva she called conflict-free, but very irritable.
Pupils of school №263 say that Sergey was often visited by his grandmother, who was waiting for the end of classes and his grandson behind the school fence. Gordeyev was very shy about this, tried to go home alone, shouted at an elderly woman, seeing that the arrival of her grandmother was mocking her classmates.
In general, all this bloody
история
in which such moments as "I don't want to live", but "I want tea with cookies", "supporter of solipsism", but "let me go home," grandmother's parishes to meet a tenth-grandson, irritated by inaccuracies of the teacher, say that the teenage stage of growing up was extremely difficult for Gordeev. Icons in his room (a neighbor talks about them) and computer games in which you can easily kill everyone who gets in the way, words about the philosophy of egocentrism and fear of revealing both to peers and parents and teachers are the set of contradictions that clearly a teenager. There was a lack of public recognition, feeling, own "toughness" ... And then the picture - an excellent student with two trunks - "cool", - apparently, Gordeev thought this way, making up a plan in his hot head and being in the "live until Monday" stage.
His position seems to be described in no other way than "I am the navel of the Earth, my position is the only correct criticism or negative assessment of my position — the verdict from me personally" rested on an objective and unjustifiable (not condemnable, but not for himself) dependence on senior (parents and teachers). If the majority of adolescents, even if not always cloudless, overcome all the difficulties of the period of maturation, then the Gordeev of those who could not overcome. The great inner world did not get along with the obvious weakness. The принято asleep mind, as they say, gave birth to monsters ... Another excellent student syndrome: there is no room for error, all or nothing, I and only me. Frequent practice in this case is suicide, and Sergey Gordeev also thought about suicide, but in a very peculiar manner - to go for his own death through the death of others. Yes, just chickened out! He was afraid of death ... Whether talking to his father, or realizing the reality of the picture of bloody corpses gave a sobriety pill. However, late ...
But this, if I may say so, psychological lyrics. And what is the reality?
In reality, an adolescent's access with obvious problems of a psychological (or mental) nature to a weapon is a no less obvious omission in parental upbringing (now hyper, or some strange detachment). In addition - to put it mildly, unprofessional actions of the protection of the school. Protection of schools and other facilities has long been the talk of the town. They say that little protection is paid to protection, and therefore they are gaining retirees or people (often women), of pre-retirement age, who are not eager to perform their direct duties zealously. The guards are for show, the guards are simply not ready for such a development of events as the "murderous apprentice" "suggested" ...
Is Gordeev's crime a trend? Hardly. Someone from this tragedy would like to concoct a trend is a fact. But ... People with obvious kinks whose brains are clouded with nightmares of their own "composition" have been at all times. There were disgusting maniacs, and share-boys, who could kill only because their parents did not let go to the disco or did not buy them an expensive toy. Thank God, such a minority. But they were and, sadly enough, they will be ... Is it possible to make it so that they are not - unfortunately, it looks more like a utopia. And any utopia is beautiful and noble, but no more ...
Yes - Gordeev played computer games. Ban games? But millions of other people also play computer games, and often find in them a reason to throw out negative emotions in the "virtual", without transferring them to reality. Bloody games are a fact. And again, but ... If tens of thousands of people die in traffic accidents on the roads of Russia every year, then this is not a reason for banning cars? .. If people are killed every day from a Kalashnikov machine gun, is it worth talking about a ban on Kalash? As Kalashnikov himself said: it is not a weapon that shoots, a person shoots.
Yes - he expressed irritation with the remarks of the elders, but millions of other teenagers also express irritations, they can become isolated or, on the contrary, behave aggressively. Is this a reason to send all adolescents to a psychiatric clinic? .. But at the same time, this is not a reason for not paying any attention to the inappropriate behavior of a teenager.
To variations of parental education is a question, like a question, and to medical commissions, which due to their age were held by Gordeyev, to professional educators, who worked closely with Gordeev, are also questions. If neither the parents, nor the medical psychologists, nor the teachers saw those monsters in the adolescent's head that led him to crimes, then either he is a terrific actor, or there was a banal "finger-raising" or even lack of professionalism. On the other hand, the vigilance of the aforementioned syndrome of an excellent student could also manifest itself. Like, an excellent botanist, what to take from him - will mature! Only now Gordeev will grow up in another place, and the lives that he has taken away from people will not be returned by any kind of maturation.
It is possible to search for the last in this case for a very long time, but is this the main thing? The easiest way, of course, is to blame the teacher or director, the manufacturers of computer toys, self-loading rifles, the creators of social networks or the Gordeevs' neighbors on the porch ... But it would be better to weigh everything cold (as far as possible with your head) and take measures that are not only " here and now ", but also systematically. Which will not force, but will anticipate. Do not push the next legislative fever, do not hit "on the road and sloppiness" with a bureaucratic scale, do not bend! - that's the main thing today. But then, the prosecutor's office is already working in almost every educational institution, and even with the appearance that all teachers are provocateurs of criminal activity of schoolchildren, and all students are criminals ... With regard to the effectiveness of this particular method of dealing with potential crimes and offenses of the nature, which was demonstrated in Otradnoe, there are big doubts.
PS
With regard to Gordeev, a criminal case was initiated under the articles "hostage taking", "murder" and "encroachment on the life of a law enforcement officer."
Sergey Gordeev's mother refused to represent her son in court.
Such is the result of solipsism ...
The publication "Military Review" expresses condolences to the families and friends of the victims.