Two years Michael McFaul worked as the US ambassador to Russia. And now he was going to quit. He told about his failures, that he misses his family, which he has not seen for seven months, and also (once again) explained that America is really white and fluffy, and therefore it is a pity that during the two years of his diplomatic activity in Moscow, the Russians did not believe in American white fluff. In general, Michael "rebooted" in Russia so that it turned out a complete delete.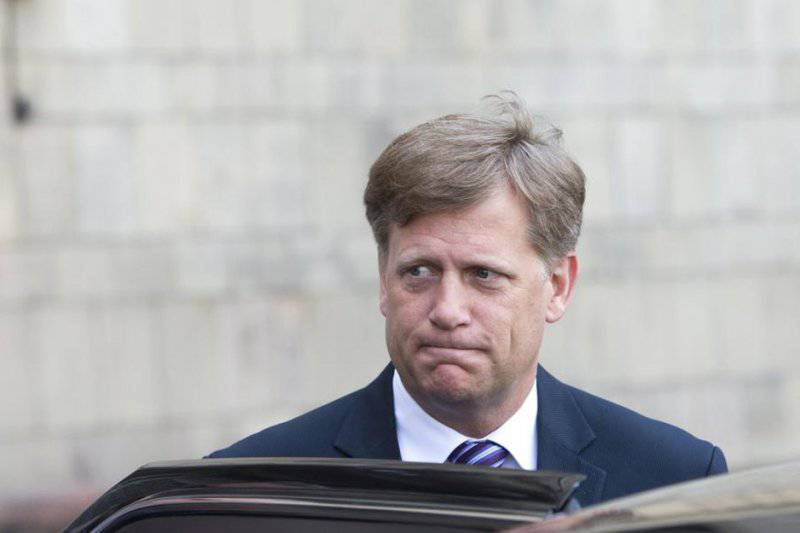 In March, 2012, James Brooke with
"Voices of America"
He named the US ambassador to Russia, Michael McFaul, a longstanding and staunch champion of democracy in Russia. However, according to the same Brooke, Mr. Ambassador has already experienced nothing but an "explosion of anti-Americanism" for two months of his life in Moscow. It turns out that Putin and his supporters blamed the new American ambassador ... what? In the "support of anti-Putin speeches."
Well, what else can Putin blame? Not in the speeches against Obama ... But Michael, obviously, was upset. Mr. Brooke decided to clarify the situation and interviewed McFaul. Here, in particular, the novice ambassador told the correspondent:
"We are absolutely not interested in returning to the likeness of the Cold War and stinging rhetoric. We do not believe that this serves American national interests. Russian government officials personally told me and other senior US government officials that they shared our opinion on this issue and want a long-term relationship. So the next weeks and months will be a test for these assurances, and we will see if we can return to real cooperation in our mutual interests. "
Mr. McFaul told the correspondent about the reaction to Russian "anti-Americanism" in Washington:
"Last week I was in Washington, where I met with almost every employee of the administration working on this part of the world and many other people. The level of anti-Americanism in Russia was a real surprise to everyone, because we were sure that we were building a completely different type of relationship. And, of course, many people are concerned about how rapid this regression can be, especially in rhetoric, which, it seemed to us, was far in the past. This means that the recipe here is real diplomacy. And it is this approach that we intend to apply in relation to the press campaign that took place here. "
Complicated by the work of American diplomats, those people in Russia are sure: there is no such "reset":
"... I think that our critics, critics of the" reset "and the president, to be honest, took advantage of this campaign to declare:" What kind of reset do you speak of? There is no reboot. " And this further complicated the work of diplomats and the administration in promoting the goal of improving US-Russian relations. "
Later, in May of the same 2012 of the year, the suggestion of Russians through the authoritative American magazine
"Foreign Policy"
.
Anders Aslund, who believes that Russia should be "kicked out" of the G8, wrote:
"Obama must confront Putin's presidency. To begin with, he must restore elementary respect and not allow Putin's thugs to intimidate the American ambassador in Moscow, which is a gross violation of the Vienna Convention on Diplomatic Relations. Obama should simply inform Putin that he is not going to meet with him until the attacks on Michael McFaul cease. Putin understands hard language. "
Well, and then it started. Mr. McFaul decided, apparently, to re-educate Russia.
In the same May of the same 12, the American ambassador went to the HSE with a lecture (an abbreviation of "Higher School of Economics", this is in Moscow). Boring economic topics are not for Michael. He likes something hotter. For example, the plot of bribery.
Noticing that he, the ambassador, is a new person here and doesn't know much about foreign policy (who knows about America, note in brackets), Mr. McFaul cited his own misunderstanding of some "spheres of influence" that the Russians are saying . Especially, he does not understand these "spheres" when it comes to Kyrgyzstan and the military base "Manas". Here the Americans there, in Kyrgyzstan, do not play spheres of influence.
However, Americans still play something, as everyone understood from McFaul's speech. Having started talking about bribes to the former Kyrgyz president Kurmanbek Bakiyev, the US ambassador mentioned not only Russia, but also his native America. Foreign policy activities of Russia and America around the Manas base as presented by McFaul
was
next:
"You offered big bribes to Mr. Bakiyev to throw us out of Kyrgyzstan. We also offered a bribe about ten times less than what you offered, but it did not work. "
Here, we note, it is surprising: to offer 10 times less - and rely on something. That's really true: the crisis has knocked down America.
Reflect the American accusation of "big bribes" rushed the Ministry of Foreign Affairs of Russia. It immediately
commented
Ambassador's statement: "This is not the first time that the statements and actions of Mr. McFaul, who is in such a responsible post, are shocked. The task of ambassadors, as we understand, is to promote the ongoing development of bilateral relations with the host country on the basis of a deep knowledge of the facts, and not at all irritated replication of tales in the media space. "
Foreign Ministry commentary spread in the Russian press 28 in May, and Mr. McFaul got acquainted with him safely. 7 June, in order to settle in the eyes of the Ministry of Foreign Affairs and justify himself before the general public, Mr. Ambassador once again went to economics school. No, not the one where he talked about bribes. There, probably, he decided never to appear again. Instead of HSE, he went to NES (Russian School of Economics). There he apologized publicly for what he had said at the Higher School of Economics. Behavior, by the way, is logical: since I've been making rubbish of nonsense before economists, so apologize to economists. And nothing that in front of others and in another place.
So ambassador
repented
:
"I'm sorry that I used the word bribe when I spoke ten days ago. I had to use the phrase "financial aid package." I made a mistake, I admit it ... We all learn, we want to be better. "
Students of financial specialties learned that a diplomatic synonym for a bad noun "bribe" is a long phrase "financial aid package".
In 2012, McFaul, the "reset" architect, regularly
receiving
from Russian Internet users brief, but capacious tweets in the style of "F ... you", sincerely believed that the love of Russia and America was very strong. Speaking at NES, the ambassador voiced
some indicators of love
: while in 2008, the entire 17% of Russians were sympathetic to America, in 2010, the number of Russians sympathizing with America grew by several times - to 62%. And just some 2% of Americans believe that Russia is the main enemy of the United States.
A week later, in the same June 2012, McFaul again appeared in public.
This time, the American ambassador came to speak at the Moscow School of Political Studies. For a change, he even spoke in Russian. And - so it happened - in pure Russian, he gave the next Washington secrets to grateful listeners. And so they smashed them, directly from the audience, on all sorts of "twitter", "facebook" and other "LJ".
Mr McFaul
сказал
: "The State Department and America do not finance and do not give money to the opposition." And he stressed: "The opposition is your business, what you do is your business, not our business, and we understand this very well."
Next, the US ambassador, who, we see, was bored with the questions of the annoying Moscow public about where to take the queue for a gosdepovskogo grant, put the blame on the color revolutions being started in the Moscow squares on the Bush administration:
"Experience shows: I know that we do not do this here. This is our clear policy. Other administrations have been doing this. And it is true. Read your
history
, guys. You just have to learn the facts. "
How so? Somehow inconsistent. Nobody will believe this. Some did, others do not. And this is a "clear policy"? Those guys are not "clear". Do not believe in nature.
However, Mr. McFaul explained:
"In America, a change of administration means a change in foreign policy. Condoleezza Rice, she is also a professor at Stanford University, could not be the author of the "reset", because eight years before us she was engaged in a different foreign policy towards Russia. "
Well, this is primitive ... What kind of a policy change, when the States are ruled by corporations, promoting both congressmen and paying for the election campaign to the president? Inter-party games of Democrats and Republicans, and nothing more. The ambassador hinted that the Republicans are bad and the Democrats are good. Not all Russians can figure it out, but Obama most likely appreciated McFaul's efforts.
It turned out that the ambassador himself and his Washington boss Obama are good guys, real democrats (not like bad guys from the administration of Republican Bush Junior). In the current US administration, all are exceptionally good. Hillary Clinton is not Condoleezza Rice (but for some reason we cannot say that she does not continue the work of the State Department).
In short, everyone in the Obama Democratic Administration loves Russia and wishes it a successful reboot. For what, ask, reboot? So, it turns out, in order to get rid of the bad "colored" past, inspired by the "other foreign policy", conducted in Russia by the specialists of Bush Junior.
Some already very difficult for McFaul subtext. Russia does not believe America, because America has poorly recommended itself under Bush Jr. Now Russia, too, does not believe America, because it has simply got used to not believing it. It turns out that the reboot is needed not for Russia, but for America itself. Well, let it restart (we will be happy to watch this restructuring), and only then Russia will learn to live. But sometimes it seems that, speaking of a reboot, America implies low-level formatting! By the way, on the symbolic button, the Americans instead of "reset" wrote "overload" ...
As for the said H. Clinton, then McFaul, we know, sang with her. In the late autumn of that very 2012, Mr. Ambassador stated:
"Assad must go. We hope that Russia can help ensure its security, since your relations are closer, I don't want to say that you are allies, but the Russian Federation has more influence on the government and the system of Syria. "
Assad said to American well-wishers in response:
"I am a Syrian, born in Syria, and I will live and die in Syria."
Neither H. Clinton, nor M. McFaul, nor other "friends of Syria" found anything to say about this. And since then, our McFaul somehow became sad. It is difficult to say how he extended 2013-th year in the country, preaching "anti-Americanism", restricting the freedom of "blue" and even managed to save Syria from the peaceful execution of "Tomahawks", which already shook Obama with Hagel (both in the past and famous pacifists, like current Secretary of State John Kerry).
At the end of 2013-th - the beginning of 2014-th McFaul, probably, finally finished Ukraine. Wherever you look - everywhere Russians are ahead of the West. And again this ... umm ... "financial aid package." For Yanukovych. Promised 15 billions of dollars and cheaper gas. And what did America oppose to this? Cookies from Nuland?
That, you know, is not ten times smaller.
The ambassador could not endure such an international disgrace. And he said that he missed his wife and children.
February 4 Michael McFaul
said
that he is going to leave the post of Russian ambassador at the end of February, after the Olympics, and wrote about his departure in the blog. He explained the decision to leave Russia by the need to spend more time with his family.
"She and his wife decided that after seven months on opposite sides of the planet, it was time for the family to reunite," the statement of the American embassy said.
Deputy Presidential National Security Advisor to the US National Security Council Ben Rhodes said that President Obama is grateful to McFaul for his work. Examples included achievements such as negotiations on strategic offensive arms, Iran, and the provision of troops in Afghanistan.
As passed
correspondent ITAR-TASS Dmitry Kirsanov
The US government has rejected the suggestion that Michael McFaul completes work in Russia because he is unhappy in Washington. "Absolutely not," the head of the US State Department's press service, Jen Psaki, said at a regular briefing for journalists.
According to her, the US administration believes that McFaul did "incredible work" in Russia. "The US Secretary of State is extremely grateful to McFaul for his service. We are doing a lot of work with Russia, and he (McFol. - Comm. Ed.) Is an invaluable civil servant and diplomat, "said psaki.
However, Mr. Ambassador himself, apparently, thinks otherwise. He identified his embassy failures.
As the
RIA News"
Michael McFaul considers his main "failure" in the embassy position to be the fact that three years ago Russia and the United States failed to show leadership on the issue of the conflict in Syria.
"I can only speak for myself, I'm not sure that all my colleagues in Washington would agree with this, but I would note two things. First, the fact that we, Russia and the United States, failed to demonstrate leadership in the Syrian issue three years ago: not three weeks or three months ago, but at that time. Our two countries have a special responsibility, and therefore I consider this a true failure in terms of diplomacy, "said McFaul in an interview with the Kommersant newspaper.
His second "failure" McFaul believes that "it was not possible to destroy the myth, as if the United States only wanted to make a revolution in Russia and destabilize it".
"This is absolute nonsense! But, despite the fact that I talked about this in all the interviews and at all the meetings for two years, these prejudices could not be completely eradicated. "
The ambassador's misfortune is, let us add, that Russian people are used to judging not by words, but by deeds. And American affairs are much at odds with American words. In words, the United States advocates peace, disarmament and democracy, but in fact supports bearded Islamists in Syria, indulges Wahhabi Saudi Arabia, in Europe they build European missile defense, and even eavesdrop on the whole world through the NSA special programs, and even American senators are included in the list of listeners. Those same senators who annually approve the law on tapping. The mind is incomprehensible. The lessons of Libya and the bloody "Arab Spring" in general, which gave birth to Islamism and destruction instead of democracy, did not benefit the White House. Suspicious attitudes toward the United States are not "prejudices," Mr. McFaul. And this is not only the Russian attitude: your state, Michael, is losing confidence throughout the world.
In essence, the United States is nothing more than a portrait of world horror.
For twelve years of the so-called "global war on terror", the United States seems to have instilled fear in the hearts of people around the world, writes
Mixednews.ru
with reference to commondreams.org.
Thanks to the annual survey of "Gallup", it turned out that the United States is considered the threat to Worldwide Peace No. XXUMX. A survey of 1 respondents from 67.806 countries revealed that the United States won this dubious honor by a considerable margin.
Nuclear Pakistan (8%) or nuclear China (6%) is not at all as afraid of the world as the United States (24%). Israel is considered a threat to world peace only 5% of respondents. Well, and Russia - somewhere closer to the end of the list with a measly two percent.
And the United States is a threat to both their opponents and allies. Moreover, the United States considers a significant part of American society to be a threat - 13 percent!
The indicator of the American "threat" in Eastern Europe is 32 percent. In Mexico, the level of this threat grows to 37%. In Canada, too, an impressive number of respondents see in the neighbor a world-threatening factor - 17%.
These figures, we note in conclusion, are the real outcome of the foreign policy activities of the United States in the 21st century. Even many Americans are outraged by the monster that their aggressive state has become. The theses on "exclusivity" are no longer rescued.
Presumably, McFaul was ashamed to represent such a country. After all, he, McFaul, is not a stupid man.