The other day, Kseniya Larina, a journalist with the state radio station Ekho Moskvy, publicly admitted her dislike for the Motherland and an aversion to patriotism as such. The text turned out to be so reference that it can be regarded as a self-diagnosis of the recently dominated media class. So, it is worth paying attention to it and disassembling it.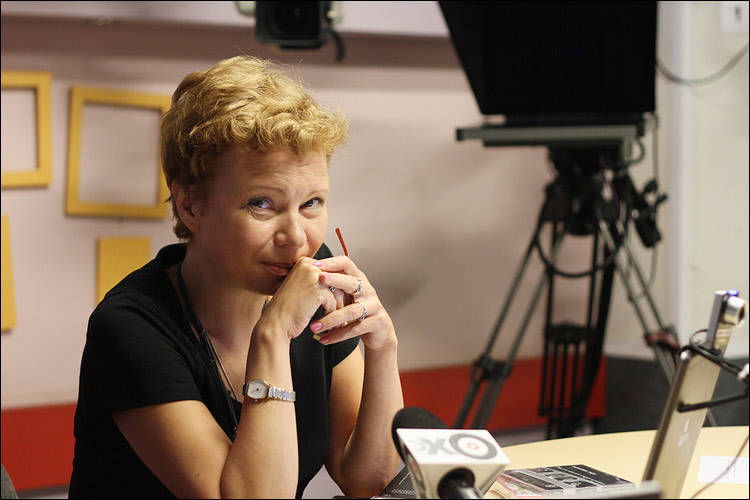 "The word" patriotism "is already nauseous with some kind of worms and cherry stones.
I do not love the motherland (homeland) for a long time and with conviction.
And this does not prevent me from living in my native city, reading and thinking in my native language, loving my work and dreaming about the future. I love my family, my dead parents, my husband, my friends. What and all I wish.
I do not personify my motherland with my mother, especially with a sick or drunk. The idea of ​​such a comparison seems blasphemous and wild to me.
Today on the "Rain" I tried to say that we owe all the most monstrous in a person to patriotism.
Patriotism is destructive, it does not create anything, except for chatter, lies, quackery, hypocrisy. Patriotism is not compatible with freedom, it kills freedom of thought, freedom of creativity, freedom of self-realization. Patriotic art is loud, false, primitive. Patriotism roofs mediocrity and emptiness, produces mediocrity and emptiness.
Patriotism is obscurantist, as is the ostentatious primitive religiosity, which has nothing to do with faith.
Patriotism itself is the religion of yesterday, the religion of the dead.
Patriotism is
weapon
xenophobia.
Patriotism is based on hatred, fear, lies and intransigence.
Patriotism is disgusting.
He simplifies man, deprives him of his mind.
And no more words.
It would be possible to enter into correspondence controversy with a serving state radio and try to explain with examples how patriotism gives rise to magnificent works of art, music, architecture, literary and other masterpieces. To tell how patriotism inspires work and embodies superhuman projects such as conquering distant seas and oceans, exploring space, creating amazing scientific discoveries, helping to set sports records and, finally, defend the right to the existence of their homeland in the world. Yes, a lot of things can be told about the patriotism of citizen Larina. But whether it is worth spending time, because she already knows everything.
It is believed that this ostentatious anti-patriotism is a common attempt to enter the ranks of great people. You may be surprised, but it is difficult to find among the geniuses of mankind a person who would not at least once have spoken in a negative way about semi-official patriotism. If in doubt, Google will help you. Here are some examples from the first lines of the search query results:
"The soul and essence of what is commonly understood by patriotism is and always has been moral cowardice" (Mark Twain, Mark Mark Twain's Notebook);
"My patriotism is not a closure on one nation; it is comprehensive, and I am ready to abandon such patriotism, which builds the welfare of one nation on the exploitation of others "(Mahatma Gandhi);
"Those who happily march in the ranks to the music, got the brain by mistake: for them, and the spinal would be enough. I so hate heroism on command, senseless cruelty and all the disgusting nonsense of what unites under the word "patriotism", just as I despise a vile war that I'm more likely to let myself be torn to pieces than to be part of such actions "(Albert Einstein).
Such quotes are extremely popular and are happily cited in social networks as evidence of the viciousness of patriotism as such. So Ksenia Larina decided to join the ranks of the great ones, risking to go even farther from the edge of teeth: "I love my country, but I hate the state." But she did not take into account the fact that each quote should be considered in relation to the personality of its author and the conditions in which she was born into the world.
So here. Mark Twain worked in a terribly conservative United States at a time when, excuse me, Negroes were lynched, and even survived the bloodiest in
stories
countries civil war, and then subjected to strict censorship. Gandhi saw with his own eyes how the peoples were oppressed under the slogans of British patriotism - and he opposed this personal struggle to this oppression. Einstein witnessed how, in his home country, he began to be considered subject to extermination for biological reasons. These great humanists had their own reasons for expressing doubts about the value of patriotism - or at least some of its variants.
There is an opinion that Ksenia Larina generally speaks about something else, although she tries to cling.
Patriotism in its original, it is finite, the meaning is love. Love in the motherland, that is, to people united by geography. Sometimes love is used by all sorts of rascals to satisfy their personal ambitions - this is what the great wrote one way or another. But it's stupid to deny love as such. It will be like the feelings of a newly rejected young man who, being upset, vows to love no one else and never. Most of these people then grow up and laugh at their oaths, but some still carry this anger to the end of their days. From such grow up the most evil and dangerous characters - they shy away from love, but always use the feelings of others to take revenge on the world for their past offenses. Such people, it happens, by the will of fate become the killers of millions. But, fortunately, in most of the cases they die of failures and die in oblivion. It is believed that the case of a radio host is closer to the second option, rather than to the first.
In general, there is a feeling that the recognition of dislike for the Motherland in this case is also a cry of despair. And not only the person, but also the whole media class, even the whole epoch, which feels the impending and inevitable Karachun.
If yesterday they could intelligently and openly argue and savor the types and varieties of this dislike, today they suddenly stopped hearing them. Confirmation of this is a fair amount of negative feedback on Larina's splash on the same "Echo". Their dislike suddenly ceased to sell actively and turned into an interesting trend to the day before yesterday. For them, this is a collapse, since this party cannot offer anything else. And now, feeling the closeness of the end, this epoch squeezes out from itself the most, in its opinion, selective, very nascent instances of dislike, hoping to somehow hold attention to themselves. But thereby it only accelerates its transition to non-existence. Where, she, frankly, has long been the road.