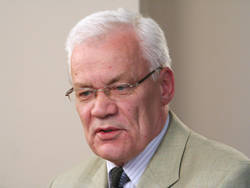 Russian scientists and engineers are ready to create
weapon
Ultra-high accuracy, comparable in effectiveness to nuclear weapons, said the scientific leader of the Russian Federal Nuclear Center All-Russian Scientific Research Institute of Technical Physics, Academician of the Russian Academy of Sciences Georgy Rykovanov.
"High-precision weapons have existed for a long time," said the academician, ITAR-TASS reports.
He recalled that systems had been created quite a long time ago, where special characteristics of the target were used for targeting - increased brightness in the radar range (electromagnetic wavelength from 1 to 10 cm), target illumination by laser radiation and subsequent capture of the reflected signal by the homing head, etc. .
"Requires the creation of new experimental facilities, with which you can get conditions close to a thermonuclear explosion"
"Now a more ambitious task is being set," Rykovanov stressed, "defeat any given point target at a distance substantially exceeding 100 km. Previously, because of the low accuracy of the delivery of ammunition, the use of nuclear weapons was required to hit targets at such distances. "
Now the atomic bomb has alternatives.
"Suppose we achieved a miss less than 10 meters. In such cases, the target may be disabled by a conventional explosive at the expense of hitting the most vulnerable or important part of it. In this sense, high-precision weapons are approaching nuclear efficiency, "said academician Rykovanov.
"I can reassure," the scientist continued, "we have all the necessary technologies: developed inertial navigation systems, control systems and global positioning (GLONASS), production of microelectronics with a sufficient degree of integration to solve this problem. Most importantly, there are specialists who can solve the tasks. "
Responding to other questions, Rykovanov expressed the opinion that "now and in the near future there is no need for the resumption of full-scale nuclear testing."
"As a result of the work done in the last ten years, the powder has been kept dry," he noted. "But about the fact that this is absolutely" not foreseen, "I would not rule out such a situation yet."
Tests of new weapons, the scientist reminded, in our time are carried out, in particular, with the help of computer simulation and other experiments.
"It requires the creation of new experimental facilities, with the help of which one can obtain conditions close to a thermonuclear explosion," Rykovanov said.
"With regard to one such installation, the government of our country has already made a decision. I mean the installation of laser fusion, the construction of which is planned in Sarov. It is assumed that experts from Sarov and Snezhinsk will be able to conduct their experiments on it, "he said.
Academician Rykovanov also spoke about the prospects for scientific cooperation with national laboratories in the United States.
"Earlier we carried out joint research in the field of dynamic properties of materials, dense high-temperature plasma and mathematical modeling," said the scientist.
"Probably, work in these areas will continue. We do not exclude that it will be possible to organize interaction in the field of inertial thermonuclear fusion, "he said.
"Including in experimental studies at the NIF facility, this is a national laser fusion facility operating at the Livermore laboratory," Rykovanov said.
Talk about precision weapons and nuclear weapons has recently been conducted in the context of the "global lightning strike" system being developed in the United States.
According to Deputy Prime Minister Dmitry Rogozin, "one can experiment as much as possible by placing non-nuclear weapons on strategic carriers, but we must bear in mind that if we are attacked, we will certainly resort to nuclear weapons in certain situations ".
Rogozin stressed that Russia is ready to respond to the new concept of the United States and cannot afford to find itself in another scientific and technical structure at a time when high-precision means and hypersonic technologies are developing, new materials that are pulling the development of precision weapons, etc d. The elimination of the nuclear potential of Russia Rogozin called illusion.