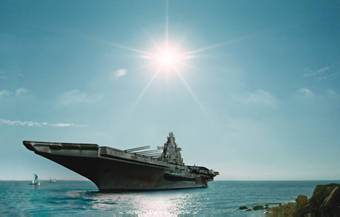 The price of a promising Russian aircraft carrier can range from 100 to 250 billion rubles, said the general director of Nevsky PKB, Sergei Vlasov.
"I have once said that in the recent past the American aircraft carrier cost 11 billion dollars, that is, 330 billion rubles. Today it costs already 14 billion dollars. Our aircraft carrier will, of course, be cheaper - from 100 to 250 billion rubles. If it is equipped with different
weapons
then the price will increase dramatically, if you put only anti-aircraft systems, the cost will be less, "said Vlasov, RIA"
News
».
He noted that there may be two versions of the project of a promising aircraft carrier - nuclear and non-nuclear. "The first will be more and more expensive, the second - a little less and cheaper. We are ready to design both of them, "added Vlasov.
If the future aircraft carrier has a nuclear power plant, then its displacement will be 80 – 85 thousand tons, and if it is non-nuclear, then 55 – 65 thousand tons, the general director of Nevsky PKB explained.
"In addition, there is a conditional norm that one aircraft can be placed per one thousand tons of displacement. Based on this, if there are 65 thousand tons, then 50–55 aircraft can be based, if 85 - about 70 different aircraft. We are talking about aircraft, which by then will be able to create
aviation
industry, "he stressed.
The leadership of the Navy has long been talking about new aircraft carriers for
fleet
as a necessity. At the end of last year, the Commander-in-Chief of the Navy, Admiral Viktor Chirkov, announced that serial construction of promising aircraft carriers would begin in Russia after 2020, as part of the following state armament programs - GPV-2025, etc.
"During the 2021 – 2030 period, the buildup of the combat capability of the general-purpose naval forces should be achieved through the serial construction of promising aircraft carriers as part of the naval aircraft-carrying complex, multi-purpose fourth-generation submarines, multi-purpose ships of the ocean, far and near sea zones," said Chirkov.