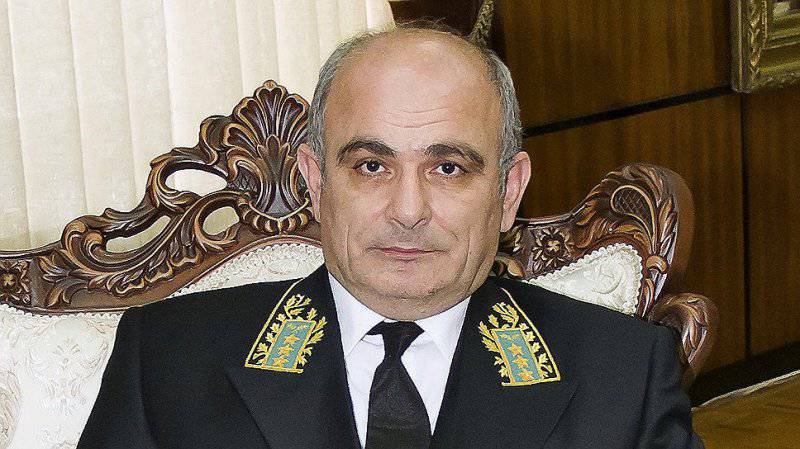 As the settlement of the Iranian nuclear issue approaches, the struggle for access to the Iranian market is intensifying. Russia's Ambassador to Tehran, LEVAN DJAGARYAN, told Kommersant correspondent ELENA CHERNENKO what Moscow is doing to keep up with competitors, and for the first time commented on information about a possible trade and oil deal between Russia and Iran.
- Iranian Foreign Minister Javad Zarif during his recent visit to Moscow expressed the hope that Russian President Vladimir Putin will visit Tehran in the near future. When can such a visit take place?
- This question was raised by the Iranian side several times. President Putin commented on him at his press conference in December (stating that he would "gladly" use the invitation he had. - Kommersant). As for the timing, this issue is entirely within the competence of the presidential administration. On the other hand, I can say for sure that this year there will be high-level contacts at least in the fall, when (in September or October, the dates have not yet been precisely determined) a summit of the Caspian states will take place in Astrakhan. Iranian President Hassan Rouhani plans to take part in this event.
- At a meeting with Javad Zarif, Vladimir Putin complained about the decline in trade between Russia and Iran. What is the reason for the recession?
- The main reason is unilateral sanctions, which the United States and the European Union countries imposed on Iran. We consider these measures to be illegal, which was repeatedly told to our Western colleagues at different levels. Although we do not recognize them, these sanctions have a negative impact on Russian-Iranian trade and economic cooperation. Some large Russian economic operators and banks that have active contacts with US and European banks do not want to come to Iran under the threat of sanctions. In addition, for economic reasons, our economists are not able to use dollars and euros when paying. All this has a negative impact on our trade.
But we are trying to find ways out of this situation. Personally, I think that one of these ways is to increase cooperation between the Iranian provinces and the Russian regions. In this regard, we have the flagship Astrakhan region. An active role is played by the administration of the region, which maintains direct relations with a number of Iranian provinces, primarily with the province of Gilan. Dagestan is showing a growing interest in cooperation with the Iranian provinces. Last year I visited the Central Province of Iran, the homeland of Ayatollah Khomeini, and the leadership of this province has an interest in establishing cooperation with the Chuvash Republic. We are trying to intensify these contacts, to bring together businessmen from these regions. The main thing is that the representatives of our regions should come to Iran more boldly, and the existing agreements should be more actively implemented. And the Russian embassy and trade mission in Tehran, whose work is now being activated, are ready to contribute to this.
- Will the partial lifting of Western sanctions from Tehran contribute to restoring the growth of trade between Russia and Iran?
- This process, of course, will benefit our trade and economic relations. After all, this is not only a phased lifting of sanctions, but also the thawing of Iranian assets frozen in a number of banks (in the amount of $ 4,2 billion). Against this background, leading Western and Asian companies are already showing interest in a potentially very attractive Iranian market, seeking to stake out their niche. But we also do not sit with folded arms. Russia has already offered Iran to hold a regular meeting of the intergovernmental commission on trade and economic cooperation. Its co-chair from the Russian side is Energy Minister Alexander Novak, and from the Iranian side, Oil Minister Bizhan Zangane.
- When can this meeting take place?
- The Iranian side proposed August.
- Do I understand correctly that Russia is primarily interested in intensifying negotiations on the supply of its equipment, metals and grain to Iran?
- Yes. And we have something to offer to Iran. First of all, the products of ferrous metallurgy, wood, grain, mineral fuels and electrical products. As well as machinery (turbine, compressor, pumping) and machine tool products.
- And what can Russia offer Iran?
- In addition to traditional Iranian carpets (which I personally consider to be the best in the world) - vegetable and fruit processing products, dried fruits, cement, petrochemical products.
- Is Russia ready to start re-investing in Iran's oil and gas sector? LUKOIL already seems to be showing such interest.
- Yes, quite right. The other day in Tehran was Igor Ivanov (former Russian foreign minister and ex-secretary of the Security Council, now the chairman of the strategy and investment committee of the board of directors of LUKOIL. - "Kommersant") with representatives of LUKOIL. They had a very interesting meeting at the Iranian Oil Ministry, where they expressed their interest in returning to the Iranian market. As far as I know, at the end of February the Iranian side intends to present new conditions for the work of Russian and other oil companies on its territory. If these conditions are attractive, then naturally our companies will return. The main thing is that the conditions be mutually acceptable.
- The United States expressed serious concern about the possible purchase of Iranian oil by Russian companies. Is Russia obliged to consider such objections from third parties?
- It seems to me that our colleagues are somewhat dramatizing the whole situation, unreasonably reproaching us. Russia is an independent state and conducts an independent policy. As I have already said, Russia does not recognize the unilateral sanctions of the US and the EU against Iran. We, of course, listen to what they tell us, but we will take a decision solely on the basis of our national interests. I have repeatedly told this to my Western colleagues who are interested in this issue.
- What are the prospects and parameters of this transaction?
- No agreements have been signed yet, the negotiation process is underway. But I stress once again: not only Russian companies, but also their competitors from other countries, including Western ones, are showing activity in the Iranian sector.
- Since November, the Chinese, the British, the Italians have already visited Tehran. There goes a large delegation of French business.
- Yes, in fact, only lazy has not visited Iran. It gradually turns into a "political-economic Courchevel". Whoever does not come, even big businessmen from countries that have imposed unilateral sanctions against Iran and criticize him for certain moments. My colleagues who arrive here say that there are a lot of businessmen from Western European countries on airplanes. What does this mean?
- afraid to miss the moment?
- Yes, it is important not to be late for everyone. And if so, then I urge my Western colleagues to avoid double standards.
- And what about the US argument that such transactions can weaken Iran's interest in fulfilling agreements on its nuclear program and thus disrupt the negotiation process?
"Our American partners seem to underestimate the constructive attitude of Iran in fulfilling agreements on its nuclear program. We have no reason not to trust Tehran. It is the escalation of sanction pressure on Iran that can disrupt the negotiation process.
- Iran asks Rosatom to build additional nuclear power units on its territory. Is Russia interested in this?
"The power unit of the Bushehr nuclear power plant was transferred to operation by the Iranian side in October, and for us the main priority now is to ensure its stable and safe operation. As for the continuation of cooperation with Iran in this area, we have never concealed the fact that we are open for talks on this topic and that such discussions are taking place here. At the same time, I want to emphasize that any cooperation with Tehran in the nuclear field should be economically beneficial and meet the international obligations of our countries.
- Are there any preliminary agreements on this account?
- Negotiations are underway. There are a number of points that we need to reconcile. I personally look at it with optimism.
- How similar or different are the positions of Russia and Iran in the negotiations on dividing the Caspian?
- We have with Iranians common approaches to such fundamental issues as, say, that all issues relating to the Caspian Sea should be resolved exclusively by the Caspian littoral states. Together with them, we are in favor of taking measures to preserve the biological resources of the Caspian. We are in favor of ensuring that issues relating to the laying of pipelines along the seabed of the Caspian Sea are taken into account taking into account the opinions of all the Caspian states.
- Finally - a slightly distracted question. February 10 will celebrate Diplomat Day. Does the Russian embassy in Tehran have any special traditions of this celebration?
- A special feature is that the celebration is held in the historic embassy building in Tehran, where the Tehran Conference took place 70 years ago.