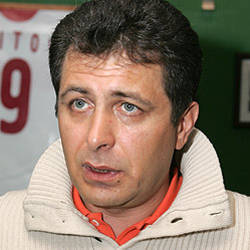 ... In social networks of Russia there is a continuous howl. That rising in pitch to an absolutely indecent squeal, then lowering to hoarse, deaf howls.
Plentifully quote, sorry, I will not (although it, of course, delivers, but a lot of honor), but the general sense is clear and so: our liberoid and other hand-shaking audience that joined it (including creative nationaldems and creative leftists) have no hope nor, it seems, the desire to "win."
Now they are waiting, no, I would even say they crave - repression.
And it is no longer so important from which side. If the "bloody regime" is lazy, then some "Orthodox activists" will get away with it (which is the funny thing, arranging their performances exactly according to their "scandalous creative technologies"). Or "Cossacks", or "Russian nationalists", for the most part, unfortunately (especially in capitals), are just as charged as the "Cossack-Nazi" subspecies, waving at their events with their terrible flags next to LGBT rainbow rags.
Or "the wrong Russian fans" who do not want to "take an example from the real ultras in Ukraine" (oh my gods, where did the "real ultras" come from, if both we and the Poles have been chasing them all their lives with pissing rags. Well, not in Ukraine as a class, one sheer misunderstanding) and go "meat" in the front ranks of the "revolution", paving the way for a bright post-revolutionary future.
Why, there: at the very least, as a respressor, the "bydlovaty and boorish" Russian people, who do not understand who should rule and rule, will fit in as well.
That is, if you noticed: the tasks "to attract the majority to one's own side," even "on the Internet," are no longer necessary for these people. There is a desire to insult, humiliate, spit in the face of the majority, and the more painful the better. Here all means are good, as in that joke about the matinee in kindergarten: "dress me with a poop and put me in a corner, I will stink from there". The last more or less sane people in this fun movement, like - no, not even condemning the survey "Rain", and "gently suggesting" thinking "Andrei Norkin - immediately credited to" traitors ", after which the flow of shit in their address becomes where even higher than that of the "blood tyrants", going over the boiling point and turning into gas.
I am a person who has lived more or less and knows the editorial kitchen very well (professionals prefer the word "trash") from the inside - and I didn't expect to admit that this kind of passion.
I had to think.
So: there is an opinion that the trend has simply "changed," and a whole variety of contemporaries fell out of it. The country and the people have changed, and these guys in their "Jean-Jacques" for some reason did not notice. Remember still quite recent, 90-ies of the publication, the liberal mantra about the "pensioners who did not fit into the market"?
So.
History
- the girl is ironic. And this is a bunch of neumyhs (it's characteristic that the Dozhd poll that angered the country came out in the "Dilettantes" program), the only virtue of which was "fashion" and "the right human ideology" - turned out to be on the sidelines just as they were thrown out in 90, "engineers, doctors, and teachers." And, what is most offensive, these very "doctors and teachers", on the contrary, become "in new discourse" more in demand (which the hysterical creators themselves hysterically deny by yelling about the "still beggarly state employees").
And something else.
... It became suddenly clear that "in this country" you cannot again become an "outstanding journalist" if you write with ridiculous grammatical errors.
That it is impossible to "lead the production" only because you "have an MBA."
That it is impossible to be a "successful TV channel" if your "guys" simply do not know how to set light in a studio.
What does not work "to work as a fashion photographer" just because you found money for a "SLR", and even this fashionable craft, it turns out, you need to study hard and long: for one self-declared "talent" is not enough even here.
That even in advertising it is impossible to "trade in the air" anymore, because even "ideologically close" people from Western corporations for some reason do not see what you are all right and beautiful from you, and some "ratings" and "indices" require and "product".
That's basically it.
And those who did not want to change, learn and work long and hard, quickly began to turn from the sublime and sought-after "inspired amateurs" into ordinary losers. Or, as they rudely and ruthlessly say in their favorite "citadel of democracy", - "pissy losers".
And now they really, really need "repression and revolution." Just because it is, in fact, their last chance for consistency.
Politics they just turned up.
So it goes.