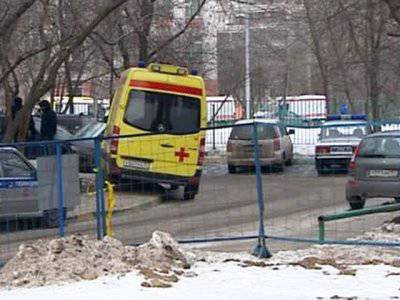 The Minister of Internal Affairs Vladimir Kolokoltsev, who was wounded at a Moscow policeman's school at the Research Institute of Sklifosovsky, was visited. The minister supported the relatives and friends of police sergeant Vladimir Krokhin. At school 263 in Otradnoe Krokhin was wounded in the chest and stomach.
A police outfit arrived at a Moscow school on call to disarm an armed schoolboy Sergei Gordeyev. At first, the schoolboy shot the geography teacher, and at the sight of the police he opened fire on them, reminds ITAR-TASS.
"The police officers acted professionally and courageously, competently and clearly responded to the situation," explained Vladimir Kolokoltsev. "It's hard to imagine how serious the consequences would have been if the police didn't arrive on time at the scene of the incident."
The Minister of the Interior met with the head doctor and asked him about the condition of the wounded police officer and the prospects for his recovery. Kolokoltsov also spoke with Krokhin's wife, Natalia, who also works in the police.
Vladimir Kolokoltsev expressed condolences to the relatives of the deceased police ensign Sergei Bushuev, as well as geography teacher Andrei Kirillov.
Policemen Vladimir Krokhin and Sergey Bushuev will be presented to high state awards, the head of the Russian Interior Ministry said.
29-year-old teacher Andrei Kirillov will be introduced to the Order of Courage.
"Kirillov was a geography teacher in high school, a class teacher for fifth grade students. The students loved him, his colleagues were very respectful," said the press center of the Russian Ministry of Education and Science. "Thanks to the courage of this teacher, tens of lives of children and adults were saved.
The ministry is preparing a submission to Russian President Vladimir Putin about awarding a teacher who died in a Moscow school.
Andrei Kirillov has a little daughter. Kirillov's wife also worked at a school in Otradnoe. She taught in junior high.
In fact, a state of emergency at the school opened a case under three articles of the Criminal Code of Russia - "Taking hostages", "Murder" and "Encroachment on the life of law enforcement officers."
According to the Investigation Committee of Russia, the detained teenager is being interrogated. Find out the reasons that prompted the guy to go on a crime. He was assigned a psychological-psychiatric examination, which, according to the relevant "Instructions", can last up to 90 days.
In the near future, the question of the election of tenth-grader Sergei Gordeyev, who has opened fire on teachers and police officers, will be resolved. He faces up to 10 years. In addition, investigators have already begun to question witnesses, among whom are security officers and school administrators, as well as students.