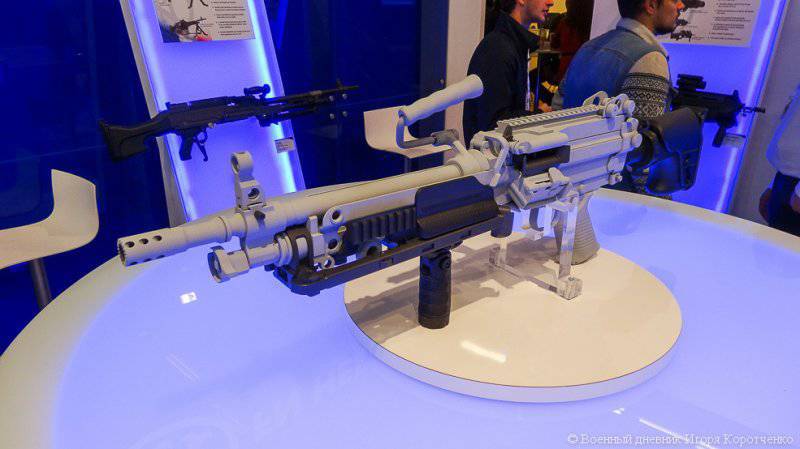 At the MILIPOL 2013 exhibition, FN Herstal introduced the FN Minimi 5,56 mm Mk3 light machine gun.
As the site marks small
weapon
- Weapons of infantry, in the new version of the well-known machine gun, the changes affected mainly ergonomics and greater unification of components and parts. These changes are a response to requests from servicemen who directly use the Minimi machine gun.
"The end-user requirements for the Minimi light machine gun have evolved over the past 10-15 years, and they have been the desire for a wider use of various accessories, compatibility with soldiers' equipment and changes in tactics," the company said in a press release.
Since the new changes represent the installation on the machine gun of various elements and units, it is possible to carry out modernization of the machine guns already in the troops. This will save a lot of money, because there is no need to buy a new version of the Minimi machine gun, and only the purchase of individual elements is required.
Minimi Mk3 has a 5-and positional retractable adjustable butt, which allows you to take into account all the anatomical features of the military, including in body armor and equipment. The 4's positioning butt scoop is also adjustable. The butt is also equipped with a shoulder clasp and a hydraulic buffer, which makes shooting a machine gun more manageable, and carrying it more convenient.
Completely redesigned forearm, which is now integrated with quick-set bipods. Handguard received Picatinny rail on the sides and bottom. At the request of end users, the forearm can be equipped with a heat shield.
The cocking handle has been enlarged, which makes it convenient to operate both left-handed and right-handed, and has a safety latch that prevents the ingress of dirt.
There are major changes. The Mk3 uses a different barrel retainer, which makes it possible to close the cartridge cover without reinstalling the barrel (probably meaning that the barrels can be changed without having to open the cartridge cover). The ammunition supply tray has also undergone changes; as a result, the machine gun is easy to charge with one hand.