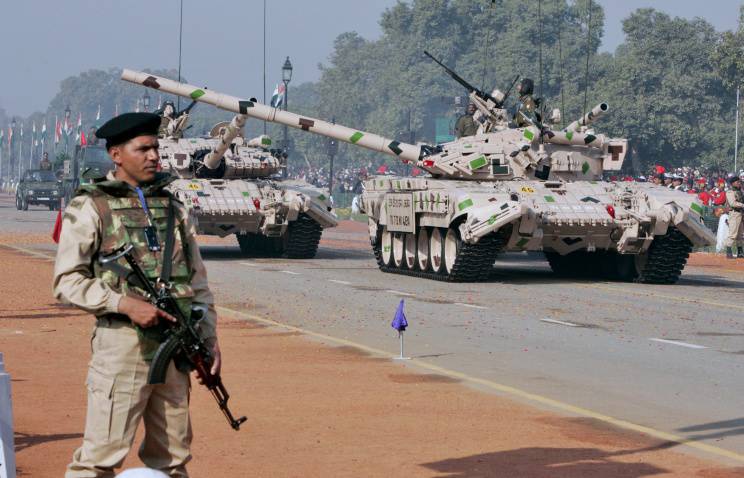 Two major combat modernization projects
tanks
T-72 will be offered to the Ministry of Defense of India at the DEFEXPO-2014 exhibition. These options have been developed by Uralvagonzavod Corporation and, if implemented, will bring the most massive T-72 tank of today to the level of the best modern world models.
As the representative of UVZ explained to the ARMS-TASS correspondent, the T-72 modernization projects are particularly relevant in the light of recent military conflicts, where military operations take place mainly in urban areas.
"We are offering India two T-72 retrofit projects. The first project involves equipping the T-72 with a set of defenses to ensure the survival of the tank and crew in combat operations in urban areas where anti-tank weapons, including radio-controlled mine devices, are widely used." - said the source.
The second project provides for equipping the modernized T-72 tank with the Arena-E active defense complex (KAZ), which protects the tank in a circular zone 360 degrees from anti-tank weapons - RPG grenades, artillery cumulative projectiles and anti-tank guided missiles, including those launched during the flight above the tank.
A new KAZ configuration will be presented at DEFEXPO-2014, which allows placing the Arena-E complex on almost any machine. It differs from the KAZ of the previous configuration in that the airborne radar is separated into several blocks and placed in such a way that it does not prevent the tank from performing other combat missions. KAZ "Arena-E" in the new configuration can be installed on the tanks T-72, T-72B, T-90 and on other models of armored vehicles.
The DEFEXPO-2014 Land and Naval Arms Exhibition will be held in the Indian capital from 6 to 9 February. More than 50 enterprises of the Russian defense complex will take part in its work. Some Russian exhibits are specifically focused on the Indian market and will be shown in New Delhi for the first time.