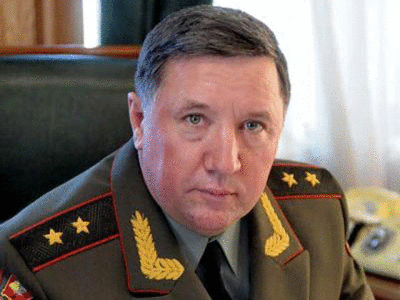 The court recognized as legal the criminal prosecution of the former Commander-in-Chief of the Ground Forces Vladimir Chirkin, who was accused by the military investigation of accepting a bribe. The colonel-general was also denied access to the materials of the operational development carried out against him. 235-th garrison military court ruled that Chirkin will be able to examine his criminal case only after the completion of the investigation, the newspaper Kommersant reports.
According to the newspaper, in his complaint, Chirkin and his lawyers stated that the criminal case about the receipt of a bribe by the general was unreasonably and illegally. As the defense noted, the fact of receiving money by the general was nowhere to be fixed, and all the charges against him were built on "unverified data." According to the lawyers, another grave violation was the refusal of the investigator to submit them to the materials of the operational development regarding their client.
Commander-in-chief Chirkin himself told the court that he had not received a bribe, and did not participate in the distribution of the apartment for which the illegal remuneration allegedly was intended.
Recall that a criminal case against Vladimir Chirkin became known in December. He was charged with taking a bribe in 2008, when the general was deputy commander of the Moscow Military District. After the scandal, the president dismissed Chirkin.
Victim in the case, former Head of Engineering, 4th Separate
tank
the brigade, whose surname is not named, claims to have agreed with Chirkin through a mutual acquaintance in the Kantemirovskaya tank division, a retired colonel Dmitry Linov, and another intermediary, Alexander Nechaev. The tankman allegedly gave a bribe of $ 20 thousand for receiving a one-room apartment in Naro-Fominsk near Moscow. The apartment was allocated, but it turned out that the mother-in-law of an officer who had previously lived in odnushka was registered in it. As a result, the major did not get the living space, and the money was not returned either.
The mediators said that the entire amount of the bribe went to General Chirkin. Later, the commander allegedly agreed to partially return the money, but transferred only 200 thousand rubles. After refusing to return the remaining amount, the victim turned to the Main Military Prosecutor's Office.