As it became known to our blog from a source in the shipbuilding industry of Russia, after the arrival of the landing amphibious assault helicopter-dock (DVKD) Vladivostok type Mistral in Russia in the fall of 2014, the ship will be under construction in Kronstadt during the year. Russian armament and equipment will be mounted on it, in addition, the ship itself will be brought into compliance with the requirements of the Russian Ministry of Defense. Probably, the work will be carried out by the crews of Shipbuilding Plant Severnaya Shipyard OJSC.
It is interesting to note that since the construction company (STX France) gives a whole one-year warranty on the ship, during completion it will go to sea to test the performance of various DVKD systems.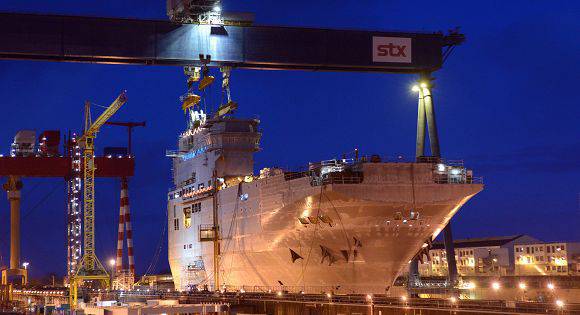 Installation of the "island" on the serial DVKD Sevastopol under construction, 19.12.2013 (c) STX France
The source even noted the high quality of the work of the Baltiysky Zavod-Sudostroenie LLC on the aft part of the DVKD. When mounting, the gap between the French and Russian parts of the body was only 2 mm.