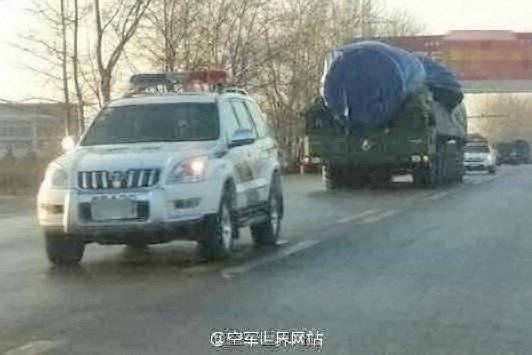 The users of the Chinese military forum www.fyjs.cn managed to photograph the mobile platform of the latest rocket complex DF-41.
The DF-41 is a highly mobile complex with a solid-fuel intercontinental ballistic missile in service with the 2 artillery corps of the People's Liberation Army of China. By design and purpose of the missile complex DF-41 is similar to the Russian "Topol" and "Topol-M".
It is assumed that the newest missile has a range of 15000 km and carries a divided warhead containing up to 10 warheads. The project is being developed from 1980's and is now probably linked to the Juilan-2 program.
According to US intelligence, December 13 China completed the second test launch of a new mobile solid-fuel ICBM DF-41. The launch was carried out by connecting the Second Artillery Corps (strategic missile forces) from the landfill in the center of Shanxi Province.
The first launch of the rocket was made on July 24 2013 of the year. As American intelligence believes, this MBR can be equipped with 10 nuclear warheads for individual targeting.