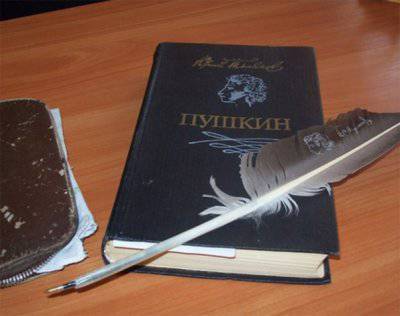 The degree of development of a language, its functionality, its ranking among other languages ​​depends, among other things, on the possibility of its translation into other languages ​​without losing the semantic and emotional load, i.e. information contained in this message in this language. Let us explain by example. The poems of Pushkin, Tsvetaeva, Akhmatova or Mandelstam can hardly be translated into any language of the northern peoples such as the Nenets or Nanai. Moreover, these works can not be translated into English, German and other languages ​​without losing some informational component. Imagine the meaning and charm of the quatrain from Pushkin's poem "Winter Morning":
Under the blue skies
Magnificent carpets,
Shining in the sun, the snow lies;
Transparent forest one blackens,
And the spruce grows green through the hoarfrost,
And the river under the ice shines.
Let's try to translate the last line into English - "And the river under the ice glitters": and river is glittering under the ice. The translator produces: "The river under the ice glistens." In any case, the meaning is almost the same, like the river is glittering, but the emotional mood, the melody is completely lost, I personally do not see this "river" (river) as though it is in reality, and I see it in Pushkin. And the line "And the spruce through the frost turns green" I don't know how to translate correctly, maybe someone will tell, I will be grateful. It is possible that those who equally consider English and Russian as their native language will agree with me on this occasion more quickly. Try to translate this passage into English and try to refute it in the comments, it will be interesting.
Further, it can be argued that from any language any poem or text can be translated into Russian without losing the informational component or even more - a good poet-translator translates so that in Russian the poems will sound with a new power, more melodically, beautifully and convincingly.
Language is a platform for thought. The superiority or functionality of the Russian language does not require intrusive popularization, as is done for the same English or German. Language is an environment resembling a computer operating system (MS-DOS, Windows, etc.). Inside each OS, the installation and operation of other programs takes place. Each operating system is responsible for working together between the hardware of the computer and distributes the consumption of its resources among the programs. Any computer that does not have an operating system is a pile of scrap metal. So, when you perform any action at the computer, from simply opening a folder to working with complex software systems, the operating system is responsible for all performance. Similarly, in human activity, language, its oral and written forms, play a large role in the transfer, accumulation, analysis and processing of any information, be it scientific or technical, or cultural and everyday. The degree of development of the language directly affects all the above types of communication.
Computer systems also have their own languages ​​and "translators" from one language to another. The OS of such a system can be called such a translator. Why? Have you ever heard of machine language? Well, all the commands on the computer are executed in this machine language low level. It uses two digits, 1 and 0, i.e. there are only two levels. And combinations of these numbers make up computer commands. It is with this language that the operating system has to work — process the high-level commands received from you and translate them into computer language so that the computer, in turn, does what you need.
OS MS-DOS gave some opportunities to the computer. When Windows appeared, the capabilities of the computer system were greatly expanded. The capabilities of the software under Windows XP or Windows 7 are no longer comparable to the command line on MS-DOS.
Nanai is MS-DOS or, say, Windows 95. The vocabulary of some of these northern languages ​​has just a few hundred words. They do not need more - for the kind of activity that they lead in the Far North. They do not need such concepts as atomic energy, mortgage or dual currency basket, but this does not mean that their language is worse or better than Russian, English, for them it is their own, unique and unique, and it should be protected and preserved with all its might. MS-DOS played a role in
stories
The development of computer technology has not completely disappeared, but has become a platform for subsequent, more advanced versions. And the language of the small nations of Europe is Windows 95, the language of larger entities is, say, Windows 98. For more developed countries in Europe and America - this is Windows XP. Russian is akin to Windows XP or higher.
The Russians, the Slavs, do not have so many completely through historical threads-installations that remain unchanged as a concept, passing through the centuries. So, one of them is the attitude towards the small languages ​​of the peoples inhabiting this huge empire, some of these peoples voluntarily joined this conglomerate, some were conquered, but none of the peoples were oppressed by language or other principle, and it was treated as rulers, and to the common people. And in time this statement is true both for the Middle Ages, and for the Russian empire and Soviet times. Today in modern Russia much is being done to preserve small languages. In addition to purely humanitarian benefits, there is also a purely pragmatic benefit, which is not obvious at a glance, but important in the future. Small languages ​​under the pressure of a powerful Russian language can easily disappear altogether, even languages ​​like Baltic, Scandinavian, some Slavic and others are not immune from this. There is an understanding of the importance of preserving small languages ​​at the household level and for the science of languages. Less functional and less advanced languages ​​nevertheless preserve a particle of the people's soul, traditions and are important as carriers of the cultural formation of humanity, they bring diversity and color to modern life. But the absolute dominance of the Russian and English languages ​​in the modern world inspires unfounded fears among the Baltic states and other ethnic groups when they come in contact and in general cultural communication and interaction with native speakers of the Russian language and Russian culture. Currently, the Balts are trying to ban the display on their territory of films, television programs, concert activities in Russian. Apparently, if you do not act prohibitive measures, then the Balts themselves will not notice how in most advanced areas of human activity they will switch to Russian or, in extreme cases, to English or German. It's as if you switched from MS-DOS to XP, the reverse transition would be very difficult without coercion.
As a result, it should be noted that Russia in this regard does not need to worry too much and to prove something about its language, Russia has a historical "handicap" embedded in the language, and not only (about this in the following publications). Now, some Western structures in Russia have created in large numbers various charitable, human rights, religious and other funds, of which there are several thousand, how many exactly - no one knows, and which are generously funded from abroad. So, all these funds do not inspire respect for their own language, but constantly throw in the thought of the prestige and allegedly backwardness of the Russian language, including as a language of international communication - both within Russia and in Eastern Europe. Through disrespect for one's own language, the idea of ​​widespread disrespect for the Russian people is pushed, the idea of ​​its cultural and civilizational inferiority, disrespect for one's own history and even the lack of a future is instilled. Here, as always, from a sick head to a healthy one. Pygmies try to dissect an elephant. This is possible only in one case when the elephant falls into a deep hibernation. Now the task is not to let him fall asleep, and if you fall asleep, wake up without fail!
On the other hand, it will be very fair to impose anything on anyone in terms of language and not to advertise it specifically. If they want to use the MS-DOS environment instead of XP, that's their right and they don't need to interfere with their lag. Soviet and Russian Jews who left for Israel, the USA, Canada, Germany, etc., retain their native Russian language automatically, no one forces them to use Russian, hence a lot of press in Russian in these countries. In Israel, in general, the cult of the Russian language, there are almost all Russian TV channels, and no one talks about the dominance of Russian. This is not the only one, but one of the reasons for the highly developed infrastructure and technology in Israel, there the local elephant does not sleep and does not even sleep, the neighbors do not allow to fall asleep.
It is worth noting that there are many related Slavic languages ​​and adverbs. All of them to some extent complement and enrich each other. There are several notes in the network, where 129 is proposed for foreign words, which have a substitute in Russian. For example, it is proposed to replace the foreign word "abstract" by Russian "abstract", "argument" by "argument". But there is no substitute for the import word "airport", however, the Bulgarian meaning of the word "airport" functions equally well in Bulgaria, which will be understood by all Slavs - the "anniversary". This word can be easily dragged, or rather, restored. The newfangled word in the Russian media is tags, from English tags, which means tag, label. It can easily be replaced with "tags" or, even shorter, "meta". Many words and concepts can be borrowed from Polish, Czech, Serbian, etc., which will enrich the Russian language. And vice versa, the Russian language can become a source of terms and concepts that did not previously exist in other Slavic languages, such as satellite, space, and many others. Naturally, such words as hockey, football, kimono do not need to be replaced, there are no such words in Slavic languages, and they can be used. In this sense, the Russian language very quickly absorbs and adapts many words that household and scientific and technical vocabulary needs, and often in the Russian language a new foreign word adapts in such a way that it carries a more flexible information load than in the original language.
Now, regarding the alphabet and graphics, i.e. Cyrillic or Latin characters. Some digression is appropriate here. As it is known, classical chess have fields of 8х8 cells, just 64, and with such a movement of chess pieces in this field, the number of combinations of the position of the pieces is huge. To date, almost all possible games have been studied and described, it is almost impossible to come up with new combinations, and modern computers have learned to beat people. If the chess field were 10х10, the number of combinations would be much larger, and the game would be more interesting and less predictable. Same thing with computers. Initially there were 16-bit, then 32-, the latter are currently being supplanted by 64-bit, which makes it possible to operate with much larger digital information flows and process them with greater speed. The alphabet of 33 Cyrillic letters is more informative than the Latin alphabet of 26 letters. Many more independent combinations of letters can be added from 33 letters, t. e. get the words. Independent means that each letter represents a separate sound, because in English words many sounds should be represented by 2, 3, and even more signs. For example, the sound "h" in English is displayed as "ch", the sound "sh" as "sh", and the sound "o" in the English word "daughter" is depicted as much as 4 with the letters "augh" ("doughter"), in in Russian graphics it sounds like "dote", even the last "e" sound in the Latin script is written with 2 letters: "er". In addition to the fact that such words need to be displayed longer in the Latin alphabet, one must also remember how it is written, and sometimes even the speakers of this language themselves often make mistakes in writing such words. Hence, when we give some recommendations in the study of English, we ask first of all to learn absolutely solid English alphabet. Why? Now, if you listen to the usual telephone conversation of 2 subscribers of the telephone network in English, then the phrase "Please spell it for me!" Will be one of the most frequent expressions in the dialogue, which means: "Spell, please, spell it." This especially applies to the pronunciation and spelling of names, street names, etc. Here is an example of a couple of real names of employees of various companies. On the phone you are told the name on which you must issue some paper, they tell you: "Sergey Gorozhankin" to write in Russian these words. You do not ask again how this is written. But in English "Serguei Gorojankine" is required to spell. And they begin to dictate to you: "S" like Sam, "E" like "Eagle", "R" like "road", i.e. they begin to spell that "c" sounds like in the word "sam", "e" as in the word eagle, "p" as in the word "road", etc. The same in such purely English names: "Jack McGee" or "Courtney Jewell", etc. etc. As long as they dictate this, firstly, you can fall asleep, and secondly, you need to know the English alphabet quite clearly.
It's like a chessboard 8х8 or computer 16-bit tires. So why should the Russians return to the outdated model? The West will still have to switch to a more advanced graphics model, and the Russians are already here, they do not need to redo anything. So who should borrow from whom?
There should be no ideology or politics, there should be rationalism. And sometimes it is necessary to include logic. After all, it is known that the Russian graphics didn't get stuck in the Roman numerals, quickly switched to Arabic, and not because they were Arabic, but because they were more rational and convenient. Therefore, all the other ethnic groups have switched to Arabic writing of numbers, but no one has switched to Arabic graphics or hieroglyphs in writing letters.
Summing up, it is safe to say that writing any text in Cyrillic is much faster, here there is one hundred percent correspondence between the sound of a letter and its writing, everything is very specific and without different interpretations, it is almost impossible to make a mistake in writing a word. No need to endlessly "spell" (from spell) every word when it is written during its oral reading. It is appropriate to recall that under the influence of imposed fashion and prestige in Moldova in the early nineties, they switched from Cyrillic to Latin, although from the very beginning of the appearance of writing, it has existed in Cyrillic for centuries. And on the left bank did not chase fashion. The old graphics have remained there, with great potential by definition, and "let them be worse."
Now about the unjustified clogging of the Russian language by Angloisms. Here it is necessary to tirelessly focus the attention of journalists, political scientists and politicians. Why, for example, to constantly insert a trend anywhere, i.e. from the English "trend". In Russian, he has a whole range of analogs: "course, direction". Even RAS staff members decided to show off their erudition and forcibly introduced a new term, as in this phrase: "Ukraine may interest Americans from the point of view of military confrontation with Russia, in particular, Ukrainian territory is most likely considered an eventual expansion of the European element of the American missile defense system". The author himself understood what he said? If you translate into normal Russian, then he probably meant that "Ukraine is supposedly regarded as a launching pad for American missile defense." Why is it "eventual"? Perhaps the author wanted to say "possible", "with time" or "eventually", probably from English "eventually", derived from "event", which has several meanings and can be translated as "event, event, occurrence, result ", etc. What exactly did the author want to say? Perhaps our short and Russian interpretation more accurately reflects the meaning of what was said.
In the Russian-made SSJ-100 "Superjet" aircraft, made for Russian airlines, the cockpit is equipped in such a way that the pilot displays several hundred text messages and several dozen sound messages on the monitors and signal displays. All of them, attention, in English! This is in Russia, for Russian pilots, on Russian planes and on Russian airlines !! So some of the smart guys, whether jokingly or seriously, suggested that our pilots first have an internship at the Institute of Foreign Languages, and only then allow them to fly. In fact, nothing can explain it, except as a multi-year suggestion of disrespect for one's own language, which is much more advanced and developed than any other. That's really true: what we have, do not appreciate!
And the "super-numbered" representative of the feather pen (here, no offense - from the Bulgarian "byrzo", i.e. fast) Yu. Latynina puts it in such a way that sometimes you don't understand whether it is the Voice of America or the "Free Europe". But in this case, for the western terrestrial channels, this is bad Russian, and for Latynina from Echo, this is bad English.
Judge for yourself. She almost every phrase then
benefits, crash tests, alarm factoid, securitized mortgage debt, aporo, randomized trials, dominated by a destructive meme, immanently dangerous properties
. But the phrase "Palestinian diplomat is an oxymoron" I (although I can speak English fairly well) could not immediately understand this pronunciation, this word is rarely used even by Anglo-Saxons. The English spelling of this word is "oxymoron", which is pronounced rather like "Oxymoron", with the accent on the third syllable. Means the term roughly "abracadabra, paradox", well, probably, for Madame Latynina, this is more likely, let's say, a creative pseudonym, because this is really an abracadabra and not only in her texts, but already in her head. But she knows how to create: for example, such pearls as "this is one of the leading conservative think tenks of America." Further, it does not "bother" at all and simply switches to English, as in America: "Failed state, Medicaid, etc.". When you read something from Latynina, you get the impression that you are not good enough in either Russian or English! In one of her last works on the events in Ukraine, she even acts as a mentor in the Russian language !! She declares that when such a steep revolution occurs, she's people of Ukraine began to respect even more than during the Orange Revolution, and now she recommends everyone to speak not "in Ukraine" but "in Ukraine". It would be good if the present rulers, along with the opposition of the mind, would add more to this, so that they would guess not to further disintegrate the economy and the country. No matter how you send that "on", that "in", the people will not live better from this.
To some justification for the aforementioned Madame, it should be noted that some politicians and statesmen are sinning with this. Even the prime minister once issued the phrase: "Coffee break". So what can we say about ordinary users! Probably, for some employees of the pen, as well as for all public politicians, it is time to introduce a course of oratory. Among the "top" figures, quite normal, clean and correct Russian is noted in Sergey Ivanov. Ivanov speaks English well, but he does not use English when speaking Russian, so it would be good for him to head these courses on a voluntary basis. It's time to probably introduce a license for the right to conduct any activity in the media in Russian in Russia. As in the West, where almost every kind of activity you need to get a license.
PS Ay, where are the linguists? With its simple and intelligible notes for the common people! Not with scientific folios, but with simple analysis, simple remarks for Latin and many others, which daily distort the native language. Hey, respond!