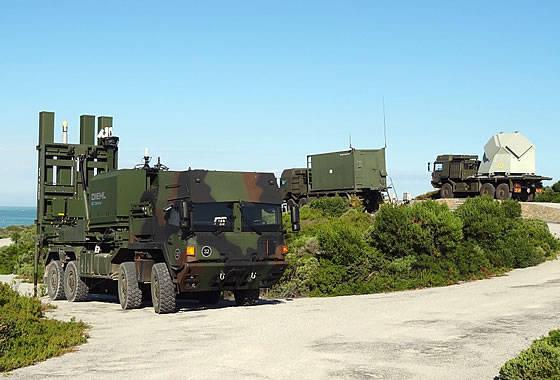 The Diehl Defense company announced the holding in January of this year of successful tests of the prototype IRIS-T SLM medium-range air defense missile system at Overberg in South Africa.
The demonstration shooting, which was attended by international experts and military representatives of 16 countries, was conducted with the support of the German and Australian defense ministries.
IRIS-T SLM is an anti-aircraft missile system of modular design, built on the principles of open architecture.
The demonstration model of the IRIS-T SLM SAM system includes: a new radar with an active phased antenna array CEAFAR of the Australian company CEA Technologies; tactical control center (TOC) using the combat management and communications system of the Danish company Terma and the Orlikon Skymaster combat management system from Rheinmetall Air Defense, as well as the Dil Difens development launcher . All these elements were combined into a single fire detection and control system.
During the tests, the DO DT-25 target, flying at low altitude, was detected using IRIS-T SLM hardware, captured and classified as an "enemy". The rocket hit the target at a distance of about 20 km with a direct hit. Throughout the entire flight path using a communication channel, the missile received correction commands from the radar, which allowed the target to capture the infrared radar target. All the hardware and software of the complex functioned normally.
In the course of these tests, Dil Difenz for the first time demonstrated in real conditions the full functionality of the IRIS-T SLM system, including radar, a control center and a launcher. This demonstration of the capabilities of the air defense system followed two successful test launches performed in November last year. The tests took place within the framework of the contract for the development of a missile and launcher signed with the German Federal Office for Armaments, Information Technology and Maintenance (BAAINBw).
The IRIS-T SL (Surface Launched) is based on the concept of an air-to-air IRIS-T guided missile. It should be one of the means of defeating air targets as part of a prospective ground-based air defense system of the German Armed Forces. For use as part of the air defense missile system, the missile is equipped with an improved power plant, communication channel, GPS navigation equipment, and a new nose fairing that reduces drag. The version of the ground-to-air missile is planned to be produced in two versions - the short-range IRIS-T SLS (effective range to 10 km) and the medium range IRIS-T SLM (firing range to 30 km).
The vertical launcher IRIS-T SL is mounted on the chassis of a light truck and provides the possibility of hitting targets in the 360 sector hail. A missile equipped with an IK GOS receives target designation from a circular review radar.