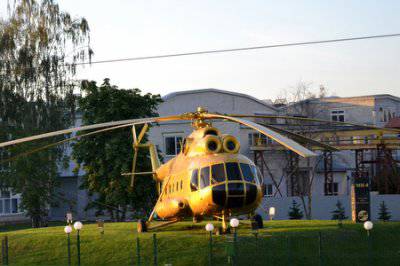 January 29, AEX.RU - The Mil Moscow Helicopter Plant (part of the Russian Helicopters holding) will develop a conceptual and technical design of the new Russian prospective high-speed helicopter until the end of November 2015, reports ITAR-TASS with reference to a representative of the Roman Kirillov holding. The amount of the contract for research work will be up to 3,3 billion rubles.
The company also has to manufacture and test the so-called "flying laboratory" - a prototype, on the basis of which tests will be conducted.
Initially, the program of a promising high-speed helicopter assumed two parallel developments - the Mi-X1 design bureau Mil and Ka-92 of the Kamov design bureau to select the best technological solution. As a result, the most optimal from an economic and technical point of view were recognized the solutions and approaches of KB Mil.
"Currently, the classic eight (Mi-8 helicopter) is the world market leader in the medium helicopter segment, so it was decided to maintain positions in this niche and develop a helicopter in the same" weight category. "As a model, it was presented to at the Farnborough Air Show in 2012, the project was defended and received state support, "said a representative of Russian Helicopters.
In May, 2013, Roman Chernyshev, then the general director of the Russian Helicopters holding, said that certification tests could begin in 2018-2020 years. According to him, at the first stage, the speed characteristics of the helicopter will exceed the current by about a quarter, the car will be manufactured on the basis of the available technologies and materials. Only at the second stage of the program will the holding start building a helicopter with higher speed and other technical characteristics.
The development of a promising high-speed helicopter (PSV) is provided for by the federal target program "Development of Civil
aviation
Russian technology. "PSV should provide a flight range of up to 1,5 thousand km and be adapted for vip transportation. At the first stage of the program, the cruising speed of the machine will be 300-350 km / h, at the second stage - about 450 km / h. Helicopter weighing 10-12 tons, it is focused on the needs of the aviation market, in the passenger version it will have a passenger capacity of 21-24 people, specialized versions of the helicopter are also being developed: search and rescue, patrol and medical.