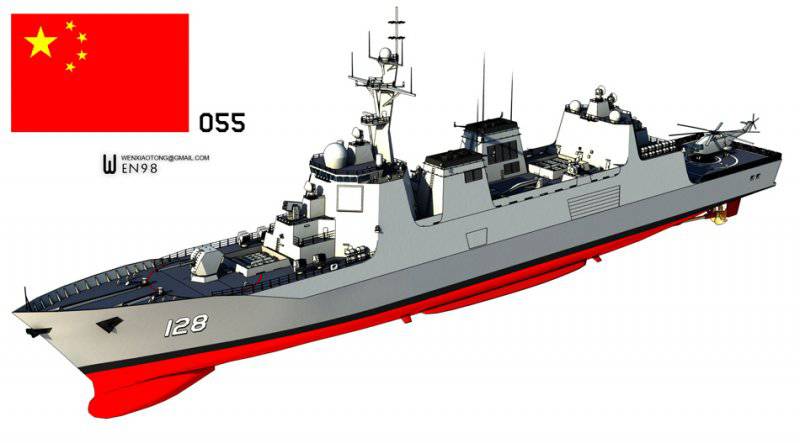 In the second quarter of 2015, China will begin construction of a "fourth-generation large rocket destroyer" Type 055, which will become the largest warship of this class in the world after the American stealth destroyer DDG-1000, mil.news.sina.com.cn. reported today.
The construction of ships of this series is planned in the framework of the 12 5th year plan and will demonstrate the highest level of Chinese technology in military surface shipbuilding. Ship's bookmark is somewhat behind schedule, currently finalizing the design of the 055 Type.
The ship's total displacement is 12000 t, the destroyer is equipped with a domestic gas turbine power plant of the QC280 type, which will give it a "global cruising range". On the ship will be based two helicopters. The destroyer is being developed taking into account the application of the most advanced technologies in the field of noise reduction, reduction of infrared and electromagnetic radiation, the highest ergonomic standards will be applied to facilitate crew service. The ship is equipped with a whole set of missile weapons - HHQ-9A ("Red Sea-9") and medium-range HHQ-16 ("Red Sea-16") long-range missiles, YJ-18 (Orel-18) and KR DH- 10 ("East China Sea-10", intended for striking ground targets).
CRC "Eagle-18" are a combination of subsonic and supersonic
weapons
(marching subsonic speed and supersonic at the last section), has an option with an electromagnetic warhead, which, having exploded in 50 meters from an enemy ship, disables 60% of its radio electronic equipment, which is equivalent to its destruction. It is also reported that the Type 055 uses the most advanced technologies of the previous generation Type 052D to the maximum.