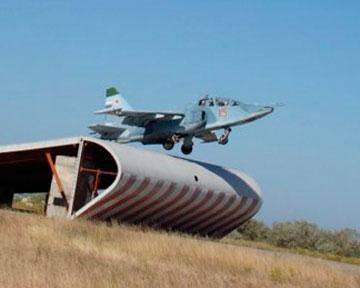 Ministry of Defense of Ukraine intends to disband training aviation "Thread" training ground, which is located in the Crimea.
This was reported by the press service of the Ministry of Defense.
"In the absence of interest of other states in the use of the training aviation ground" NITKA "until July 2014, the object of the Naval Forces of the Armed Forces of Ukraine will be subject to disbandment," the report says.
Earlier, Russia used the training ground to train deck pilots. However, 4 September 2013, the Russian side reported that starting with 2014, and in the future will not use the landfill.
In this regard, a draft law of Ukraine "On the termination of the Agreement between the Government of Ukraine and the Government of the Russian Federation on the use of the landfill landing system" NITKA "was prepared.
"Currently, the draft law is on interdepartmental coordination with the relevant central executive bodies," the Ministry of Defense notes.
NITKA (Ground Test Aviation Training Complex) is used to train deck aviation pilots. The only training aviation complex created in the USSR is located at the Novofedorovka airfield (near the town of Saki in the Crimea). After the collapse of the USSR, he moved to Ukraine. The agreement between the two governments on the use of the landfill was signed in February 1997.
The Ministry of Defense did not use the landfill, since it does not have heavy aircraft carrier cruisers.
At the same time, Ukraine was considering the opportunity to offer a training ground for the preparation of flight personnel of carrier-based aviation of China and India.