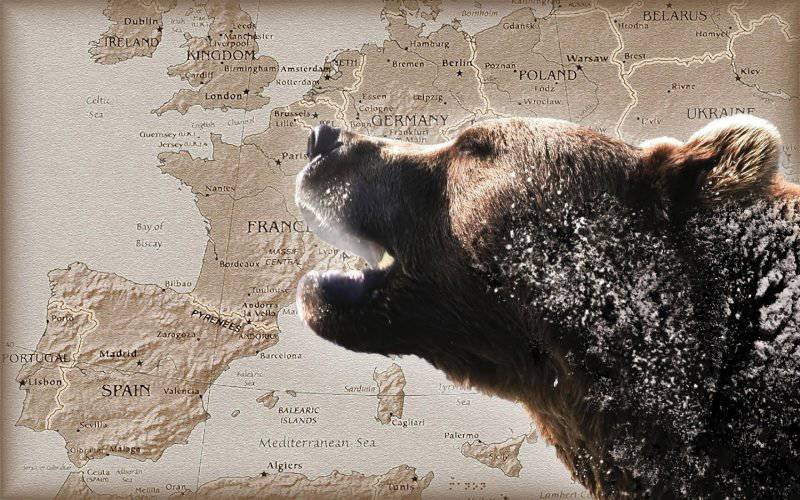 Recent events are strikingly reminiscent of a puzzle game. Many diverse and, at first glance, unrelated events, if you look closely at them, turn out to be parts of the overall picture.
You do not need to be a big analyst to notice that the West (and the United States in particular) has been strongly offended by Russia in the past six months. Having written off us, it would seem, once and for all, our "sworn friends" suddenly see with surprise that Russia prevented a big war in Syria, saved Ukraine from bankruptcy. And then there is the Olympics, Putin occupies the top lines in the ratings of the leading world politicians ... It's impossible to endure anything like that. And now - "the empire strikes back."
For no reason at all, the Syrian "oppositionists", who have always fought among themselves, suddenly unanimously declare that they will not go to a peace conference in Geneva if a representative of Iran is present. A country that, like Russia, supports the legitimate government of Syria. And the compliant UN Secretary General Ban Ki-moon recalls the invitation already sent to Iran! How can you not remember that this horrible Iran has just signed with Russia an outraged agreement on the supply of oil in exchange for equipment to the United States, in effect, thereby announcing its foreign policy preferences ?!
Another puzzle piece. The Winter Olympics in Sochi is about to begin - a beautiful global event. And here you are - the attacks in Volgograd. Further more. According to media reports, threats appeared to the address of Western countries - from their own fellow citizens, who fought in Syria and are going to return home soon and blow up everything there. Perhaps - with the use of chemical stolen in the same Syria
weapons
. It is clear that if this happens, the West will immediately require the introduction of "international peacekeeping troops" to Syria. As in his time - in Yugoslavia. And with the same, I suppose, consequences.
And, of course, the long-suffering Ukraine, where "peaceful protests" turned into a massacre with the police. And it began, we recall, January 19 - the day after the landmark date, the 360 anniversary of Pereyaslav Rada. My Kiev friends, who are in the center of events, have no doubt that the Maydauns were given a clear task - to take government buildings by storm and to proclaim a "new people's government", which would immediately be recognized by the West. Regarding the latter - no doubt: remember Libya, Syria, etc., where the insurgents who have achieved minimal success are immediately recognized as the only legitimate authority. However, if it does not work out, there will certainly be "innocent victims" (they ALREADY appeared in Kiev), around which the media will make a fuss, able to take the crowds outside again and launch the Maidan in the second round.
In the meantime, the US Security Council has already put forward almost ultimatum to the Ukrainian authorities: to repeal the "anti-democratic legislation", to withdraw the police units, to start a dialogue with the opposition. One can imagine what a howl about interfering in the internal affairs of a sovereign UN member state would have risen in the West if Russia had said something similar with respect to any country!
It is easy to see that all these, as well as many other events, share a common goal: to torpedo the foreign policy successes of Russia in recent months, to prevent any further strengthening of it, any breakthrough from the semi-colonial status established under Yeltsin. Suddenly, others will follow her, and even so, polls in a number of former Soviet republics give a sensational result: most people regret the collapse of the USSR.
Of course, to prevent this, the West will try by any means. It is not for nothing that militants in Syria write on the walls: "Today Syria is Russia tomorrow!", And the liberal Russian party sympathizing with the "maydauns" does not particularly hide the fact that this is a rehearsal of future events in Moscow. Thank God that we do not have our own Galicia, from where one can cheaply deliver crowds of thugs and various kinds of fascists from the crowd. But fights with riot police in the presence of money and experience - and the West has an abundance in it - is quite realistic to organize in Moscow.
In the meantime, our homegrown "fifth column" is engaged in the usual thing - at any opportunity it prepares the public moods it needs. How to do it in everything
historical
periods preceding the Russian unrest - and in 1917, and in 1991. For example, recently in "Sunday evening", Solovyov discussed additional measures introduced by the State Duma to combat terrorism. Two professional oppositionists - Messrs. Mitrokhin and Gozman - were against it. And, as always, with amazing logic. On the one hand, new anti-terrorism measures cannot be introduced in any way, since they infringe on the rights of citizens. And on the other hand, it is urgent to conduct an investigation of the FSB's activities (read - the next pogrom) and dismiss its leaders - because ... they won't protect people from terrorism in any way.
It's hard to say what's more - outrageous lack of principle or arrogant cynicism. Approximately the same thing they say literally on any topic. For example, they criticize the authorities for the "raw materials economy", but at the same time they don't mention that the introduction of 20 imposed by Russian liberals years ago into the Western project does not provide for any other role for our country in the so-called international division of labor. They are raising their favorite topic of the fight against corruption, but for some reason they don't recall that total corruption on all levels of power appeared just under Yeltsin and Gaidar, during the period of total "grabbing" of public property. And they will still start feeling pity for pensioners, doctors and teachers, while at the same time managing to demand from the state "not to interfere with business" by state regulation, luxury taxes and restrictions on the export of capital. It is better, they say, to reduce the military budget to zero and not to add a salary to law enforcement officers ...
Everyone does their part of a common cause: some are engaged in propaganda, others blow up train stations and buses, and others shoot in Syria or throw Kiev Berkut with Molotov cocktails. And with all the seemingly dissimilarity, each of them is a necessary piece of the very giant puzzle that our age-old geopolitical opponents are trying hard to lay down today. It is also clear what kind of picture should turn out according to their plan: a picture of a new world order in which the existence of sovereign Russia is not foreseen at all. I don't know about you, but I'm not satisfied with such a prospect.