January 26, 2014 in the naval base of Shantou (Guangdong province) of the PRC, an official ceremony of the introduction of the South
fleet
PLA Navy Jieyang corvette (small frigate) (tail number "587") of project 056 (Jiangdao class) - the tenth ship of this project transferred to the Chinese fleet in less than a year.
The Corvette Jieyang was built at the Guangzhou Huangpu Shipbuiding Company in Guangzhou, part of the China Shipbuilding State Corporation (CSSC), and launched on January 28 of the year 2013.
The program of mass construction in China of corvettes (small frigates) of the 056 project is carried out at four shipbuilding enterprises - in addition to the Guangzhou Huangpu Shipbuiding Company in Guangzhou, the Hudong Shipyard (the Hudong-Zhonghua Shipbuilding Group shipyard) in the program also participates in the Wuchang Shipbuilding Industry Company in Wuhan and Dalian Liaonan Shipyard in Dalian. The head corvette of this type Bengbu (tail number "582") was built on Hudong Shipyard, where it began construction in 2010, launched on 22 in May 2012, transferred to factory trials on 6 in November 2012 of the year, and commissioned by the NOA in 25 in February 2013 of the year . In total, from February to October 2013, eight 056 project corvettes were introduced into the Chinese fleet, and two more in January 2014 (Jieyang and transferred to the 8 fleet in January Ji'an built by Hudong Shipyard). At least another ten corvettes of this type are now in China in various stages of construction (including eight in completion afloat or in running trials).
Of the ten corvettes of the 056 project, which are now part of the PLA Navy, two are in the Northern Fleet, three in the Eastern Fleet, and five in the Southern Fleet.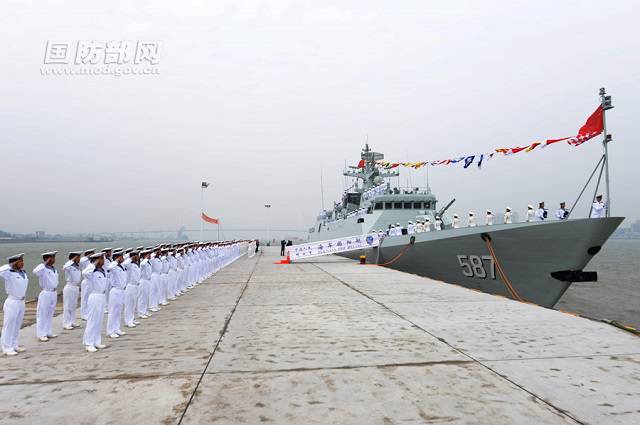 The ceremony of entering into the composition of the Southern Fleet of the PLA Navy corvette (small frigate) Jieyang project 056 - the tenth ship of this project. Shantou, 26.01.2014 (c) www.mod.gov.cn