Crown Prince Abu Dhabi Mohammed bin Zayed said that a two-hour working meeting in Paris with the participation of himself and French Defense Minister Jean-Yves Le Drian was mainly devoted to the timing of the joint exercises of the armed forces of the two countries for the next two years.
The Crown Prince also asked the French colleagues to speed up the training of UAE air force fighter pilots. Le Drian, in turn, again raised the issue of the Dassault offer of Rafale fighters, which Mohamed bin Zayed criticized in October 2011.
Alas, the crown prince was again deaf to the arguments of the French Defense Minister, continuing to consider Rafale to be expensive, reports the French newsletter Intelligence Online.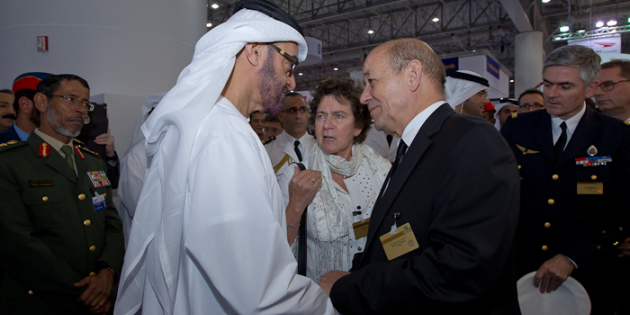 French Defense Minister Jean-Yves Le Drian and Sheikh Mohammed Bin Zayed Al Nahyan, Crown Prince of Abu Dhabi, at the Dubai Airshow 2013 | latribune.fr
On the morning of January 24, 2014, father of Sheikh Mohammed bin Zayed, President of the United Arab Emirates Khalifa bin Sultan, suffered a stroke, due to which he was urgently operated on and, according to the national press, "is in a stable condition and is restored after the operation". Mohammed is expected to inherit power in Abu Dhabi and, according to local laws, will head the federation and the armed forces.
How the disease of the head of state can affect the prospects of Rafale is unknown. In addition, it is believed that the UAE can link the prospect of major military purchases from France with the efforts of Paris to dismantle the regime of President Assad in Syria (the UAE, along with Qatar, also participated in coalition attacks on Libya). Just now, negotiations are underway on the "Geneva-2 ″, the holding of which was a blow to the plans of foreign aggression against Syria. It is likely that in this context it is premature to expect any concessions on Rafale.