According to US media, the US administration was able to reach an agreement with senators who had previously blocked the sale of Boeing AH-64E Apache Guardian helicopters to Iraq, which opened the way for a final agreement to supply the helicopters to the Iraqi government. Earlier, a group of senators led by Democrat Bob Menendez, chairman of the Senate Foreign Relations Committee, opposed the sale of AH-64E helicopters to the Iraqi government of Shiite majority Prime Minister Nouri al-Maliki, accusing the latter of dictatorship, violating the rights of Sunni people and in close ties with Iran.
Accordingly, in connection with the resolution of the issue of counteraction in the Senate, the Defense Cooperation Agency (DSCA) of the US Department of Defense 27 on January 2014 was able to send two official notifications to the US Congress about upcoming package agreements on the forthcoming delivery through intergovernmental military Foreign Military Sales (FMS) sales of AH-64E helicopters to Iraq.
One notice announces the upcoming delivery of an 24 Iraqi Boeing AH-64E Apache Guardian attack helicopters to Iraq, of which only 12 will be equipped with AN / APG-78 Longbow radar. The supply will also include 480 AGM-114R Hellfire guided missiles. The total estimated cost of supply is 4,8 billion.
Another notice reports on planned deliveries and training in support of the "urgent" lease of six Apache helicopters to Iraq (without specifying the modification) before the above-mentioned 24 AN-64E arrives in the country. As you can see, leased helicopters will not have radar AN / APG-78 Longbow. For leased helicopters, it is also planned to deliver XMUM-152K-A Hellfire 114 guided missiles. Estimated cost of supplies and services will be 1,37 billion.
Earlier it was reported that the government of Nuri al-Maliki expected to receive six Apache helicopters from the United States in January 2014, but this was not possible due to the opposition in the US Senate.
Iraq became the fifth foreign customer of Apache helicopters modifications AN-64 (former AH-64D Block III) after Taiwan, Saudi Arabia, India and Indonesia. In the case of receiving AN-64E helicopters, Iraq will become the owner of the original fleet of four types of combat helicopters (Mi-35M, Mi-28HE, AN-64E and EC635T2 +).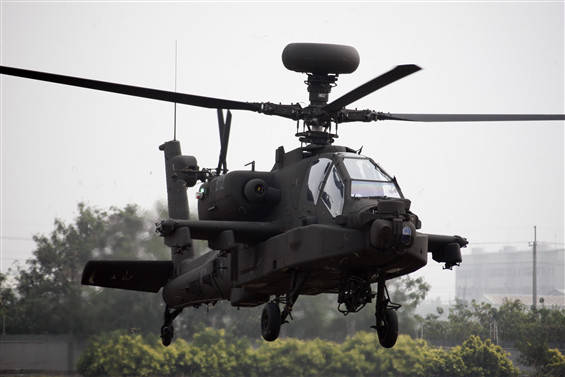 Helicopter Boeing AH-64E Apache Guardian Army aviation Taiwan. The Republic of China became the first foreign recipient of AN-64E helicopters. November 2013 (c) www.ettoday.net