According to Defense News, referring immediately to "several sources," the United States Air Force decided, for financial reasons, to abandon the CAPES (Combat Avionics Programmed Extension Suite) program, the "big" upgrade of Lockheed Martin F-300C / D Block Series X-Fighters. 16, 40, 42 and 50. Accordingly, CAPES funding will be excluded from the budget request of the US President for the 52 fiscal year, which will be submitted to the 2015 Congress in March 4.
The basis of the CAPES program was the re-equipment of the F-16 fighters with the new on-board radar with active phased array (AFAR). In 2013, Lockheed Martin, the general contractor for the CAPES program, chose Northrop Grumman SABR (Scalable Agile Beam Radar) for installation on upgraded radar aircraft. The Raytheon RACR (Raytheon Advanced Combat Radar) radar was a competing offer. Also during the modernization, it was planned to install a new integrated airborne defense complex Terma ALQ-213 (V) and a radio intelligence complex.
The cost of the CAPES program was not officially reported, but was estimated at many billions of dollars. Now, the US Air Force decided to abandon CAPES, and the funds planned for it to spend on limited upgrades and a service life extension program (SLEP) for a larger number of F-16 front lines. During SLEP, the assigned F-16 glider resource is increased from 8 thousands to 10-12 thousands of flight hours. One of the reasons is unofficially called the desire of the US Air Force to insure against possible further delays in achieving IOC status with F-35A planes, now scheduled for December of the 2016 year.
Lockheed Martin and Northrop Grumman declined to comment on CAPES rejection messages.
In this regard, the newspaper notes that Taiwan, which in 2011 year concluded an agreement worth $ 5,3 billion through FMS to upgrade the X-NUMX F-146A / B fighters of the island with the US Air Force on the basis of the CAPES program, could suffer the greatest damage from the cancellation of CAPES. If the Americans cancel the CAPES program, Taiwan may not be able to independently finance R & D on this project to upgrade its F-16 - especially in the context of the recently announced 16 plan-percent reduction of the Taiwanese defense budget over the next five years.
The refusal of CAPES will also deal a serious blow to the promotion of Northrop Grumman with its radar with AFAR SABR on the world market. Earlier in 2013, South Korea and Singapore chose to upgrade their F-16 fighter jets with the competing Raytheon RACR radar.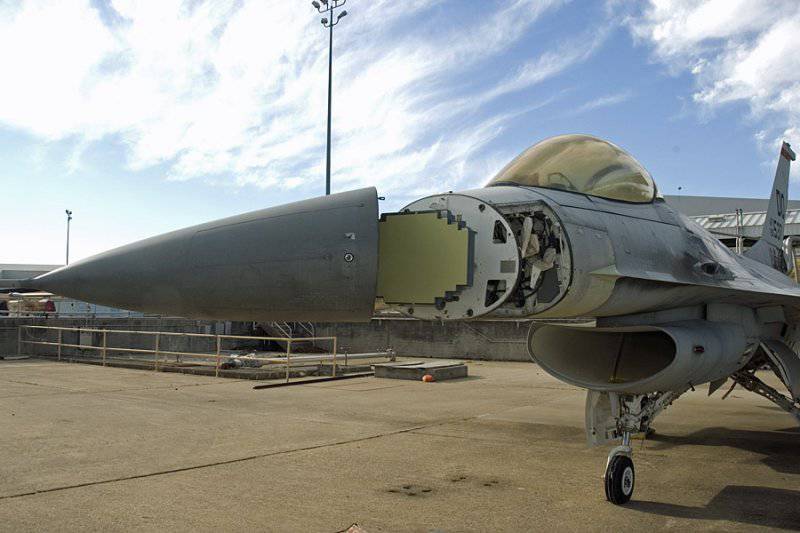 Prototype radar with AFAR Northrop Grumman SABR fighter Lockheed Martin F-16C US Air Force. Edwards, January 2010 of the Year (c) Northrop Grumman